Industrial power prices and the Energiewende
With many ways to source power and a variety of levies and exemptions, companies pay a wide range of prices for power in Germany. They can buy it on the exchange or directly from utilities. They can operate their own plants, or draw it as needed from virtual plants that pool electricity from many sources. The price also depends on how much they use, when they use it and whether demand fluctuates or is stable, their proximity to production plants and whether they are connected to the high, medium or low-voltage grid. Levies and surcharges that help pay for the Energiewende also play a role.
Power costs make up a substantial, though varied share of total costs for Germany's large, industrial companies. For example, electricity comprises 36 percent of total costs for an aluminium maker, and between 4 and 10 percent for a steelmaker, according to the BDEW German Association of Energy and Water Industries. Commercial enterprises use about 70 percent of all power consumed in Germany, the BDEW says. Industry, which comprises less than 10 percent of those enterprises, consumes around 50 percent of the total.
In order to ensure their international competitiveness, most energy-intensive industries are eligible for partial or full exemption from levies like the renewable energy (EEG) surcharge. The EEG surcharge is a top-up on power bills to help finance renewable energy development in Germany. More than half the power consumed by industry in Germany is exempted from the EEG surcharge. Other so-called privileges include exemptions from: grid charges, the concession levy, a tax on the use of public space for power lines, electricity tax, and the surcharge to fund a guaranteed price for combined heat and power (CHP) plants.
Because of the differences in exemption volumes, determining an average price for industry can be difficult. There was up to a 10-cent difference in the price energy-intensive companies paid for electricity in 2014, according to the BDEW
According to a BDEW example, a large, energy-intensive company using 100 gigawatts (GW) of power a year pays anywhere from around 4.50 cents/kWh to 15 cents/kWh, the BDEW says. According to Eurostat, the average price for users of 70 to 150 GW per year was 10.60 cents/kWh in the first half of 2014. This depends largely on the extent to which they are eligible for exemptions from taxes, levies and surcharges.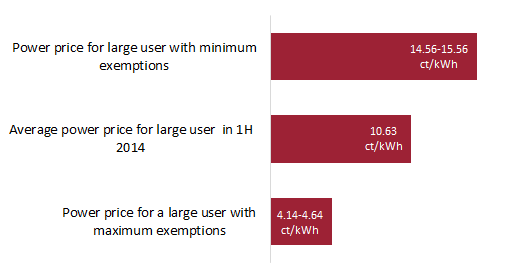 Link to source.
The picture is different for smaller companies that aren't eligible for as many exemptions. The average small or medium-sized company using 160 to 20,000 megawatts (MW) of power a year paid an average 15.56 cents per kilowatt-hour (kWh) of power in 2014. Of that, 8.36 cents/kWh, or 56 percent, were taxes and levies, including the 6.24 cent/KWh-surcharge to incentivise renewable energy (EEG) investment in Germany.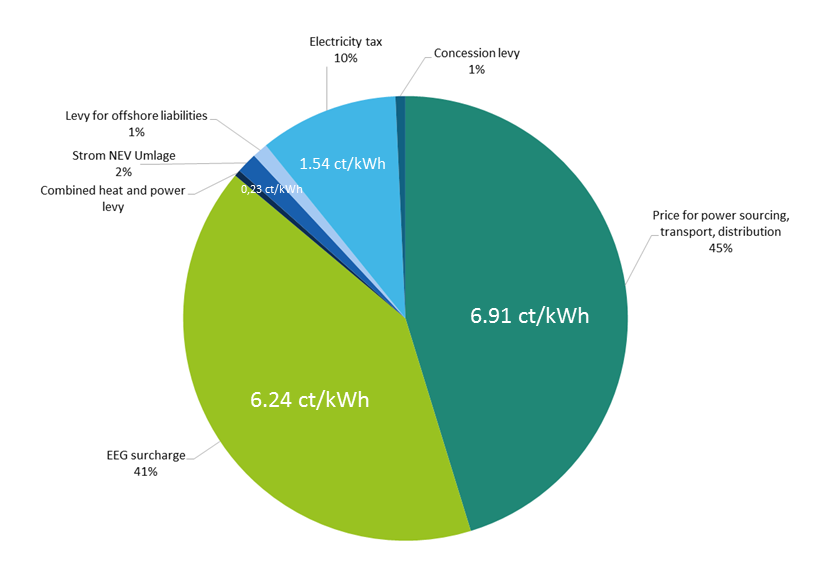 Link to source.
The EEG surcharge is added to consumers' bills, collected by network operators and then passed on to renewables producers who are guaranteed a state-set top-up on the power price. This surcharge costs German consumers around 24 billion euros a year, about 7 billion euros of which is paid for by industrial customers. In 2015, the surcharge was set at 6.17 cents per kilowatt-hour.
Around 2,154 companies were exempted from the EEG surcharge in 2015, according to the Federal Office for Economic Affairs and Export Control (BAFA). In general, the larger the user and the more power it needs for production, the fewer levies it must pay. There are more than 20 exemptions from those levies. Very large power consumers that require a huge amount of electricity for their production process are exempted from up to 90 percent of the tax – and most other levies. That means the wholesale power price is a close approximation of their electricity costs.
Prices on the wholesale exchange have fallen dramatically in recent years. These have dropped by more than half since spiking to their highest level in a decade in 2008, when they rose due to demand from financial investors and conflicts in the Middle East. The ensuing financial crisis and the increasing share of renewable energy in the power mix helped bring prices down significantly.
International comparison shows: Effect of renewables support differs by type of company
The effect of paying for renewable energy development through taxes and levies differs among smaller and larger companies, according to an international comparison. A recent comparison of international industrial power prices by think tanks Fraunhofer ISI and Ecofys showed that a large steel company in Germany consuming 1000 GW of electricity a year and benefitting from all possible exemptions pays around 5.70 cents/kWh of power, while comparable companies in the UK pay 7.92 cents, in the Netherlands 5.87 cents, in France 4.81 cents, in Texas 3.42 cents and in Pennsylvania 4.27 cents. The promotion of renewables makes up about 0.06 cent in Germany, France and the UK, and close to nothing in the others.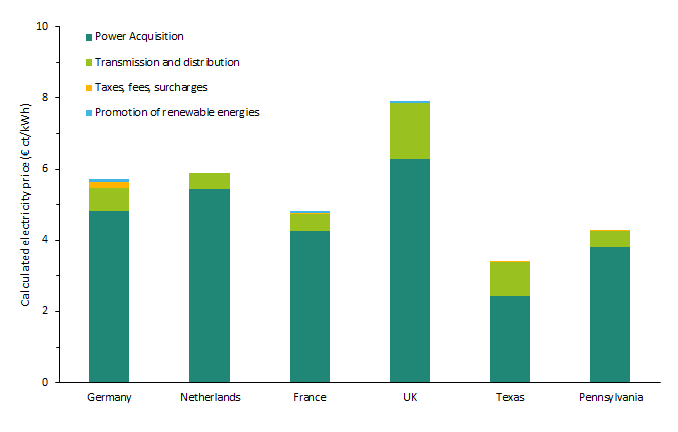 Link to source.
For a medium-sized textile company with consumption of around 8.5 GW per year, the surcharge to promote renewables was considerably higher in Germany, pushing the price of power to 9.14 cents/Wh. In the Netherlands, the price was 8.87 cents, in France 6.19 cents and in the UK, 10.50 cents. Although the German company was eligible for exemptions, called a "special adjustment provision," the digressive surcharge system meant that this company paid 1.09 cents for renewable energy promotion. By contrast, the comparable company in the Netherlands paid 0.04 cent, in France 0.32 cent, in the UK 0.30 cent, in Texas nothing and in Pennsylvania 0.08 cent.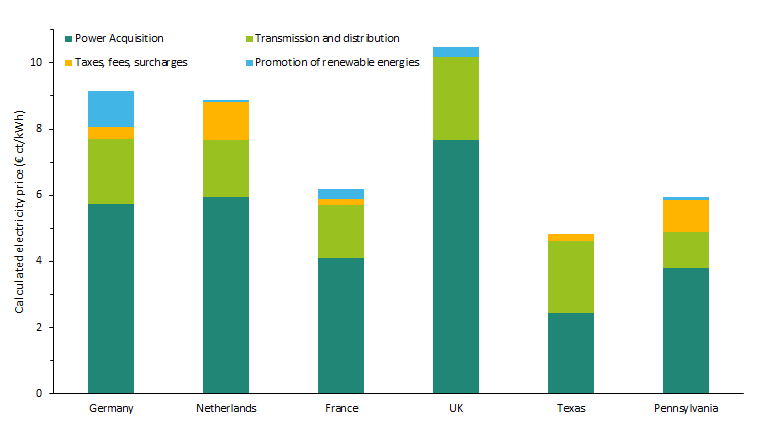 Link to source.