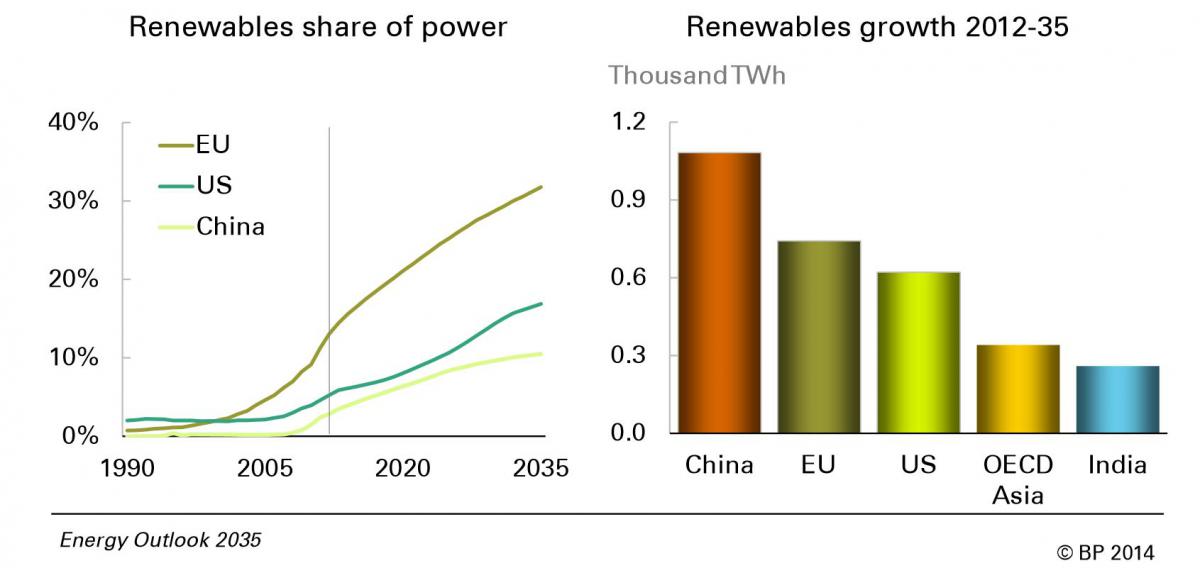 In the media: Worries about solar eclipse; Europe headed for renewables record
Frankfurter Allgemeine Zeitung
"Worries about solar eclipse"
On March 20, a solar eclipse will cover up to 80 percent of the sun in Germany and grid operators are concerned that massively fluctuating solar electricity generation might cause serious problems, according to an article in the Frankfurter Allgemeine Zeitung. Studies suggest if the day is not cloudy, output might change by up to 9000 megawatts within a quarter of an hour – equivalent to seven or eight nuclear power stations, the paper says. Some grid operators have even banned holidays for employees on that day. But thanks to thorough preparation, most operators and the government are reasonably confident the day will pass without major breakdowns, according to the article.
BP
BP Energy Outlook 2035
In its annual Energy Outlook on the likely development of global energy markets, oil company BP predicts that energy consumption in the EU will fall by 6 percent by 2035, with demand for fossil fuels like oil (-27%) and coal (-53%) dropping considerably. Use of renewables in the power sector will grow by 177 percent, the company's projections show. The share of renewables in power production will grow faster in Europe than anywhere else in the world (See Figure above).
See the Energy Outlook predictions for Europe in English here.
Download the Energy Outlook and the 2014 Statistical Review in English.
Spiegel Online
"Energiewende: Germany sues EU-Commission"
Germany has filed a lawsuit against the EU-Commission to get an answer to its principle question of whether the Renewable Energy Act (EEG) is a subsidy (state aid) or not. The EEG governs support for renewable energy development in Germany, stipulating that feed-in tariffs for renewables installations are paid by power consumers via a surcharge on their electricity bills. The EU Commission had last ruled in November 2014 that the EEG was a form of state aid that could distort competition, but so far Brussels has always permitted the EEG surcharge to stay in effect. The government in Berlin is now seeking a final decision by the European Court of Justice, arguing that the EEG surcharge cannot be state aid since it is not part of the federal budget.
See the article in German here.
Capital
"Fresh stimulus for the energy transition"
Despite its ambitious goals for the reduction of carbon emissions, Germany has lost its focus on the energy transition and instead is concentrating on international conflicts in Russia and the Middle East, writes energy expert Claudia Kemfert from the German Institute for Economic Research (DIW) in an opinion piece in Capital. "But energy policy is intimately linked to the conflicts in the world (…) so rapid action for climate protection would kill two birds with one stone: Economic growth and world peace. The solution is called Energiewende," she says. Kemfert argues old and inefficient coal-fired power plants need to be phased out and not receive financial support.
See the op-ed in German here.
Reuters
"Vattenfall considers hydropower sweetener to clinch German lignite sale"
Swedish utility Vattenfall might sell its German hydropower plants together with its lignite operations to make a deal more attractive, according to a report by Reuters. Czech energy groups CEZ and EPH are interested in Vattenfall's lignite operations, but uncertainties over German energy policy makes an investment risky. The addition of hydropower would offer greater stability for future revenue. "We are not going to sell those (hydro) plants standalone," a Vattenfall spokesman told Reuters. "They can only be sold together (with lignite operations)." According to a separate Reuters story, German power firm Steag is not in talks to buy Vattenfall's lignite assets.
See the story about Vattenfall in English here.
Read the story about Steag here.
dpa
"NRW demands more money for coal-fired plants"
Germany's electricity supply is in danger if fossil-fuelled power stations are not granted more financial support, warned Garrelt Duin, economy minister from the industrial regional state of North-Rhine Westphalia, according to a report from German press agency dpa. Those power stations will be needed in great numbers for years to come, but new ones are not being built because under current conditions, they are unprofitable, argued Duin.
Read the story in Germen here.
See a CLEW dossier on the power market reform in Germany here.