Electric vehicles in India and Nepal
After the team presented their story pitch at the Global Energy Transition Journalism conference 2017 on 10 November 2017, the journalists undertook seven months of research. The final story came out in The Hindu Business Line on 10 August 2018. Find links to all articles supported by the grant below.
Rose-Anne asked Twesh Mishra from The Hindu Business Line and Abhaya Raj Josh from Online Khabar, what it was like to work together on this story:
How were you able to connect to each other to collaborate on this article?
During the first phase of our project, we reviewed stories and articles written on the issue we were dealing with in both countries. We created a database of such articles and highlighted important parts that could come in handy during the project. We used Google docs to do this. We talked to each other over Whatsapp during the weekends to plan for the week as well as to communicate whenever we found out something new when we were out interviewing our sources.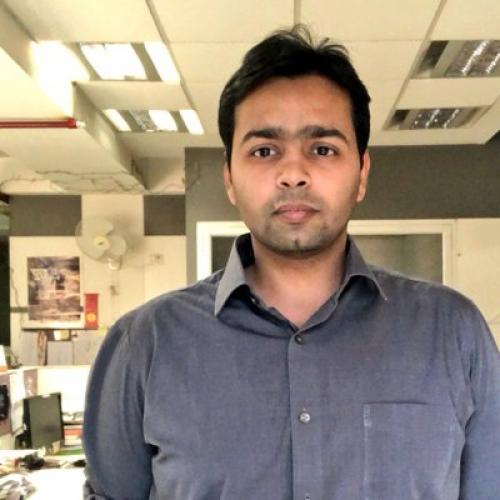 "Accessing confidential documents was tough. But luck was on our side."
Did you come across difficulties reporting on the border?
Yes, reporting on the border was not easy. Nepal and India share an open border and thousands of people cross it every day. Security personnel are always on alert and filming or taking photos raises suspicion. The customs officials on both sides of the border were reluctant to speak. The whole customs clearance process was not transparent. Accessing confidential documents was tough. But luck was on our side.
#finalLap @third_pole's @RameshBhushal takes @MahindraElctrc E2O for a spin in #Kathmandu @ClewNetwork @TweshMishra #IndiaandNepalgotCLEW pic.twitter.com/Y3akZpLn1S

— Abhaya (@arj272) July 10, 2018
What would you do differently, after having this experience?
What was the most important thing you learned? We would have liked to get more input from official sources in India and Nepal. But most of them would only speak off the record. The most important thing we learned in this experience was that a cross-border approach to a story broadens our knowledge and improves our understanding of regional issues. If working on an Indian- Nepalese project was so illuminating, we can only imagine what would happen if we collaborated with more journalists.
Articles by Abhaya and Twesh
Abhaya's stories
Twesh's stories