Energiewende - Germany is not alone
Looking at the share in energy production of renewable energy across Europe, Germany's energy transition (Energiewende) does not appear outstanding. According to the latest figures compiled by the European Union's statistical office, Eurostat, the share of green energy across all member states was 25.4 percent in 2013 – in Germany, it was just 0.2 percentage points higher. Nevertheless, Germany's rate of change is one of the swiftest in the EU. Back in 2004, green sources produced just 9.4 percent of electricity in Germany, whereas in Europe, the share was 14.3 percent.
Before green energy production was incentivised by a feed-in-tariff, Germany had a relatively stable electricity mix, relying heavily on coal, lignite and nuclear power. Each provided roughly a quarter of demand, with the remainder coming from gas and oil power stations, and about three percent from hydro power plants. Other countries, blessed with more abundant natural resources, had a head-start. Sweden has traditionally produced half of its electricity from hydro power, Austria about two thirds, and Norway close to 100 percent (See Figure 1).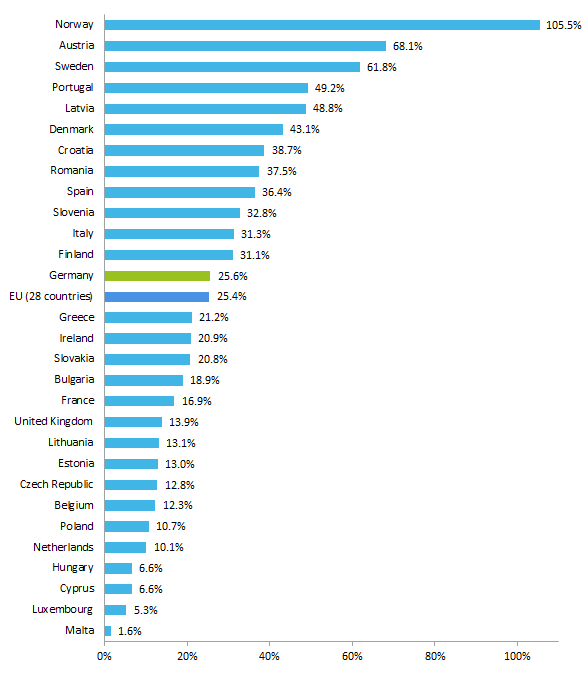 Nevertheless, some remarkable transformations of the power sector have occurred elsewhere, too. Denmark's green power production shot up from a share of 23 to 43 percent, a much swifter relative expansion than in Germany. Italy broke Germany's record of annual added solar capacity with 9.3 gigawatts (GW) coming online in 2011 alone. Italy has now raised its green electricity to well over 30 percent, up from 16 percent in 2004. Spain expanded wind and solar power production massively too, rising from under 20 percent to over 35 percent.
Europe, helped by Germany's huge investment in the sector, has for long been at the forefront of the global development of renewable energy. And it still is, at least in some areas. Take offshore wind: Roughly three quarters of this year's installations of wind turbines out at sea will take place in Europe, with half of that capacity added in Germany alone. Europe's onshore wind development has been very stable. New installations, helped by a recent boom in Germany, stood at nearly 12 GW in 2014.
But in photovoltaics, Europe has been dramatically knocked off the top spot. Only 7 GW were installed in 2014, down from 22 GW in 2012. Its global market share, which stood at around 70 percent a few years back (and over 50 percent in Germany alone), has dropped to around an 12.5 percent, with China, Japan and the US now leading the pack. Likewise, Europe's solar industry has collapsed. Only a few major solar manufacturers are left in Europe, and in Germany just one: Solarworld.
Overall, Europe's expansion of green power stations is likely to rise further, making Germany's status as the country of the Energiewende even less remarkable than was the case a few years back. A new target of 27 percent for the total share of renewable energy was recently set by the European Union in the 2030 framework for climate and energy policies. Even some countries in central Eastern Europe, which have been sceptical of the green energy transition, are getting on board. Poland, for example, recently introduced a new renewable energy law which gave reason for cautious optimism.