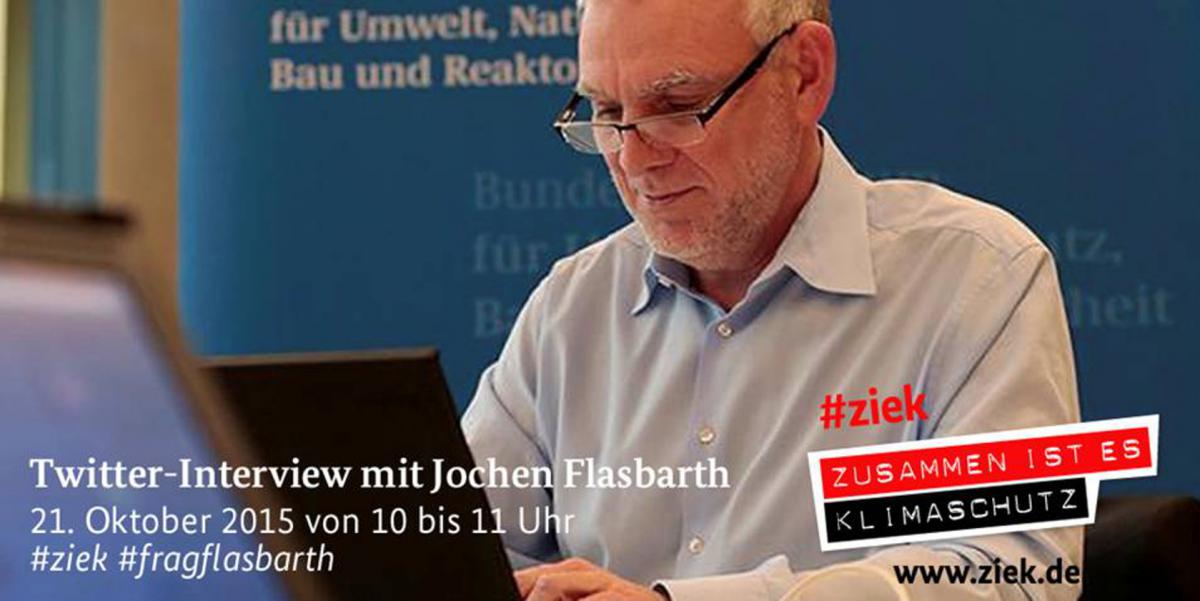 In the media: German coal exit within 25-30 years - govt official
Environment State Secretary Flasbarth (BMUB)
Germany must exit coal in the next 25-30 years
A well-organised exit from coal which considers social aspects is needed in the next 25 to 30 years if Germany wants to achieve its climate targets, Jochen Flasbarth, state secretary in the Environment Ministry, said in a Twitter interview. Answering questions from Twitter users in German, Flasbarth also said that he assumed a planned capacity reserve of coal-fired power stations in Germany would comply with EU state aid rules.
Find the questions and answers on Twitter under #fragFlasbarth and @JochenFlasbarth.
"Energy transition in the heating and transport sector leads to increased power consumption"
To ensure that Germany achieves its national and European climate targets, it may have to accept a 20 percent rise in power consumption by 2050, think-tank Agora Energiewende* says in a new study. If both the transport (e-cars) and the heating sector use more electricity - as opposed to fossil fuels - Germany will need 620 terawatt-hours (TWh) per year in 2050 instead of the current 545 TWh, research institute Fraunhofer IWES calculated. Increasing renewable power capacity by 2.5 gigawatt annually, as the government is currently planning, would not be enough to produce sufficient extra renewable power, the researchers found. "Energy efficiency has the highest priority. But the expansion of renewables has to keep up with the growing importance of electricity in the heating and transport sectors," Agora Energiewende head Patrick Graichen said.
Download the study in German here.
See the Agora Energiewende press release in German here.
Sächsische Zeitung
"Money for brown-coal power stations?"
Oliver Heinrich, the new head of workers' union IG BCE in eastern Germany, assumes there will be investment into new lignite-fired power stations, the Sächsische Zeitung reports. New technology would make future brown-coal plants more flexible, so that they could react to sudden changes in the power system due to fluctuating renewables. "If we concentrate on natural gas, we are dependent on imports - the coal we've got ourselves," Heinrich said according to the paper.
Read the report in German here.
Der Tagesspiegel
Steel company cuts 1,200 jobs in Britain
India's Tata Steel will cut 1,200 jobs in Britain – a sign that high power costs and emission levies are putting pressure on steel production in Europe, Der Tagesspiegel writes. Wolfgang Eder, head of the World Steel Association, told the paper in an interview earlier this week that European and German producers would fail to stand up to the pressure from cheaper Chinese imports in the mid-term. At least the German government was sparing the energy-intensive industries during the energy transition, Eder said.
Read the article in German here.
Energiewende direkt (Ministry for Economic Affairs and Energy)
"Pumped hydro or batteries: which technology is better for eco-energy storage?"
René Kühne, in charge of Vattenfall's hydropower business in Germany, and Volker Quaschning, professor for renewable energies at the HTW Berlin, give their views on the pros and cons of batteries and pumped hydro power in the future German power system in the Ministry publication Energiewende direkt. To incorporate a share of 80 percent renewables into the German power system, both more power lines and storage capacity will be needed, Kühne says. He argues that batteries will be needed for their quick reaction, and pumped hydro for their large capacity. Quaschning argues that the potential of pumped hydro is limited and that decentralised battery storage in households in connection with power-to-gas technology is necessary.
Read the article in German here.
PV magazine
"RWE inaugurates 16-megawatt solar park in Hungary"
German utility RWE is now operating a 16-megawatt photovoltaic (PV) facility in Hungary, which the company says is the largest of its kind in the country, PV magazine reports. It is also among the largest PV projects that RWE has realised so far. RWE CEO Peter Terium said that Hungary had good economical and geographic conditions for solar power.
Read the article in German here.
European Environment Agency (EEA)
"Climate change: EU shows leadership ahead of Paris with 23% emissions cut"
The EEA has published its European Environment State and Outlook 2015 report, tracking progress and showing trends regarding Europe's climate and energy targets. Greenhouse gas (GHG) emissions in Europe decreased by 23 percent between 1990 and 2014. And with additional measures planned in the member states, the EU is likely to achieve a 25 percent GHG reduction by 2020 - surpassing its goal of 20 percent, an EEA press release said. When measuring the progress of the member states towards the 2020 climate and energy targets and their individual goals, Germany was on track regarding GHG emissions reduction and increasing the share of renewables, but not regarding energy efficiency (energy consumption) (page 9).
Download the EEA report in English here.
See the press release in English here.
See a CLEW factsheet on Germany's emissions and climate targets here.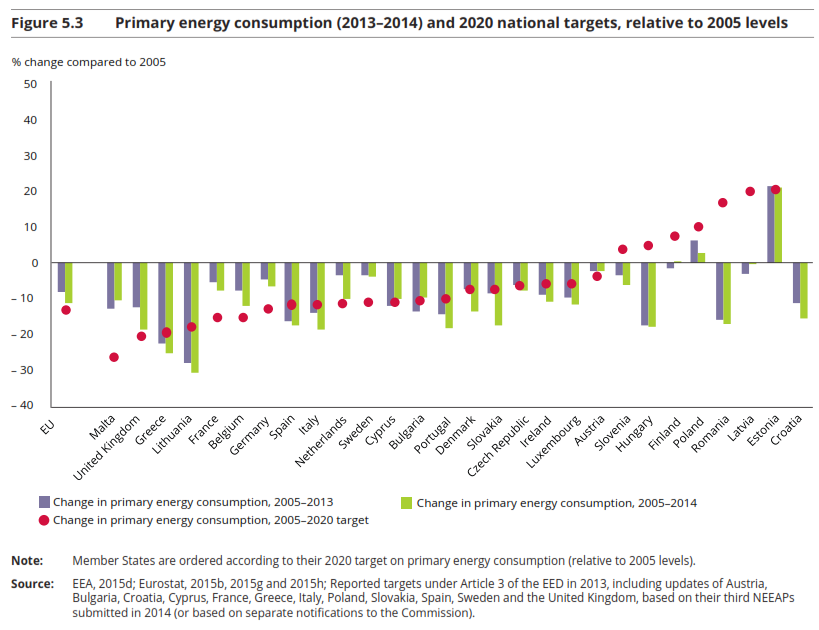 COP21
Handelsblatt
"Grown up climate politics"
We are seeing a paradigm shift in climate negotiations 23 years after the UN framework convention on climate change was adopted, writes Oliver Geden, researcher at the Stiftung Wissenschaft and Politik (SWP) in a guest article for the Handelsblatt. The focus has moved from "rescuing the world climate" to negotiating politically and economically viable measures, he says. The new priority is to integrate all states into a climate treaty, rather than to come up with the most ambitious treaty that insists on emission reductions to ensure the 2°C warming limit. Because with the latter, Europeans would end up alone - just as they did with the Kyoto-protocol.
*Like the Clean Energy Wire, Agora Energiewende is a project funded by Stiftung Mercator and the European Climate Foundation.