Record power export earnings / Lignite mine turns into wind farm
Fraunhofer ISE
"Germany's electricity export surplus brings record revenue of over two billion euros"
Net electricity exports earned Germany a record 2.07 billion euros last year, according to think tank Fraunhofer ISE. This power trade surplus exceeded the previous record of 1.94 billion euros from 2013. On average, Germany received the same price for power exports as it paid for electricity imports in 2015, according to the solar research institute. "The common argument that Germany is selling its surplus electricity to foreign countries at dumping prices cannot be confirmed according to these numbers," said Fraunhofer ISE researcher Bruno Burger.
Germany has generated over 13 billion euros in revenue from electricity exports over the last ten years, according to the analysis. In 2015, Germany exported 50 terawatt hours of electricity, a new record. During 8,074 of 8,760 total hours in the year, or 92 percent of the time, electricity exports exceeded imports. On average, the amount of power exported was 5.7 GW, which corresponds to about four nuclear power plants, according to Fraunhofer ISE.
Find the press release in English here.
The following graph illustrates the flow of electricity between Germany and its neighbours. Find an interactive version, which includes detailed data here.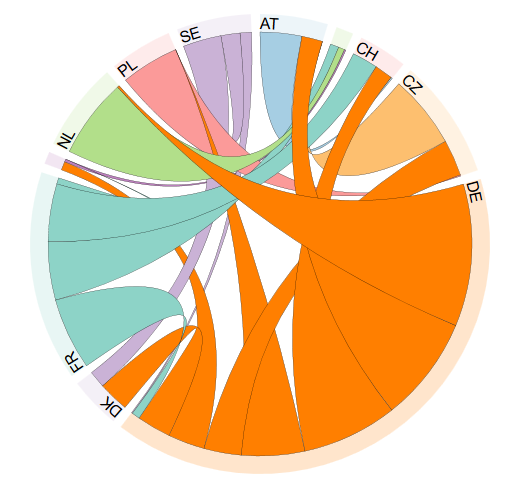 Süddeutsche Zeitung
Green state premier warns Merkel on renewables
Germany's first and only Green state premier, Winfried Kretschmann, has warned Chancellor Angela Merkel that the government must not put the brakes on renewable growth, reports Michael Bauchmüller in Süddeutsche Zeitung. "It would be fatal to slow the growth rate of renewables, and the related cuts in greenhouse emissions, at this point", wrote Kretschmann in a letter to Merkel with reference to the Paris Agreement. Kretschmann is currently campaigning for his re-election in the Southern state of Baden-Württemberg, one of Germany's industrial powerhouses. The reason for Kretschmann's letter is a plan by economy minister Sigmar Gabriel to reform the Renewable Energy Act (EEG), which could strongly curtail the growth of onshore wind, writes Bauchmüller.
Read the article in German here.
Find a CLEW factsheet on the reform proposals for the Renewable Energy Act here.
Find a CLEW factsheet on the Renewable Energy Act's defining features here.
RWE / Die Welt
RWE inaugurates regional state's largest wind farm in former opencast mine
Struggling utility RWE has officially inaugurated a large wind farm in a former opencast mine. A capacity of some 67 megawatts makes it the largest wind farm in the Western German state of North-Rhine Westphalia, according to an article in Die Welt. The farm is located on a reclaimed site of the Garzweiler opencast mine. The investment volume of the joint venture project undertaken by the city of Bedburg (49%) and RWE (51%) totals some 110 million euros, according to a RWE press release.
Read RWE's press release in English here.
Find a Welt article on the project in German here.
Reuters
"German nuclear exit plan fails to solve waste storage puzzle"
The issue of what to do with nuclear waste remains unresolved even after a government-appointed nuclear commission came up with ideas on how to ensure funding for shutting down all of the country's atomic reactors, reports Christoph Steitz for news agency Reuters. According to a draft proposal, utilities E.ON, RWE, EnBW and Vattenfall could be saddled with up to 56 billion euros ($61.6 billion) in costs to cover their share of the cost of the nuclear exit. But the final bill could climb even higher and the extra cost may have to be met by German taxpayers, writes Steitz.
Read the article in English here.
Süddeutsche Zeitung
"Profit and Responsibility"
Discussions at Germany's commission to secure the financing of the nuclear phase-out revolve around the question of how much the utilities will have to pay to evade their responsibilities, writes Michael Bauchmüller in a commentary in Süddeutsche Zeitung. The companies have earned billions with the technology for decades, writes Bauchmüller. Now the bill arrives and they suddenly moan about the terrible condition they are in. The tactic follows the well-known business strategy to 'privatise profits and socialise losses', argues Bauchmüller. "It seems that, for some, responsibility is allowed to end once the money has been raked in."
Read a CLEW factsheet on securing utility payments for the phase-out here.
"Renewable Energies contribute to grid stability"
Transmission grid operator TenneT started to use its first multi-megawatt battery in its transmission area. The battery with a capacity of 3 Megawatts will contribute to grid stability, according to TenneT. "The share of renewables in power generation is growing rapidly. This is why they have to take on more responsibility for system stabilisation. I am convinced we will see a considerable development in this area before the end of the year", said Urban Keussen, chairman of TenneT's managing board, in a press release.
Find the press release here.
Die Zeit
"Quickly charging would be nice"
Germany's charging infrastructure for e-cars is making slow progress, writes Christoph Schwarzer in Die Zeit. But US company Tesla shows how it works and has already installed 53 charging stations along German motorways. They are quick, easy, and free to use, reports Schwarzer. Competitors aim to install a similar network, but there is still confusion about technology and costs. "The Americans show with their 'just do it' mentality what is possible," writes Schwarzer.
Read the article in German here.