RWE posts net loss / Nuclear in focus ahead of Fukushima anniversary
RWE/Bloomberg
RWE posts second net loss in two years
Germany's biggest power producer RWE posted its second net loss in three years, reports Tino Andresen for Bloomberg. The group's net loss amounted to 170 million euros, compared with a profit of 1.7 billion euros a year earlier, on sales of 48.6 billion euros, according to the report. Plunging electricity prices forced RWE to write down the value of its plants at home and in the UK by 2.1 billion euros. RWE's UK unit is to cut 2,400 jobs after billing system failures and more than 350,000 customers left the utility.
Largely due to the commissioning of new wind farms with a total generating capacity of some 1,000 MW, RWE's renewables division more than doubled its result to 493 million euros, according to the RWE press release. "This means that renewables now account for the largest share of RWE's generation portfolio after gas and coal." RWE noted a "drastic deterioration of earnings prospects in conventional power generation".
Find the RWE press release in English here.
Read the Bloomberg report here.
Deutschlandradio Kultur
"When a nuclear power plant is shut down"
Deutschlandradio Kultur reports from nuclear power plants in Germany, in various stages of decommissioning, or preparation to go offline by the 2022 deadline. Talking to power plant operators and residents living close to the plants, the reports look at the challenges of shutting them down, with some citizens concerned over safety.
See/hear the reports in German here.
See a CLEW dossier on the challenges of the nuclear phase-out here.
Find a CLEW overview of Fukushima's impact on Germany here.
Süddeutsche Zeitung
"The bill, please"
Draft recommendations from the expert commission on financing the nuclear clean-up do not go far enough to ensure that power plant operators foot the bill, says Claudia Kemfert, of the German Institute for Economic Research (DIW), in an opinion piece for the Süddeutsche Zeitung. The 18 billion euros they are to pay for final storage of nuclear waste are likely to be insufficient, Kemfert writes. She also questions the principle of leaving the dismantling of plants in the hands of operators, saying this too should be transferred to a state-administered fund. "The design of the nuclear fund is a good deal for the nuclear companies but a bad deal for citizens," Kemfert writes.
See the article in German here.
See a CLEW factsheet on securing payments for nuclear decommissioning here.
Frankfurter Rundschau
"Abstruse nuclear policy"
An article by Thorsten Knuf in the Frankfurter Rundschau looks at Electricité de France (EDF) CFO Thomas Piquemal's decision to quit the state-owned French power company, which was announced yesterday. France relies on nuclear power for 75 percent of its electricity. With Germany's nuclear phase-out in full swing, the French are not considering saying "adieu" to atomic power, Knuf writes. But Piquemal argued that plans for a new EDF nuclear plant at Hinkley Point in the UK would overburden the company, which is already more than 37 billions euros in debt and wanted to cancel the project. The article says the decision to go had more to do with politics than business. EDF is owned by the French state, and Hinkley Point has been described by British and French governments as a cornerstone of the relations.
Friends of the Earth Germany (BUND)
"Nuclear phase-out has to be brought forward"
A new study by Friends of the Earth Germany (BUND) shows that a range of risks are associated with Germany's nuclear power plants and interim radioactive waste storage facilities, including inadequate protection standards, terror and earthquake risks. A major accident was possible in all of Germany's nuclear power plants, study author and physicist Oda Becker said. BUND argues that energy companies should exit the risky technology even earlier than the planned 2022 nuclear phase-out.
Read the press release in German here.
Renewables Energy Agency
"Opinions on renewables – a look at polls in industrialised countries"
A paper from Germany's Renewables Energy Agency (AEE) compares surveys of public opinion on renewable development in different countries, in the context of energy and socio-political issues. Renewables are booming in Western countries, largely because of public pressure, but priorities vary country-to-country, the paper says. According the AEE's synthesis of different studies, 90 percent of respondents in the EU believe it is "very important" or "fairly important" that their national governments set targets for the expansion of renewables by 2030. They found "strong and sustained support for the Energiewende in Germany".
See the paper in English here.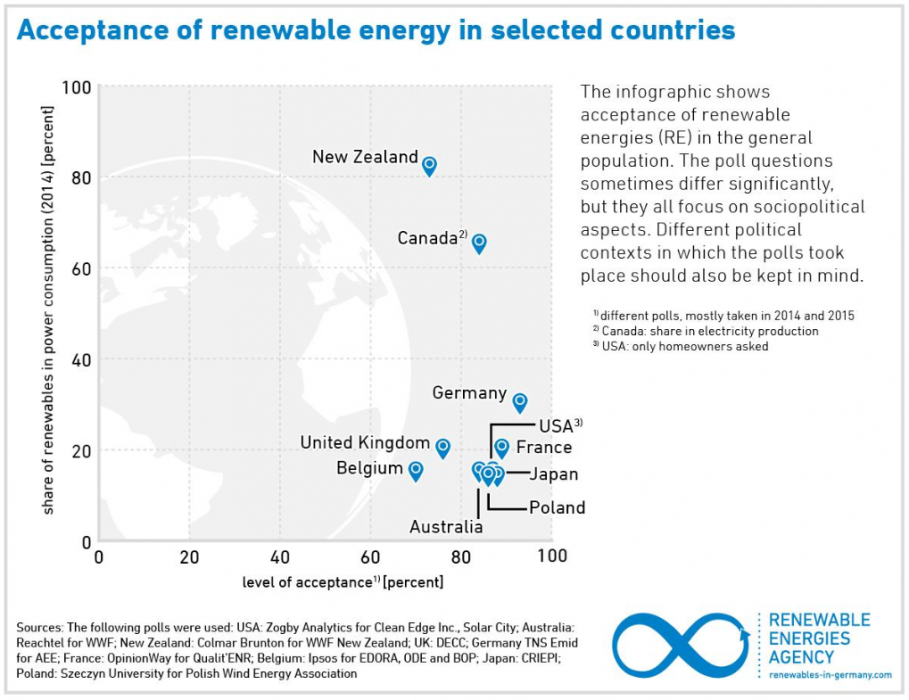 Federal Agency for Nature Conservation
"Energy transition is a challenge for conservation, too"
The Federal Agency for Nature Conservation (BfN) opened a two-day conference in Bonn on Monday, looking at the impact of the Energiewende on the conservation of landscapes and biodiversity. The event links 20 different research projects from around Germany. The expansion of renewables is not without it impacts on natural habitat, the Agency says in a press release. The research projects look at the impact of renewable installations on different species of bird, as well as bats, fish and marine mammals. A website is being launched to share research and practice with the aim of mitigating these impacts.
See the press release in German here.