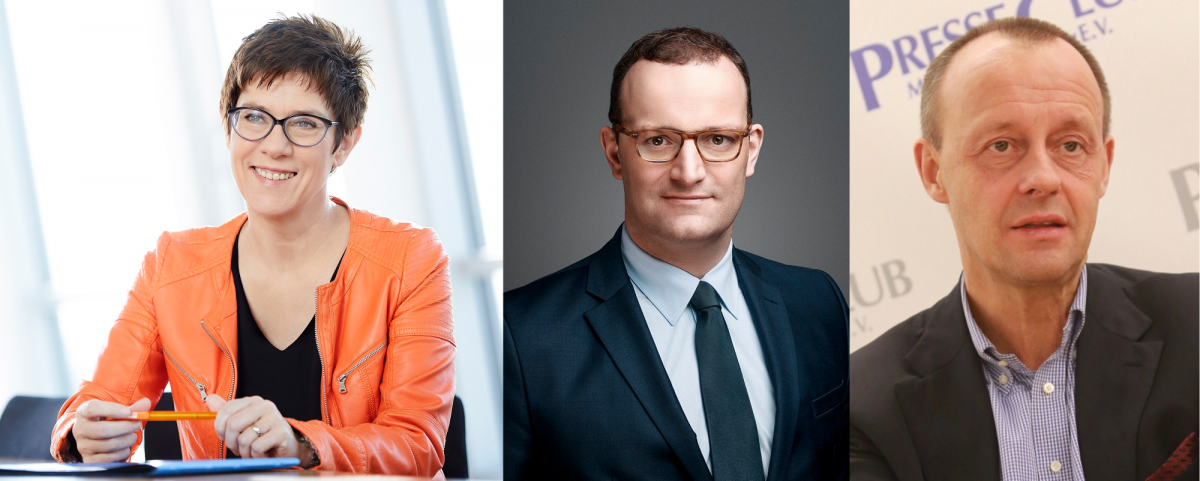 Climate and energy views of candidates to follow Merkel at helm of CDU
After heavy losses for her conservative Christian Democratic Union (CDU) in the federal states of Bavaria and Hesse, Chancellor Angela Merkel announced that she will clear the way for a new leader of her conservative CDU party and not run for re-election at the party conference on 7-8 December. [Read the full story here.]
Merkel said that she plans to continue her work as chancellor until the end of the legislative period in 2021. Whether this will be possible under new party leadership depends on the successor.
Initially, Armin Laschet, state premier of North Rhine-Westphalia (NRW) – Germany's industrial powerhouse and most populous state – was among the group of likely candidates to run for CDU leadership. According to media reports, however, he has decided not to seek the position in the current proposed constellation, in which the chancellor and party chair would be two different people.
Poll shows support for Kramp-Karrenbauer
In a recent poll commissioned by public broadcaster ARD, 43 percent of respondents said Annegret Kramp-Karrenbauer should become the next CDU head, while 32 percent named Friedrich Merz and only 10 percent Jens Spahn. Among CDU supporters, the numbers were 46 percent (Kramp-Karrenbauer), 31 percent (Merz) and 12 percent (Spahn). Even if the chairman is elected by the delegates at the party congress, the opinion of the general public plays a role in their decision, as does that within the CDU's constituency.
Campaign and election procedure
The CDU leadership has decided that official candidates will have the opportunity to introduce themselves to CDU members at eight regional conferences from mid to end of November, where each candidate will have time to say a few words and then answer questions. According to media reports, about a dozen politicians will seek election. Yet, to become official candidates, they must either be proposed by party bodies ahead of these regional conferences, or at the CDU party conference in December by members eligible to vote. This leaves open the possibility of spontaneous candidacy.
This article will be updated as candidates emerge and comment on climate and energy issues.
Annegret Kramp-Karrenbauer, CDU general secretary:
The former state premier of Saarland, the small Western German state bordering France and Luxemburg, is a close Merkel ally and has been seen by many as a likely candidate to follow her as chancellor since she was elected CDU general secretary in February 2018. Energy and climate policy has not been a focus for the 56-year old Kramp-Karrenbauer but she is seen as a talented all-rounder.
As the CDU's general secretary, Kramp-Karrenbauer is currently responsible for creating a new basic policy programme for the CDU by 2020. Of all the potential candidates, she is likely to provide most continuity and embody what many see as Merkel's relatively liberal policy direction.
Climate and energy stance:
In the political talkshow maybrit illner by public broadcaster ZDF, Kramp-Karrenbauer gave her view on renewables support: "At the outset, we pushed subsidies for renewable energies to very high levels to get the expansion going. In the meantime, this has become degressive. Nevertheless, energy prices in Germany are very high and it must also be a task in view of the energy transition to reduce this burden - both for individual consumers and for industry, which is dependent on energy. Otherwise we will damage our competitiveness."
Kramp-Karrenbauer has warned of overambitious climate targets. In 2017, she said: "If it is necessary to jeopardise the basis of our prosperity with an insecure and overpriced energy supply in order to achieve the 40 percent target, then, as premier of an energy- and industry-oriented federal state, I would be of the opinion that it would be better to achieve 38 percent than to risk the energy supply with 40 percent."
In a 2015 interview, she said that the Paris Agreement goal of limiting global warming to 2° Celsius (the agreement's less ambitious target) was "very ambitious" in light of the widely varying interests of governments around the world. She said she was against setting very ambitious goals if poor countries in particular were likely to struggle to achieve them. She warned against setting and excessively high target that would later have to be abandoned.
In a 2018 interview, Kramp-Karrenbauer said, "The question is, how do you define conservative? Is nuclear energy conservative? I am considered conservative in socio-political terms, but I've never been a proponent of nuclear energy."
Jens Spahn, health minister: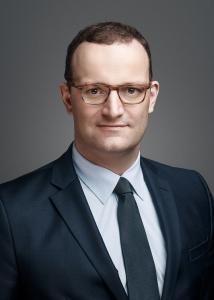 German health minister and Merkel critic Jens Spahn has largely focussed on finance, budget and health policy during his career, but began to comment on a wider range of topics ahead of his appointment as a federal health minister at the beginning of 2018. Still, he has made little comment on energy and climate policy. Spahn became a member of the Bundestag in 2002 and worked his way into the CDU leadership by the early 2010s. He was parliamentary state secretary in the finance ministry from 2015 to 2018.
Spahn, aged 38, is savvy of the power of social media and a frequent guest on political talk shows. He has close ties to controversial US ambassador to Germany Richard Grenell. He stands for a new – and more conservative – beginning for the CDU and for a generational transition. He has many supporters in the Junge Union, the CDU's youth wing.
Climate and energy stance:
In a recent interview with public broadcaster ZDF, Spahn called for debate over and issues that have a concrete impact on the lives of German citizens, such as the energy transition. He added, with a nod to events surrounding the Hambach Forest and the debate over the lignite mine extension, that politicians must provide solutions that meet the triple goals of climate protection, jobs and affordability.
Spahn has repeatedly made clear that he would favour cooperating with the economically liberal Free Democrats (FDP), rather than the Green Party. Spahn has been full of praise for how FDP head Christian Lindner brought his party back from federal insignificance. In 2014, however, Spahn and Green politician Omnid Nouripour organised a meeting with young members of both parties to open communication channels with the aim of making possible future coalition talks easier. Ahead of the 2017 elections, Spahn said he favoured a three-way coalition with the FDP and Greens over a renewal of the grand coalition with the Social Democratic Party (SPD).
During the coalition talks following the federal elections, Spahn told public broadcaster MDR that while his party aimed to reach climate targets, supply security must be guaranteed. "There is little point in shutting down coal-fired power stations in Germany and then importing coal-fired electricity from Poland or nuclear power from France, for example," he said.
Friedrich Merz: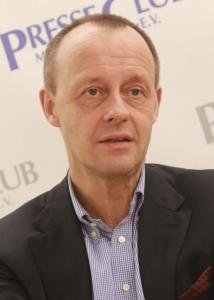 Merz, who will turn 63 on 11 November, is a long-time rival of Merkel. A business-friendly, socially conservative economics expert, climate and energy policy has never been his specialty. Merkel replaced Merz as CDU/CSU parliamentary group leader in 2002. Merz quit politics in 2009 after five years in the European Parliament and then 15 years in the Bundestag, to work as a private lawyer. A defender of multilateralism, Merz is chairman of the board of directors of Atlantik-Brücke, a non-profit association promoting German-American ties. In 2017, he became chairman of German operations at the world's largest asset manager, BlackRock. His return to politics has prompted watchdog LobbyControl to voice concern over conflict of interest. Since leaving politics, Merz has often criticised Merkel's policies and remains popular among the CDU's pro-business camp. The German public remembers Merz for his 2003 tax reform proposal, which he said "fit on a beermat."
In a press release to announce his candidacy, Merz wrote: "In the [conservative alliance of CDU/CSU], we need a new beginning and renewal with experienced and younger leaders. I am prepared to take responsibility for this and at the same time to do everything I can to strengthen the internal cohesion and future viability of Germany's CDU."
Climate and energy stance:
When Merz gave first details about his candidacy at a press conference in Berlin on 31 October, he said: "Migration, globalisation, climate change, digitalisation - these are the greatest challenges of our time in my view."
Merz has worked for the German Chemicals Industry Association (VCI) in the 1980s.
He has advocated protecting German industry from the country's relatively high power prices.
Merz was one of 40 public figures to sign the 2010 "energy policy call" that said nuclear and coal power would continue to be necessary for Germany. The statement said renewables needed strong and flexible partners: "These include state-of-the-art coal-fired power plants. This also includes nuclear energy, which will enable us to achieve our high CO₂-reduction targets much faster and, above all, more cheaply than if the existing plants were to be shut down prematurely."
Merz has warned of an overly hasty energy transition. In a 2011 op-ed for weekly Die Zeit, he criticised the speed with which Merkel's government decided to shut down several nuclear reactors after the Fukushima disaster. "Those who call for a rapid phase-out must explain what our energy supply should look like in the future," he wrote, arguing that renewables could not simply replace reliable nuclear power. He also warned that more coal and gas power – which might be needed to replace nuclear – would lead to higher CO₂ emissions. At the time he was not professionally connected to any energy companies, he wrote. In an interview with mass daily Bild on 14 November 2018, Merz said it was correct to exit nuclear power, "but not so sudden and without the necessary discussion."
In a 2012 interview he said: "My impression is that the energy transition was decided very abruptly and that the timeframe was perhaps too ambitious."