German CO2 emissions up in 2015 / Call for e-car subsidies
AG Energiebilanzen
German CO2 emissions rise in 2015
Germany's CO2 emissions have increased slightly in 2015, according to preliminary calculations by energy market research group AG Energiebilanzen. "Adjusted to the temperature effect, CO2 emissions are approximately 2 percent below the previous year's value," the group said in a press release. Total energy consumption rose 1.3 percent, primarily due to the weather, which was slightly cooler. "The increase in consumption resulting from the positive economic trend (+ 1.8 percent) and the growth in population (+ 1 million people) was compensated by gains in energy efficiency," it said. A substantial portion of the increase in energy consumption was covered by renewables, whose share in total electricity generation rose to 30 percent, compared to 25.9 percent in 2014.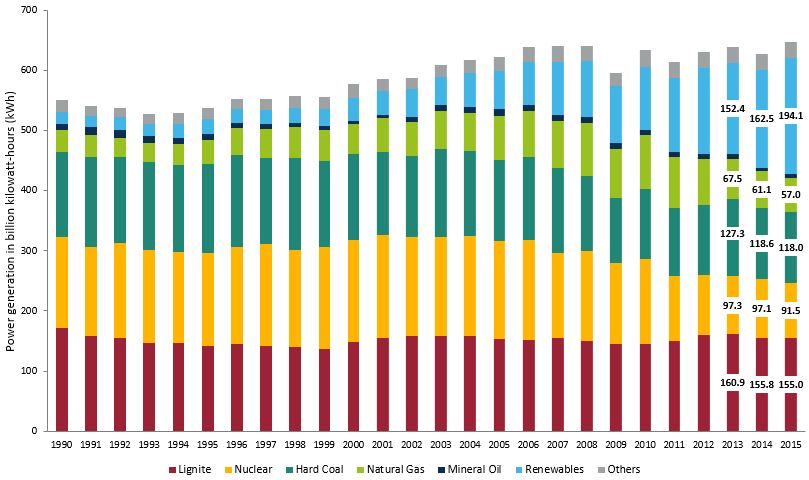 Find the press release in English here.
Reuters
"Social democrats push for e-car buyer's premium"
Prominent members of energy minister Sigmar Gabriel's Social Democratic Party (SPD) want direct subsidies for electric cars. Environment minister Barbara Hendricks told Spiegel magazine she favoured a buyer's premium of 5,000 euros per car. One of the SPD parliamentary group's deputies, Sören Bartol, told the magazine the government's objective of getting one million electric vehicles on the road by 2020 is out of reach without additional financial support, according to the report.
Find the report in German here.
Frankfurter Allgemeine Zeitung
"Expensive e-mobility"
It is likely Germany will pay a direct incentive for e-cars in the medium term, as demanded by carmakers, writes Carsten Knop in a commentary in the Frankfurter Allgemeine Zeitung. "Registration numbers are too low, investments in the technology too expensive, the pressure from subsidies in other countries allegedly too high: In the end, politicians will buckle and let tax payers bleed," argues Knop. He says it is likely that Diesel technology is on the decline after the VW scandal, and EU emissions limits will be out of reach with other combustion engines. "Who wants to bet e-mobility will be subsidised at all costs? What consumers want will be secondary. Even if their reply to date is: Everything but an electric car."
Frankfurter Allgemeine Zeitung
"Climate agreement not historic"
A sober analysis of the Paris Agreement sadly shows there was much ado about nothing, writes Deutsche Bank's chief economist David Folkerts-Landau in an op-ed in the Frankfurter Allgemeine Zeitung. Folkerts-Landau writes there are good reasons to assume many countries will not fulfil their voluntary commitments, and that many assumptions about technological progress and economic development may be too optimistic to achieve the climate targets. Additionally, experience shows breaching individual or collective targets does not seriously damage a nation's reputation. "I am sceptical why this should be different in the case of the Paris Agreement. I am convinced that market-based steering tools are the most promising among climate policies."
Frankfurter Allgemeine Zeitung
"Vattenfall open for offers"
Investors wanting to acquire Vattenfall's German lignite operations must submit an indicative offer before Christmas, reports the Frankfurter Allgemeine Zeitung. A source familiar with the sale process told the newspaper Vattenfall planned to choose early next year which bidders will enter the due diligence process. Offers are expected from utility competitor Steag, as well as from Czech utilities CEZ and EPH, according to the report.
Find a CLEW factsheet on Vattenfall's lignite operations in Germany here.
Der Spiegel
After Paris agreement business as usual
The new Paris climate agreement will not change RWE's approach to the Energiewende, CEO Peter Terium said in an interview with Der Spiegel. "We have committed years ago to reducing CO2 emissions by 80 to 95 percent by 2050. But I think it is good that this target is now also exists on a global level, because Germany cannot save the climate on its own," Terium said. RWE would reduce emissions from its brown coal-fired power stations by 15 percent by 2020 and by 50 percent in 2030, and by the middle of the century lignite power won't play a role for RWE anymore.
Handelsblatt
"RWE pulls the plug on faulty power plant"
Utility RWE will mothball part of its new coal-fired power station at Hamm, the Handelsblatt reports. Block D of the power plant which was supposed to have come online in 2012 but was delayed time and again due to construction and operating errors, will be shut down for good, the company said. Otherwise costs for the project would get out of hand, the paper reports. RWE will now try to get compensation from constructor Alstom (General Electric), the article says.
Read the article in German here.
Ministry for Economic Affairs and Energy (BMWi)
Modernisation of boiler rooms
The Ministry for Economic Affairs and Energy (BMWi) will support the installation of new heating and/or ventilation systems with 165 million euros in interest subsidies over the next three years. Modernising old boiler systems would help to decrease energy costs and emissions from the housing sector, the ministry said.
Read the press release in German here.
Read a CLEW dossier about efficiency and the energy transition here.