In the media: Nuclear phase-out raises security concerns
Frankfurter Rundschau
Nuclear decommissioning: Environmental activists worried about security
An alliance of 76 environmental groups is demanding stricter security standards and more public consultation for the decommissioning and dismantling of Germany's remaining nuclear power stations, writes Joachim Wille in the Frankfurter Rundschau. While nuclear power station operators are looking for the cheapest way to dismantle their plants, local politicians want the process to happen as quickly as possible, the alliance says. But the security of the population is not the top priority, the alliance criticises. They are calling for more health and safety checks and limitations on the transport of radioactive material by storing it near power plants.
Read a CLEW factsheet about Germany's nuclear waste here.
Federal Institute for Research on Building, Urban Affairs and Spatial Development (BBSR)
Germany has enough space to install 125 GW of wind energy
Germany could potentially use 1.7 percent of its territory for the installation of wind turbines, according to a study by the Federal Institute for Research on Building, Urban Affairs and Spatial Development (BBSR). "This area allows the installation of wind turbines with a capacity of around 125 gigawatts (GW). This is more than three times the capacity installed at the end of 2014," concludes the study, which numbers more than 200 pages, according to a press release. "The expected roll-out of wind energy until 2025 is therefore possible without problems."
Read the press release in German here.
Large differences in forecasts for green energy surcharge 2016
Forecasts vary widely for the 2016 renewable energy surcharge, a per-kilowatt-hour levy that helps fund Germany's renewables expansion, according to Strom-Report. Despite a current surplus of billions of euros on Germany's green energy account, forecasts suggest it is far from certain the surcharge can be reduced again for 2016 as it was for 2015. Next year's amount will be announced on 15 October. The current surcharge is 6.17 cents per KWh, and fell last year for the first time since it was introduced in 2000. In their mid-range forecast from November 2014, grid operators calculated a possible range of 5.66 to 7.27 cents (see graph below).
Read the article in German here.
Find a factsheet on Germany's green energy account here.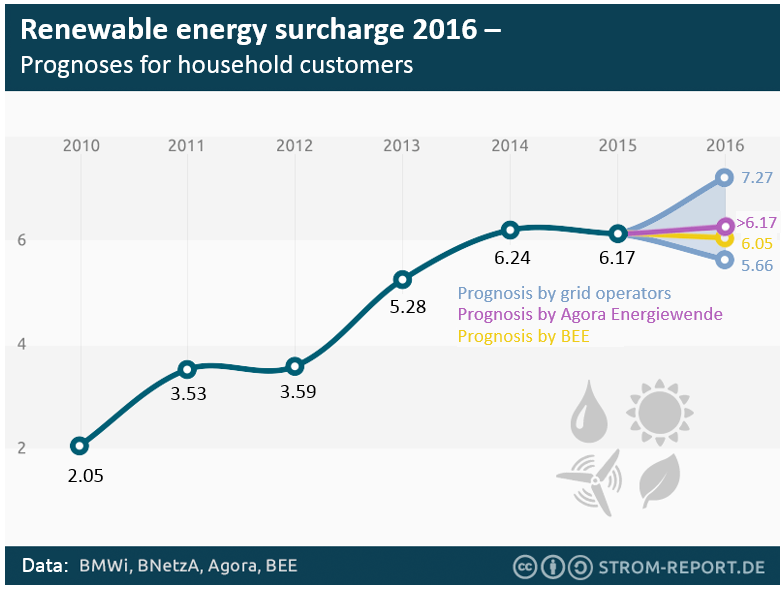 Cicero
"This is the opposite of justice"
Current policies of the energy transition are unjust, according to Michael Vassiliadis, head of the Trade Union for mining, chemicals and energy industries (IG BCE). "If we don't manage to finally support innovation, its [the Energiewende's] realisation will be a disaster and the distribution of its costs will be extremely unjust," said Vassiliadis in an interview published by Cicero magazine, which was conducted originally for the foundation of utility RWE.
Vassiliadis says current policies are based on guarantees for renewables investors, instead of supporting innovation to find solutions for central issues such as energy storage and grid extensions. "This can make sense at the beginning of a desired technology transition, but with every passing day, it becomes more of a subsidy for client politics. This is the opposite of justice." Vassiliadis argues the present waste of money puts a heavy burden on future generations, who will have to live with the consequences.
Read the interview in German here.
Handelsblatt
"Europe without steel"
The Paris climate conference might have dire consequences for the competitiveness of European industries, warns Wolfgang Eder in a commentary for Handelsblatt. A significant increase in the price of CO2 emissions certificates would endanger European steel manufacturers, even though their furnaces rank among the most efficient in the world. "Will this bring any gain for the climate? Not at all!" argues Eder. He says production will choose the path of least resistance, and this is why global standards are needed. "There is no question: The environment, climate and energy are of concern to all of us, and everybody has to make a sacrifice. But an honest and transparent game, instead of populist and ideological positions, would be very helpful," the author writes.
Die Welt
"Prosperity in danger"
The Energiewende, which is currently badly managed, is a threat to German prosperity, writes Dorothea Siems in a commentary in Die Welt. "While energy has become cheaper than it has been for a long time the world over, our electricity costs continue to rise due to further subsidies," writes Siems. "Without a doubt, the Energiewende is also an opportunity for industry. But hopes have remained unfulfilled so far that others would imitate the brave decision to phase out nuclear power – because it is still unclear if Germany can really manage this challenge."
Frankfurter Allgemeine Zeitung
"Grid extension experiences further delays"
The extension of power grids deemed necessary to complete the Energiewende is advancing extremely slowly, according to a report in the Frankfurter Allgemeine Zeitung. "According to new data from the Federal Network Agency (Bundesnetzagentur), only 24 kilometres of power lines were built in the first half of 2015." Agency head Jochen Homann told the paper: "Compared to the original plans, many projects are affected by significant delays. Nevertheless, we are advancing with small steps."