In the media: Study - "Utilities' misery their own fault"
Reuters
"E.ON paves way for spin-off following record loss"
Germany's biggest utility, E.ON, booked its largest ever annual loss, as a result of its ailing power plants, Reuters reports. The company swung to a net loss of 3.2 billion euros in 2014, after booking a profit of 2.1 billion euros the year before. E.ON took impairment charges totalling more than 5 billion euros on power plants, clearing the way to spin off these assets, which have been hit by low wholesale prices for electricity, according to the report.
See the report in English here.
See CLEW's Dossier on utilities here.
"Misery of big utilities is their own fault"
The plight of Germany's four largest utilities - E.ON, EnBW, RWE, and Vattenfall - is of their own making, according to a study by the University of Recklinghausen, commissioned by Greenpeace. "The main fault lies with current and former management. They rested for too long on formerly brilliant results, often only achieved due to virtual monopolies," the study concludes. "They bet on nuclear energy for too long (…) and underestimated the dynamism of renewables' growth."
See the press release in German here.
See a news report on Spiegel Online on the study here.
Handelsblatt
"Utilities lose faith in Energiewende"
Utilities have become more sceptical about Germany's transition to a low-carbon economy, reports Handelsblatt. Less than half see the Energiewende as an opportunity, down from 80 percent in 2012, according to a survey by consultancy Horvath und Partners, cited by the newspaper. Of 44 senior utility managers participating in the survey, more than half say they expect the government to introduce a capacity market in its redesign of the power market, in order to secure supply.
See the story in German here.
See CLEW's Factsheet on power market reform here.
"Gabriel: Reform of the market incentive programme gives new stimulus to energy transition of the heat market"
The Federal Ministry for Economic Affairs and Energy (BMWi) has published reformed guidelines on support for renewable energies in the heating sector (Marktanreizprogramm, MAP), which will come into effect in April 2015. The programme will be funded to the tune of 300 million euros per year and aims to support investment by private individuals, businesses and municipalities in heating from renewable sources in existing buildings, as well as district heating networks. Small and medium sized businesses will benefit from the reform through cheaper loans from state development bank KfW, Minister Sigmar Gabriel said in a statement. Germany wants to boost the share of renewables in its final energy consumption for heating and cooling to 14 percent by 2020 – today the share is 9.9 percent.
See the press release in German here.
"Natural gas remains most popular heating source"
The German Association of Energy and Water Industries (BDEW) has published new figures on heating consumption in Germany, finding that most people heat their homes with natural gas, followed by petroleum and district heating networks, which supply households with the heat that utilities produce in combined heat and power plants nearby (see chart below). Heating makes up over 80 percent of an average household's energy consumption, the BDEW says, and only a quarter of the heating facilities in use are at state-of-the-art.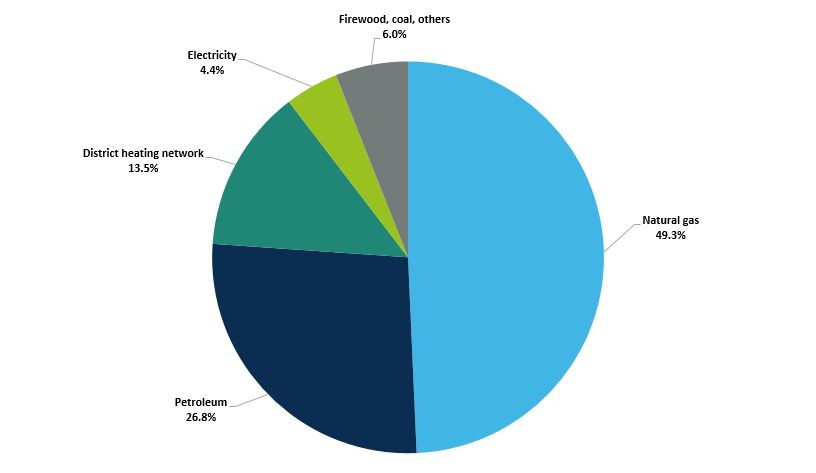 See the BDEW press release in German here and the data on the development of Germany's heating structure since the year 2000 in German here.
Financial Times
"Germany threatens UK dominance in wind power"
In an article for the Financial Times, Pilita Clark says the German wind power sector is taking off just as the UK's begins to slow. Since 2011, the UK has generated more electricity from wind than the rest of the world combined, Clark writes, and currently has 4.5 gigawatts (GW) of offshore wind capacity, compared to just over 1 GW in Germany. But with changing rules for subsidies, the UK is expected to install only an additional 600 megawatts this year, while Germany brings another 2 GW online, the article says.
See the article in English here.