In the media: Vattenfall shelves resettlement of coal communities
Berliner Morgenpost /dpa
"Vattenfall stops resettlement plans near lignite mine in Nochten"
Energy utility Vattenfall has stopped plans to resettle around 1700 people near its open cast lignite mine Nochten in Saxony, the Berliner Morgenpost reports. The Swedish company blamed "uncertain energy policy conditions for lignite mining and power generation in Germany" for the move. A Greenpeace representative said the move showed Vattenfall was finally admitting that the end of lignite in Germany was nigh. The Nochten mine was supposed to extend its use into the 2020s, meaning that the citizens of villages Schleife and Trebendorf would have had to leave their houses for good. A Vattenfall spokesperson told News Agency dpa that the company was also looking into the viability of a planned extension at lignite mine Welzow-Süd in Brandenburg. Around 800 people from Welzow would have to be relocated if these plans were followed through, the article says.
Read the article in German here.
Agora Energiewende / Renewable Energies Agency
"Renewables growth easily compensates shut-down of Grafenrheinfeld"
Power from wind, sun and biogas adds up to more than double the power production of nuclear power station Grafenrheinfeld in Bavaria which is scheduled to go offline on Saturday, think-tank Agora Energiewende* has calculated. As power generation from renewables increased by 10.7 terrawatt-hours (Twh) in the first six months of 2015 (compared to the same period in 2014), this could cover 5.4 million households for half a year, Agora Energiewende's press release states. Nuclear power production declined by 43.5 Twh between 2010 and 2014 while renewable power grew by 55.8 Twh.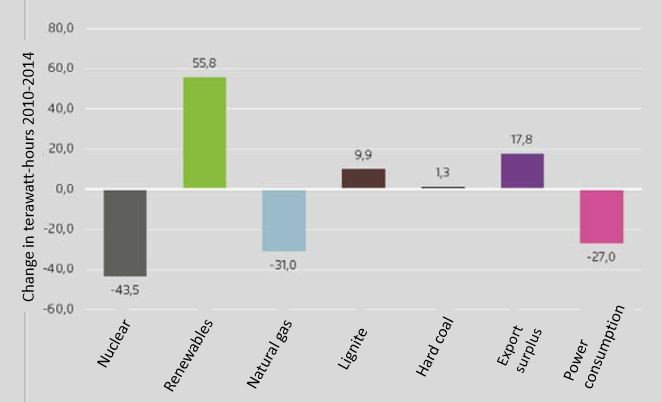 Read the Agora Energiewende press release in German here.
The Renewable Energies Agency has also compiled evidence for renewables compensating nuclear power – read thenarticle in German here.
Energytransition.de
"Germany's next nuclear plant closes for good"
The permanent shut down of the Grafenrheinfeld nuclear plant in northern Bavaria on 27 June will be the first nuclear plant to close since 2011, writes Craig Morris on the energytransition.de blog. In his analysis, Morris looks at the question of supply security in Bavaria as three more plants will close as part of the national phase-out. He concludes that the state can avoid problems if the hotly debated new power lines to Northern Germany were built. "In essence, Bavaria needs to get back on board with the Energiewende," Morris writes. "No power shortage need occur if they act now."
Read the full blog post here.
Frankfurter Allgemeine Zeitung (FAZ)
"Grid operators are appalled by minister's new network plan"
After economy and energy minister Sigmar Gabriel said Wednesday that faster and cheaper power grid expansion could be achieved by putting more parts of the planned north-south connection underground, grid operator TenneT warned that this could effectively make things more expensive, Andreas Mihm writes in the FAZ. TenneT chairman Urban Keussen said that exploration for buried cables was very different from the measurements the company had conducted for the planned overland grid. It would be both costly and time consuming if the exploration process and two years of dialogue with citizens had to be repeated. Moreover, buried cables would make the grid connection "several billion euros more expensive," Keussen told the FAZ. Minister Gabriel had argued that citizen protests against overland power lines would make the project both slower and more expensive than putting the cables underground.
Tagesspiegel
"Security of supply – energy transition needs to include flexible supply and demand"
After focusing largely on the development of renewable energies in recent years, system integration of green power should now take centre stage, Dirk Becker, economy and energy spokesman of the Social Democrats in federal parliament writes in an op-ed for the Tagesspiegel. "We need a 'flexibility transition' (Flexibilitätswende) in the German power market," Becker writes. The more flexible the market, the smaller the need for capacity reserves. The basis for achieving such flexibility is good, says Becker. Now the government had to create a level playing field to ensure that the most cost-effective measures and technologies could succeed.
Read the op-ed in German here.
Dow Jones Newswires
"Distribution grid operators demand better investment conditions"
Grid operators say they need better investment conditions if they are to modernise the power grid and take up more renewable energy, they said at a conference of the energy industry association BDEW in Berlin. They criticised the draft proposal by the Ministry for Economic Affairs and Energy as hurting smaller companies that face extra costs for adapting the distribution grid to energy transition demands, Dow Jones Newswires writes. Distribution grid operators would have to invest around 25 billion euros in the coming years, something the new investment rules should take into account. Achim Zerres from the Federal Grid Agency defended the ministry proposal, saying it included adequate investment conditions, Dow Jones reports.
Dow Jones Newswires
"Siemens head gives the coalition bad marks for energy policy"
Siemens CEO Joe Kaeser says that the German government has still not managed to create a reliable policy framework and has thus placed the energy sector in a precarious position, Christian Grimm writes for Dow Jones Newswires. "How can it happen that such an undertaking has managed to upset the business model of an entire industry?" Kaeser asked at a conference of Germany's major electricity suppliers. Policy makers "must return to providing a reliable framework," Kaeser said, adding that the mistakes of the renewable energy law can not be repeated, as energy is three times higher in Germany than in the US.
EconNewsNetwork
"Four years of the Energiewende – 72 percent of Germans committed to nuclear exit"
Seventy-two percent of Germans are committed to getting out of nuclear power, up slightly from 68 percent last year, according to a poll of 2,000 Germans in the Stiebel Eltron Energie-Trendmonitor. The company is a producer of heating solutions using renewable energies. According to the survey, 80 percent of those surveyed are in favor of countering climate change by cutting down on fossil fuels, up from 76 percent last year. But many people expressed dissatisfaction with the support system for renewables. Less than a fifth of those asked said it is a transparent model.
Read the article in German here.
PEi (Power Engineering International)
"Germany's coal habit to undermine Energiewende"
Renewable energies will dominate Germany's power mix by 2025, according to a report by GlobalData, an article published on the website Power Engineering International says. The report, "Germany Power Market Outlook to 2025", predicts total installed renewables capacity of 59.7 percent by 2025, up from 44.7 percent in 2014. That would be a compound annual growth rate (CAGR) of 4.6 percent. At the same time, the report predicts that coal will continue to play a major role in Germany's energy mix and that the country's drive toward a low-carbon economy is being thwarted by its dependence on coal-fired power plants.
Read the article in English here.
*Like the Clean Energy Wire, Agora Energiewende is a project funded by Stiftung Mercator and the European Climate Foundation.