Facts on the German state elections in Schleswig-Holstein
Schleswig-Holstein
Population: 2,858,714 (2015)
State capital: Kiel
Votes in the Bundesrat: 4 out of 69
Government: Christian Democrats (CDU), Free Democrats (FDP), Green Party
State Prime Minister: Daniel Günther (CDU)
Minister of Energy, Agriculture, the Environment, Nature and Digitalization: Robert Habeck (Green Party)
Minister of Economic Affairs, Transport, Employment, Technology and Tourism: Bernd Buchholz (FDP)
State party websites:
CDU, SPD, Green Party, Left Party, FDP, AfD, NPD, SSW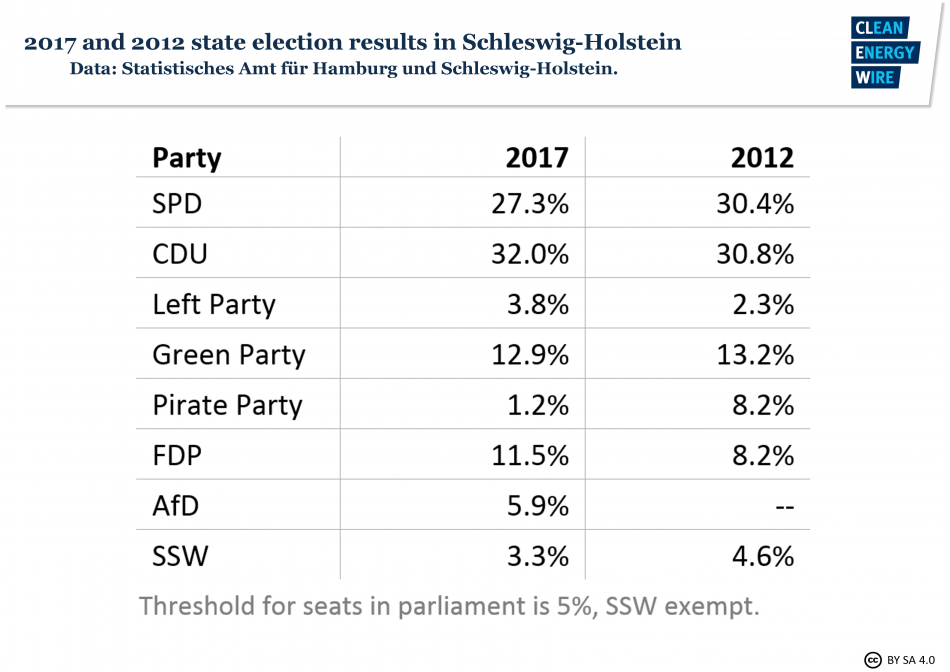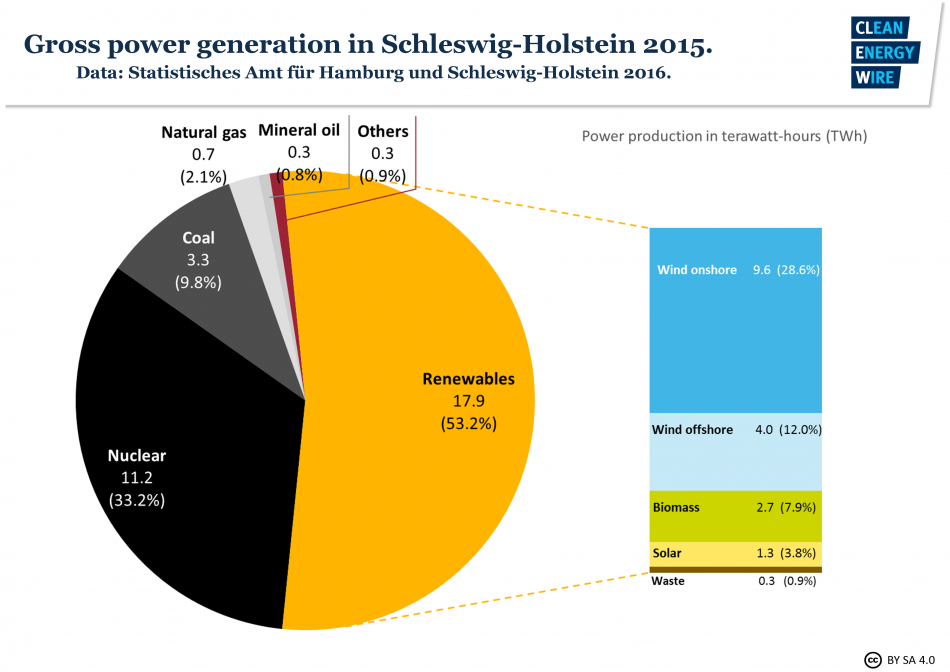 Energy and Climate targets
Schleswig-Holstein's government in 2016 introduced an Energiewende and Climate Protection Law, which was approved by state parliament in early 2017. Much like the federal government's Climate Action Plan 2050 it includes emission reduction targets and sets goals for the amount of electricity produced from renewable sources.
Greenhouse gas emissions are to be cut by 40 percent by 2020, compared to 1990 levels (2030: 55 percent, 2040: 70 percent, 2050: 80-90 percent).
Power production from renewables must reach 37 terawatt hours by 2025 (17.9 TWh in 2015, equal to 115 percent of the state's power consumption that year) and the renewables share in heating consumption is to reach 22 percent in 2025 (14 percent in 2015).
Compensation for throttled renewables production
In 2015, consumers paid about 300 million euros in compensation with their power bills to renewables facility operators in Schleswig-Holstein, whose production was throttled when the grid could not cope with the high amounts of power. In 2016, this decreased to about 266 million euros – partly due to successful grid expansion, but also because of improvements in grid management and because 2016 saw comparatively weak winds.