2015 emissions rise / An international view of the energy transition
Federal Environment Agency (UBA)
Emissions data 2015 – 6 million tonnes more CO2
2015 has seen a slight increase in greenhouse gas emissions, the Federal Environment Agency (UBA) reports. According to its estimates, emissions (CO2 equivalents) increased by 6 million tonnes to 908 million tonnes compared to 2014 – an increase of 0.7 percent. Between 1990 and 2015, emissions in Germany decreased by 27.2 percent. Emissions from the power sector decreased in 2015, despite the largest nuclear power station at Grafenrheinfeld going offline, electricity generation from coal-fired power stations didn't increase, the UBA states. Environment minister Barbara Hendricks said the bad news was that high coal power production was thwarting the benefits gained from an increased share of renewables. The UBA said that cooler temperatures were to blame for the increase in heating energy (like gas) which led to the rise in emissions. Another culprit was the transport sector where emissions rose by 1.5 percent.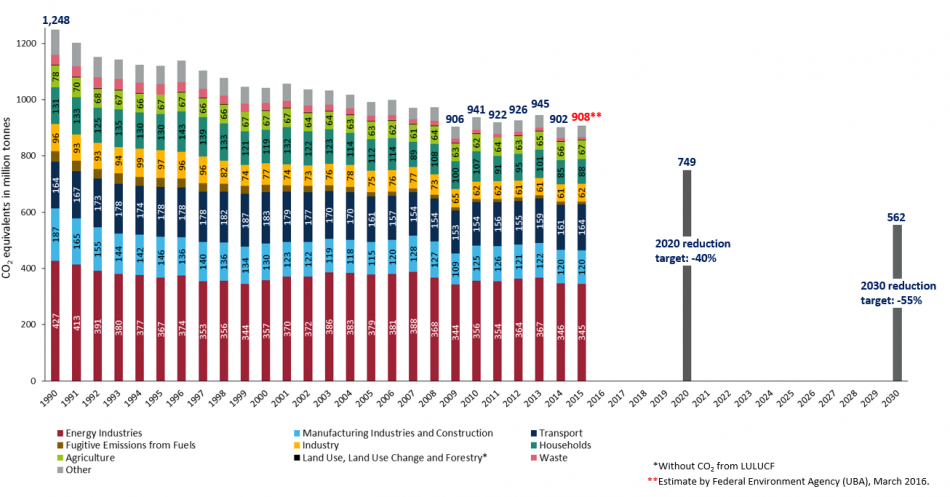 Read the press release in German here.
Read a CLEW factsheet on Germany's climate targets and greenhouse gas emissions here.
Institute for Advanced Sustainability Studies (IASS)
"The German Energy Transition in International Perspective"
A new study by IASS shows the global importance of Germany's energy transition and that the global power sector has been the driver of renewables development worldwide, a press release by IASS says. "The German Energiewende is not a solo attempt," the researchers say. Renewable energies are globally on their way forward, not only in industrialised countries but also in many developing and emerging nations.
Read the study in English here.
Handelsblatt
"The cocaine example doesn't apply"
On the second day of the hearing in the case against the nuclear-phase out, brought before the Constitutional Court by three large utility companies, the key question was whether the nuclear exit amounted to expropriation by the government of the utilities' businesses, the Handelsblatt reports. The judges doubted whether cutting run-time permits for nuclear power stations could be considered expropriation, because the state didn't obtain any property. If the state were taking cocaine away from a drug dealer, it wasn't trying to obtain the goods, justice Reinhard Gaier argued. But the nuclear power station owners' argument was that "the state should pay the cocaine dealer a hefty compensation". The cocaine example didn't work, replied E.ON's lawyer Benedikt Wolfers, because unlike dealing with cocaine, operating nuclear power stations was not forbidden.
Read the article in German here.
Read a CLEW factsheet about the legal implications of the nuclear phase-out here.
Süddeutsche Zeitung
Only two bids for Vattenfall's coal in eastern Germany
Only the two Czech companies, Czech-Coal and EPH, have made offers to buy Vattenfall's lignite assets in Germany, the Süddeutsche Zeitung reports. Another Czech company, CEZ, which had announced interest earlier in the process, did not put in an offer, saying the recent drop in wholesale power prices made it difficult to turn profits with coal-fired power stations. German utility Steag didn't make an offer, but wrote to Vattenfall proposing it could run a private foundation that would take over the brown coal operations in eastern Germany.
Read a CLEW factsheet about Vattenfall's coal assets in Germany here.
Frankfurter Allgemeine Zeitung
"Energiewende as a risk"
Because subsidised renewables are pushing the wholesale power price so low that conventional power stations are no longer earning money, investors are unwilling to pay any money for such fossil operations – and they even require a risk premium if they were to buy Vattenfall's coal assets in Germany, writes Andreas Mihm in an op-ed for the Frankfurter Allgemeine Zeitung. The energy transition makes the country susceptible to blackmail, he writes, because the coal regions of Brandenburg and Saxony know that they cannot simply give up on the sector.
Süddeutsche Zeitung
"Not too fast please"
German car manufacturer BMW is facing a future of digitalisation and new electric cars, but also new expensive luxury limousines, writes Thomas Fromm in the Süddeutsche Zeitung. While BMW could so far make money simply by building cars, the future of self-driving cars, electric cars and shared cars, will require the company to change its business model to digital services. Faced with looming competition from companies like Google, Apple and Uber, which are even more popular with young people than BMW, the DAX-listed company has to develop a new strategy, the author says. By 2020 they want to launch the new e-car iNext. The diesel car remains a main pillar. The money for the transition is to come from selling large conventional cars, the article says.
Frankfurter Rundschau
"The climate in the AfD"
The right-leaning AfD party that won seats in three state parliaments in last weekend's elections is full of climate sceptics, writes Joachim Wille in the Frankfurter Rundschau. An AfD "expert committee" had already found in 2013 that human influence on the climate was not possible and that there was no CO2-related global warming. In their state election programmes it says that the climate was always changing naturally and could not be protected. In addition, the programmes say CO2 is not harmful but good for plant growth, writes Wille.
Die Zeit
"Some like it hot"
Germany doesn't have to change its climate targets in order to comply with the Paris climate agreement, writes Rainer Baake, state secretary in the Ministry for Economic Affairs and Energy in a guest article in German weekly Die Zeit. But the country needs to use the comprehensive modernisation of its economy, required to cut greenhouse gas emissions, as an opportunity, he says. Fossil fuels like oil, coal and gas are being replaced by investments into efficiency technologies and renewables. In the next decades it will be important to prevent failed investments, Baake said. If the economy shall be decarbonised by 2050, investments into fossil operations with a run-time longer than the middle of the century would turn into such failed investments. Because of Paris there is a worldwide competition among states as to who will shape the cleverest and most cost-efficient modernisation. Germany is taking the lead with its Energiewende, Baake writes. But it will have to work hard to keep this advantage.
Die Zeit
"The summit"
The most brutal and destructive way of coal mining is mountaintop removal mining (MTR), practiced for example in West Virginia, USA, reports Claus Hecking for Die Zeit. Instead of digging expensive mines and tunnels, the workers simply deforest whole mountain chains and blow off the mountain tops, and working ecosystems turn into bald moon landscapes, he says. Two German companies, utility RWE and Deutsche Bank are part of the scheme, writes Hecking: RWE by owning part of Blackhawk Mining LLC, number one in MTR and Deutsche Bank by giving credit to Blackhawk.
"Energetic renovation of homes is declining"
Investment into home insulation decreased between 2010 and 2014, a study by the Federal Institute for Research on Building, Urban Affairs and Spatial Development (BBSR) has found. In 2014, energetic improvements of buildings worth 34.8 billion euros were made – in 2010 homeowners spent 40.9 billion euros.
Read the study in German here.
Read a CLEW dossier about efficiency in the energy transition here.