Citizens' participation in the Energiewende
During the 1990s, German citizens began installing renewable energy installations, such as photovoltaic (PV) panels and wind turbines. In 2000, the first renewable energy act (EEG) was introduced, guaranteeing fixed feed-in tariffs for anyone generating renewable power for a 20-year period. This further encouraged households to install PV panels on their roofs, either feeding the electricity they produced onto the grid, or consuming it themselves.
Citizens have also banded together to invest in larger scale installations that would be too expensive for single individuals alone. For more than a decade, various forms of energy cooperatives (Energie-Genossenschaften) have been founded, allowing citizens to own solar parks and wind turbines. Most energy co-ops are formed on a local level, for example, villagers investing savings in a nearby wind farm. But some are also regional – or even interregional – operations. These citizen-owned cooperatives may also include companies or municipalities among their members, but they are separate from municipal utilities and differ from cooperatives in the American sense.
Citizen's shares of renewable energy capacity in Germany
To distinguish between different types of involvement by citizens in the renewable sector, researchers from Leuphana University and Trend Research have defined different types of citizens' energy. Citizens' energy in the narrower sense include:
Installations privately owned by individuals and farms
Local and regional citizens' energy cooperatives
German citizens also participate in renewable ownership through interregional investments and minority shareholdings, cooperating with municipalities, public energy providers or public credit institutions. Researchers include these types of investment when referring to citizens' energy in the broader sense.
In 2012, Germany's total installed renewable energy capacity amounted to 72.9 gigawatts (GW). 46 percent of this was owned by citizens in the broader sense, compared to 41 percent owned by institutional investors. Energy companies owned the remaining 12.5 percent. (See Figure 1)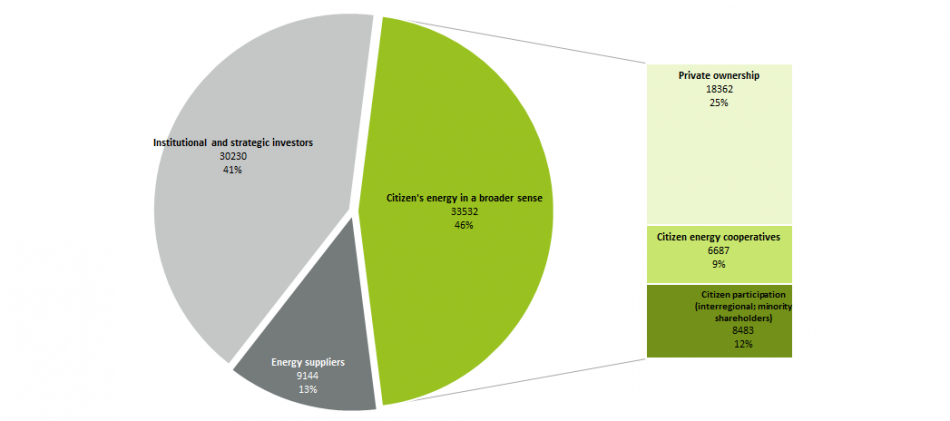 Investment in renewable power
In 2012, a total of 16.7 billion euros was invested in electricity generation from renewable sources in Germany. Nearly 60 percent of this investment was made by institutional and strategic investors, according to a study by Trend Research and the Leuphana University Lüneburg. Almost a third of the total investment came from the citizens' energy sector – and most of that was on the level of installations owned by private individuals; power companies invested around 1.7 billion euros (See Figure 2).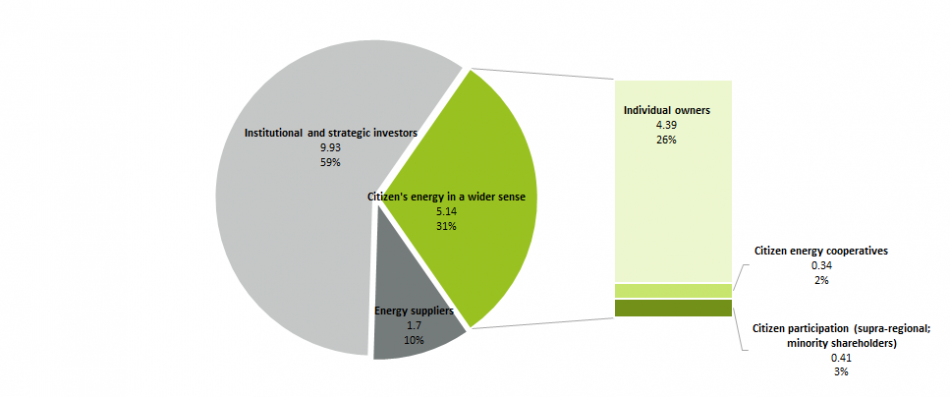 Most of the some 1.4 million solar installations are owned by citizens, farmers or small companies, though exact and up-to-date data on ownership is lacking. At the end of 2010, nearly 40 percent of installations were owned by private individuals, and over 20 percent by farmers.
Energy cooperatives
There are 973 registered energy co-ops across Germany. Between 2006 and 2013, 718 new cooperatives were founded. Around 200,000 people participate in energy co-ops. As well as cooperatives that generate power from wind and solar installations, these figures include cooperative energy companies, local heating networks and bioenergy villages. The average cooperative is founded by 43 members, but they can have as few as four, or as many as 427 members, the Federal Office for Energy Cooperatives reports.
By the end of 2014, energy cooperatives had invested roughly 1.5 billion euros in renewable energy. But the rate at which new cooperatives are being founded was slowing. In 2014, only 29 cooperatives were founded, compared to 104 in 2013, and 183 in 2012. (See Figure 3).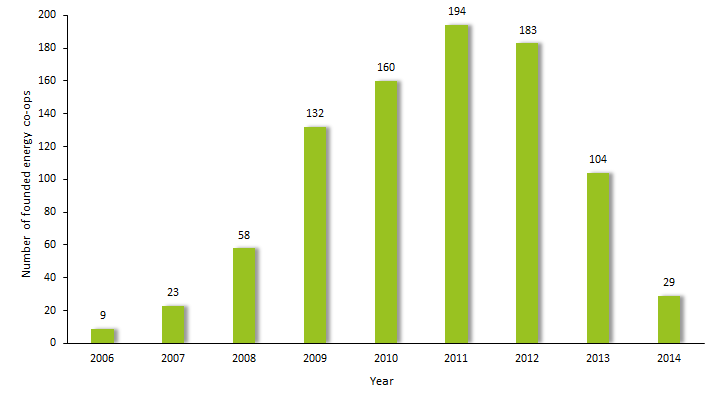 More than 90 percent of energy co-op members are private individuals. The rest are companies, municipalities or farmers. (See Figure 4).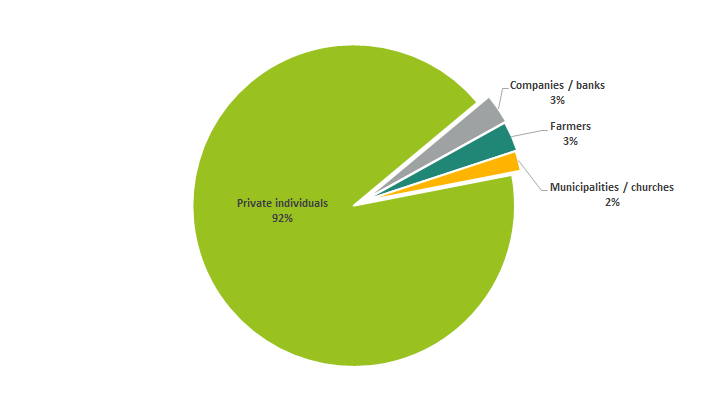 Financing and investment
Energy co-ops start off with an average initial investment of 686,000 euros. By the beginning of 2014, their average total investment in renewable energy was 1.9 million euros, according to a survey by the Deutscher Genossenschafts- und Raiffeisenverband (DGRV). Shareholder equity accounted for 54 percent of investment, with nearly one out of four co-ops investing entirely without debt.
Energy co-ops in Germany have an annual turnover of 337,000 euros. The average dividend per year is 4.26 percent, but many cooperatives do not pay dividends in the first years after their creation. Still, compared to common saving accounts which currently yield less than one percent interest, participating in renewable energy cooperatives was worthwhile for households.
Energy co-ops enable people with a relatively small budget to participate in the energy transition. The average minimum investment is 738 euros, but almost three quarters of the cooperatives accept participation with an investment of less than 500 euros. In 2013, the average energy co-op member invested 3,298 euros.
As mentioned above,"citizens' energy" in the broader sense also includes cooperation with public institutions such as municipalities, public energy providers and financial institutes. Although a few municipalities are members of energy cooperatives, this is not the norm. However, even if they do not participate financially, local authorities may provide space for renewable installations owned by energy co-ops – usually either land on the outskirts of a town or city, or the rooftops of public buildings (schools, town halls, etc.).
Publically owned banks
Energy cooperatives frequently work with public credit institutions, such as Germany's savings banks (Sparkassen) or cooperative banks (Genossenschaftsbanken). These financial institutions don't just provide energy co-ops with loans (the money for these loans usually comes from Germany's state development banks, such as the KfW, and are passed on by the Sparkassen and Genossenschaftsbanken). They may also help to attract new members by offering share certificates to their customers, participate in marketing, or give advice on infrastructure, building or insuring a renewable installation.
Crowdfunding
A new development in the financing renewable energy projects is crowdfunding. Four main crowdfunding platforms focused on energy co-ops have become established in recent years:
The youngest of these, Econeers, successfully raised more than 1.2 million euros in its first year of existence, reporting an average investment of 1,252 euros by 1,000 individuals. In general, crowdfunding platforms accept investments starting from as little as 25 euros.
This Factsheet is part of the following Dossiers: