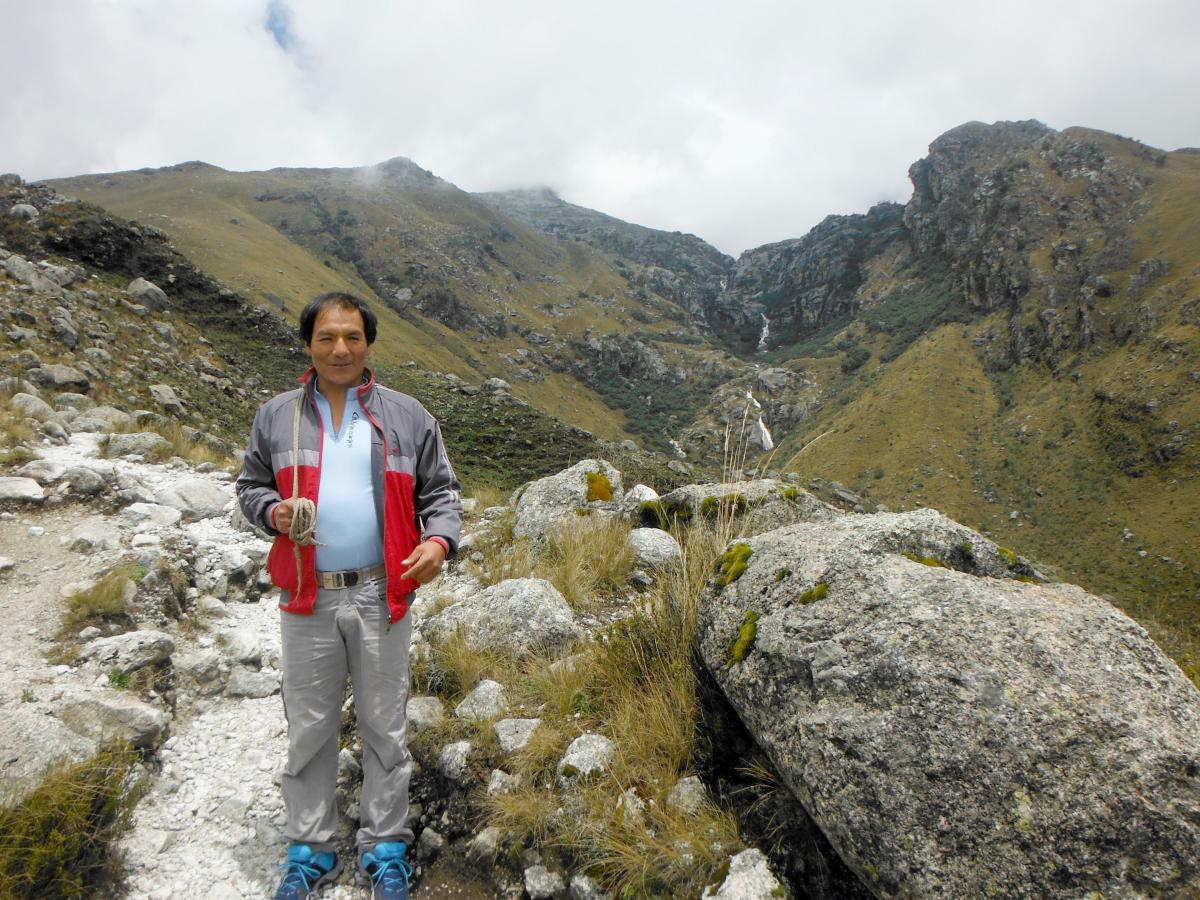 Allianz exits coal / Peruvian farmer sues RWE
ZDF / Süddeutsche Zeitung / Allianz
"Allianz quits coal financing"
German insurance company Allianz will no longer invest in companies that get more than 30 percent of their revenue from coal mining or over 30 percent of their energy from coal, the company announced. The move was to support the climate negotiations in Paris and serve as a signal to "our sector and financial markets", Chief Investment Officer Andreas Gruber said on German television. Allianz will sell its coal-related shares within the next six months. The total volume of the coal phase-out will amount to around 4 billion euros, most of it invested in bonds, a spokesperson told Süddeutsche Zeitung. Allianz will instead double its investment in wind power, which to date amounted to 2 billion euros, Gruber said.
Read the ZDF report in German here and the Süddeutsche report here.
Read the Allianz press release in English here.
Handelsblatt
"Climate change among shareholders"
Germany's largest insurance company Allianz is phasing out coal to support climate negotiations in Paris, but internationally the movement has been going on for longer, writes the Handelsblatt. Swedish, Norwegian and Dutch pension funds, as well as French insurer AXA, have announced coal divestment strategies. But Allianz is pretty much alone in Germany, say the authors. Both Deka-Investment of the Sparkassen and Deutsche Bank Asset & Wealth Management said they did not have plans for a coal exit, the article says.
Frankfurter Allgemeine Zeitung / Germanwatch
"Peruvian sues RWE over climate change"
A Peruvian farmer and mountain guide is taking legal action against German utility RWE over claims it was partially responsible for the negative effects of climate change endangering his village, the Frankfurter Allgemeine Zeitung reports. Saul Luciano's home town of Huaraz was threatened by flooding because of melting glaciers in the Andes, according to NGO Germanwatch, which is helping Luciano with his claim. As a large European CO2 emitter and therefore partially responsible for global warming and glaciers melting, RWE should pay 20,000 euros for protection measures that are needed in Huaraz. The lawsuit has been filed with the court in Essen today, Germanwatch said.
Read the Germanwatch press release in German here.
Federal Network Agency
"Monitoring report energy 2015"
Germany's Federal Network Agency and the Federal Cartel Office have published their monitoring report on the German power and natural gas market in 2014. The report found that Germany's power production was characterised by a growing amount of renewables and a falling share of conventional energies. But the gird expansion needed for this change was still not happening fast enough, network agency president Jochen Homann said. Grid operators had to therefore take more re-dispatch measures or turn off renewable power facilities to stabilise the power network in 2014 compared to 2013, costing 186.7 million euros and 83 million euros respectively.
Read the press release in German here.
Read the report in German here.
Read a CLEW dossier on the power grid here.
Deutschlandradio Kultur
"CO2 emissions have to become much more expensive"
Patrick Graichen, head of Berlin think-tank Agora Energiewende*, says a much higher price for CO2 emissions is needed otherwise the exit from coal will take even longer, Deutschlandradio Kultur reports. In order to reach the 2-degree-warming limit, 80 percent of coal had to stay in the ground, meaning that large parts of German lignite resources also have to remain in the ground, Graichen said in an interview. Germany could plan such a coal phase-out pathway for the next 20 years, so that all actors had a reliable timeline and planning security, Graichen said.
Read the interview in German here.
taz – die tageszeitung
"They say we are communists"
It is going to be tough for Germany to achieve its climate targets while phasing-out nuclear energy at the same time, US climate scientist Michael E. Mann told the taz in an interview. Germany was putting restrictions on the energy sector that were not even debated in the US. "I wish that such a debate would finally be held in the US, instead of having one of the two big parties denying the reality of climate change," Mann said.
Read the interview in German here.
Federal Environment Agency (UBA)
"Effects of climate change considerably worse in the future"
Germany will feel the effects of climate change more strongly in the future, a study by UBA, the environment ministry and other agencies shows. The danger of flooding and heat waves will increase, and with them the potential for damage to nature, society and economy by climate change by the middle of the century, the vulnerability analysis finds. The study is a basis for the government's decisions on climate change adaptation measures.
Read the press release in German here.
Download the study in German here.
Greenpeace Energydesk
"Germany's big utilities aren't spending as much on renewables as you'd think"
German utilities RWE, E.ON and EnBW have yet to put their money where their mouth is regarding renewables, writes Gyorgy Dallos for Greenpeace Energydesk. All three companies are profiting from their small investments in renewables and non-hydro renewables still account for a fraction of their power generation, it is claimed. Dallos also says that recent purchases and disposals by the companies show no clear commitment to sustainable energy sources.
Read the full article in English here.
Bloomberg Business
"Looking for volatility? Try Germany's shift to renewable energy"
The Energiewende – Germany's move to renewable energy sources – has caused a power market so volatile that people are struggling to deal with it, writes Weixin Zha for Bloomberg Business.The price movements in the nine-year-old intraday German power market are "about 200 times that of financial markets", said Karl Frauendorfer, a professor of operations research at University of St Gallen in Switzerland. It is "impossible" for humans to comply with the risk limits, he adds.
Read the full article in English here.
The Globe and Mail
"How Germans will get power when the sun doesn't shine"
Germany's Energiewende poses a security-of-supply problem as the country moves toward its target of 80 percent electricity generation through renewables by 2050, writes Jennifer Collins for The Globe and Mail. The problem is that solar and wind provide the most power only when it is sunny and windy – but the answer may lie in small storage systems, the sales of which are soaring, she writes. "The market is currently booming," said Tobias Rothacher, manager, energy storage, fuel cells, solar energy and bioenergy at development agency Germany Trade and Invest. Another factor in the rise in the storage market is a government support scheme introduced in 2013.
Read the full article in English here.
COP21 – Road to Paris
IPG Journal
"It's our duty"
A Paris climate agreement has to make clear that a maximum of 2°C warming is all that the world's nations will permit to happen, writes Germany's environment minister Barbara Hendricks in a guest article for IPG Journal on international policy and society. "Moreover, we need a global long-term target that sends a clear signal to economy and society: The age of fossil fuels is approaching its end. We need a 'green zero', that's zero CO2 emissions from fossil fuels in the course of this century," Hendricks writes. The fact that people are becoming impoverished because wealthy countries in particular were not showing consideration for the ecological boundaries of the world, was first and foremost an ethical problem. "If we want to prevent the reasons for migration and flight, we need to seriously address climate change."
Read the article in German here.
*Like the Clean Energy Wire, Agora Energiewende is a project funded by Stiftung Mercator and the European Climate Foundation.