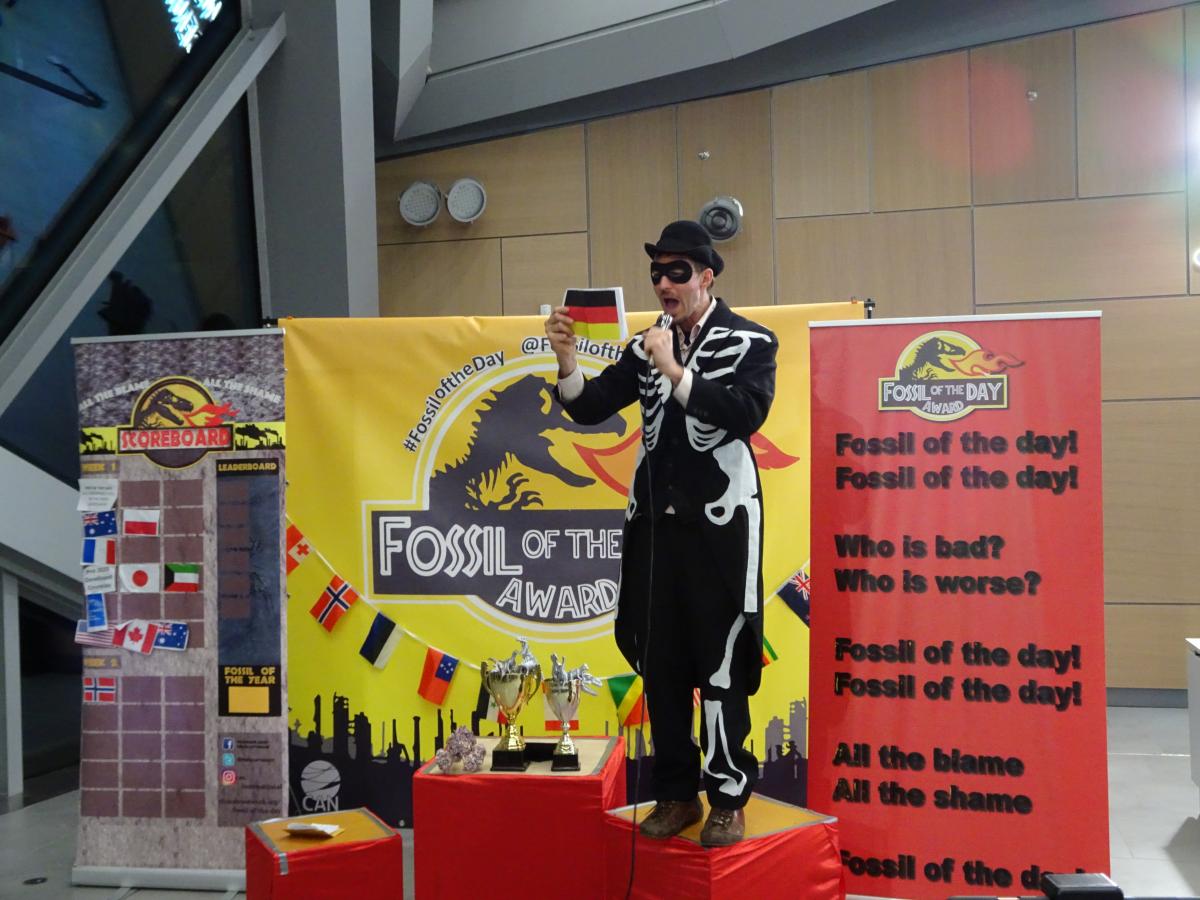 COP23 - Day 9: Technical talks approach end/ Germany Fossil of the Day
Technical negotiations approaching final stage

As technical negotiations on the Paris rulebook are approaching the finish line at the COP23 climate conference in Bonn, the German delegation said that after a few days filled with worry, they were now quite satisfied with the results. Negotiators have produced very detailed documents – 180 pages on climate change mitigation alone – and now some important procedural decisions must be made, Jochen Flasbarth, state secretary in Germany's environment ministry, said. "It's important that negotiators will be allowed throughout the coming year to really work with the documents and make changes to the text, so that we don't have to do all that in Katowice next year", he explained. The Polish city will host COP24 in 2018.
From a German point of view, the documents on the implementation guidelines for the Paris Agreement "include everything that's needed", Flasbarth told the press. The aspects covered include the way the countries calculate the emissions baseline and measure their progress.
During the second week of the COP, the ministers are scheduled to concentrate on political issues, such as loss and damage, climate finance, or how the 100 billion US dollars pledged by industrialised countries could be mobilised if some parties fail to pay their contributions.
Germany is the 'Fossil of the Day'
The technical COP host received the Fossil of the Day "award" on Tuesday, "for increasing its emissions in 2017 and risking missing its 2020 targets for emission reductions". What happened to the so called "climate chancellor" who had G7 leaders agree to decarbonise global economy?, NGO association CAN lamented at the award ceremony held in Bonn. Unfortunately Germany had forgotten to actually reduce its greenhouse gas emissions and Chancellor Merkel had "preferred to listen to the fossil fuel industry, energy intensive companies and the powerful carmakers", the activists said.
Under2 Coalition grows - with California's support
California's governor Jerry Brown and environment secretary Matthew Rodriquez stressed the unwavering commitment of American states and cities to take action on climate change. Brown, who's been drawing large audiences at events at the COP, said that nation states remained key in the process because they had the tools necessary to take decisive action. But as the federal US government had decided to stay at the sidelines, it was up to the states to act given the urgency with "humanity on the chopping board", Brown said at an event of the Under2 Coalition of states and regions committed to climate action from across the globe. Earlier, Californian environment secretary Rodriquez told journalists that while it was disappointing that the US delegation did not play much of a role, they did not disrupt the negotiations.
Germany's coal subsidies
NGOs have used the COP in Bonn to call attention to the current practice of subsidising coal mining and coal-based power production in Germany. The Overseas Development Institute (ODI), Climate Action Network (CAN), and Green Budget Germany (FÖS) distributed their September 2017 report in the German pavilion. It finds that Germany's coal subsidies, ranging from energy and power tax breaks to direct help for rehabilitating mining areas or coal research, amounted to an average 3.2 billion euros annually. In 2016, the country also introduced a capacity reserve for old lignite-fired plants, paying operators an average 230 million euros per year between 2016 and 2020.
Read a factsheet on Germany's coal issue here ,and find background information on coal here.
Germany pledges 125 million US dollars at climate risks partnership kick-off
Fiji, Germany, and others announced, on 14 November, their intention to bolster an initiative that aims to provide climate risk insurance to 400 million people in countries most vulnerable to the effects of climate change by 2020. The German government pledged 125 million US dollars in support of the new InsuResilience Global Partnership.
The announcement comes in the wake of a series of unprecedented and devastating extreme weather events that have hit countries and communities in Asia, the Eastern Caribbean, and the Americas. The year 2017 is about to become the most expensive year on record in terms of natural catastrophes, Sönke Kreft, executive director of the Munich Climate Insurance Initiative (MCII), has said at a recent press conference in Bonn.
People often have the least protection in places hit hardest by natural disasters that become more and more frequent as a result of climate change, Thomas Silberhorn, parliamentary state secretary in the German development cooperation ministry, said at a press conference on 14 November.
The InsuResilience Global Partnership for Climate and Disaster Risk Finance and Insurance Solutions – announced at the G20 summit in Hamburg in July, and launched on 14 November – brings together state governments, civil society, and the private sector. It aims to enable countries to respond to disasters in a timely manner, and promotes risk finance and insurance instruments. It is based on an initiative launched by the G7 in Elmau, Germany, in 2015 to insure 400 million people against the effects of climate change by 2020.
Whether insurance should be considered part of climate finance is still a matter of dispute. Insurance is just one of several measures a country or institution might opt for when providing climate finance, writes the Climate Action Network (CAN). While insurance certainly has a role to play in reducing losses from extreme events, "vulnerable countries should not be paying insurance premiums to insure themselves against impacts from climate change – a problem they had almost no role in creating", says the CAN.
Sabine Minninger, climate expert at Bread for the World Germany, agrees. In accordance with the polluter pays principle, developed nations have a responsibility to support developing and vulnerable states, and not just in the short term, she told the Clean Energy Wire in Bonn. "There is no insurance protection for the long-term effects of climate change, such as rising sea levels", Minninger explained, . She sees the need for a fund to help repair climate change damage.
However, while climate insurance schemes might have a bad reputation, this is not wholly justified, said Minninger. She welcomed the German government's voluntary commitment in this area, and said that the InsuResilience initiative was a good example of how poorer countries can be supported in coping with climate-related devastation.
When scaling up InsuResilience to include the private sector, the people affected by climate change must remain the focus of attention, "not the market expansion of the insurance industry", said Minninger.
Just transition needed to avoid climate action becoming an elite project
The unavoidable transition to a climate-friendly economy must involve all segments of society in order to avoid social ruptures that might slow climate action, German Environment Minister Barbara Hendricks and the General Secretary of the International Trade Union Confederation (ITUC), Sharan Burrow, said at a side-event to COP23 in Bonn co-organised by the Organisation for Economic Cooperation and Development (OECD). "Climate protection has a lot of support in Germany, but the necessary transformation must not scare people and take their opportunities away", Hendricks said. "If we want to avoid climate protection becoming an elite project, we need to build up new opportunities in parallel." ITUC's Burrow also urged a just transition when exiting coal mining and coal-fired power generation. "If we do not get it right, we leave behind stranded communities and stranded workers", she said. Rising inequality would only exacerbate a sense of unease and mistrust, which many already feel towards modernisation, she explained. Burrow warned businesses against dragging their heels on necessary changes. "We want companies to survive because they mean jobs", she said. "But if businesses insist on defending today's models, they won't survive."
NDC Partnership turns one
The NDC Partnership, a coalition of countries and institutions aimed at supporting developing and emerging countries in reaching their climate goals, celebrated its first anniversary at the Bonn climate conference.
"Those who can least defend themselves suffer the most from climate change", said German Development Cooperation Minister Gerd Müller. "That's why we especially support developing countries […], for example with tailor-made climate solutions for each individual country."
The minister pledged an additional 31 million euros in short-term support under the NDC Partnership.
Launched at the COP22 meeting in Marrakesh by Morocco and Germany, the NDC Partnership aims to enhance cooperation so that countries have access to the technical knowledge and financial support they need to achieve the goals set out in their nationally determined contributions (NDCs). The partnership currently has 77 members, including 48 developing nations, 16 industrialised countries, and 13 international organisations.