In the media: Solar set to become cheapest power source
Süddeutsche Zeitung
"EU wants to break Moscow's energy power"
A draft of the EU Commission's concept for a European Energy Union (due to be published tomorrow) includes new rules for the coordination of the fossil fuel trade with non-EU countries. The paper suggests that every EU country, as well as private firms and traders in the member states, would be required to have fuel delivery contracts checked by the EU Commission. The commission wants to ensure that all EU member states achieve favourable contracts with the likes of Russian monopolist Gazprom. The German government has so far always maintained that it doesn't interfere with private German companies' choice of trading partners and contracts, the Süddeutsche Zeitung writes.
See the article in German here.
Reuters
"EU Politicians Divided on Eve of Carbon Market Reform Vote"
The European Parliament will vote on the future of the EU's emissions trading system (ETS) today, Reuters reports. The article says a compromise will hinge on whether to introduce a key reform of the ailing ETS earlier than the end of 2018. Currently, prices for CO2 emission allowances are too low to stimulate a reduction in greenhouse gas emissions from Europe's power sector. But coal-rich countries like Poland oppose a reform that would put surplus allowances into a market stability reserve, causing a rise in CO2 prices. Germany, the UK and utilities including E.ON have been pushing to introduce the reserve as early as 2017, so that burning less CO2-intensive natural gas would become more viable than using coal.
See the article in English here.
See CLEW's Factsheet on the EU ETS here.
Agora Energiewende/Fraunhofer ISE
"Solar energy emerging as cheapest power source in many parts of the world"
Solar plants are on track to produce electricity more cheaply than coal- or gas-fired power stations within a few years and will soon become the cheapest source of power in many countries, according to a new study by Fraunhofer ISE. By 2025, the cost of solar energy will have declined to between 4 and 6 cents per kilowatt-hour in central and southern Europe, and by 2050 to as low as 2 to 4 cents, finds the study commissioned by think tank Agora Energiewende*. "The study shows that the cost of solar energy has fallen far more rapidly than experts had predicted – and will continue to do so," says Patrick Graichen, director of Agora Energiewende. "Plans for future power supply systems should therefore be revised worldwide." But the study also reveals that future costs will depend heavily on financing conditions and the right policies – poor regulation and high interest rates to compensate risk can raise the cost of solar plants by up to 50 percent.
See the study in English here.
Download the software tool for calculating PV costs around the world here.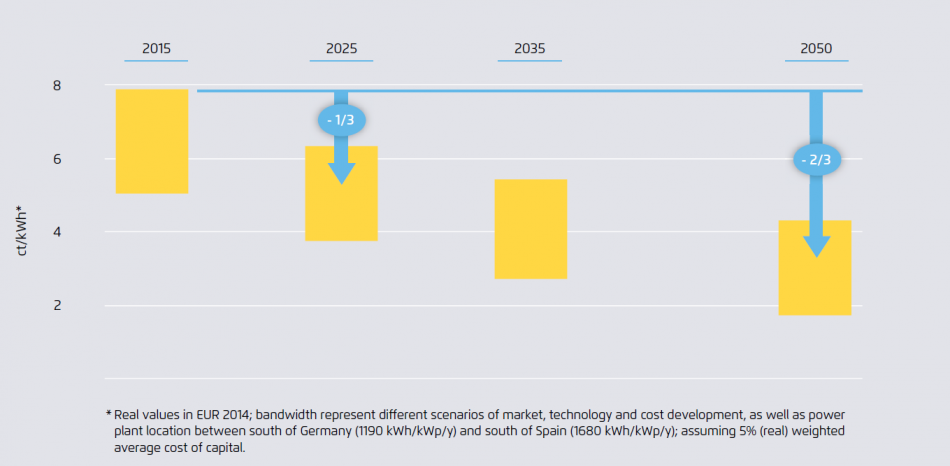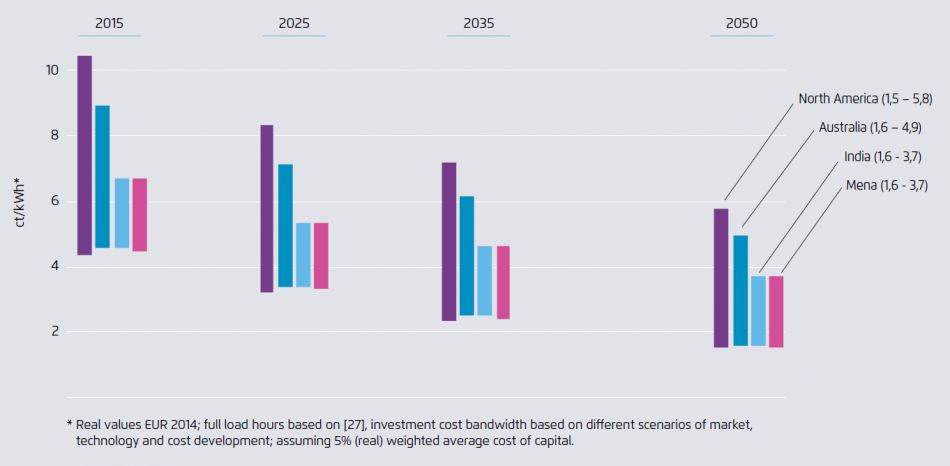 EEX / EPEX SPOT
"Study: Splitting the German power market increases cost of power supply by 100 million Euro per year"
The power trading platforms EEX and EPEX SPOT have published a study assessing the potential economic effect of splitting the German-Austrian power price zone. While a split of the bidding zone could reduce re-dispatch costs, the inefficiency of two separate zones would more than outweigh these savings, increasing the total costs of power supply by up to 100 million euros per year, the researchers at Consentec found.
See the study in English here, and the press-release in English here.
See CLEW's Dossier on the grid and re-dispatch costs here.
Schwäbische Zeitung
EnBW chairman: "I am not that thin-skinned"
In an interview with the Schwäbische Zeitung, EnBW chairman Frank Mastiaux explains how the utility plans to adapt to the energy transition by focusing on renewables, grid operation and sales. The energy sector has accepted that the future will belong to renewables, he said, "now it is not a question of 'if' but only of 'how'". His company, one of Germany's largest utilities, is not planning a split like E.ON's and is looking into further investment in offshore wind parks, and other wind and photovoltaic projects, which EnBW wants to allow citizens to invest in too. In order to avoid power shortages in Baden-Württemberg, Mastiaux suggests a market for capacity reserves that would make power generation in southern Germany economically viable again.
See the interview in German here.
See CLEW's Dossier on utilities and the energy transition here.
Federal Statistical Office (Destatis)
German economy gained momentum towards the end of 2014
Germany's manufacturing sector posted above-average growth of 2.2 percent in 2014, data from the Federal Statistical Office show. Overall, gross value added -- a measure in economics of the value of goods and services produced -- grew by 1.5 percent. Among other major sectors, construction posted growth of 3.7 percent while business services rose by 2.4 percent. Economic growth picked up in the final three months of the year to 0.7 percent quarter-on-quarter, the statistics office reported earlier this month. The data also show that investment in machinery and equipment rose by 4.3 percent in 2014 while export growth of 3.9 percent outpaced a rise in imports of 3.4 percent. Employment hit to a record high of over 43 million in the final quarter of 2014, Destatis says.
See the press release in English here.
*Like CLEW, Agora Energiewende is a project funded by Stiftung Mercator and the European Climate Foundation.