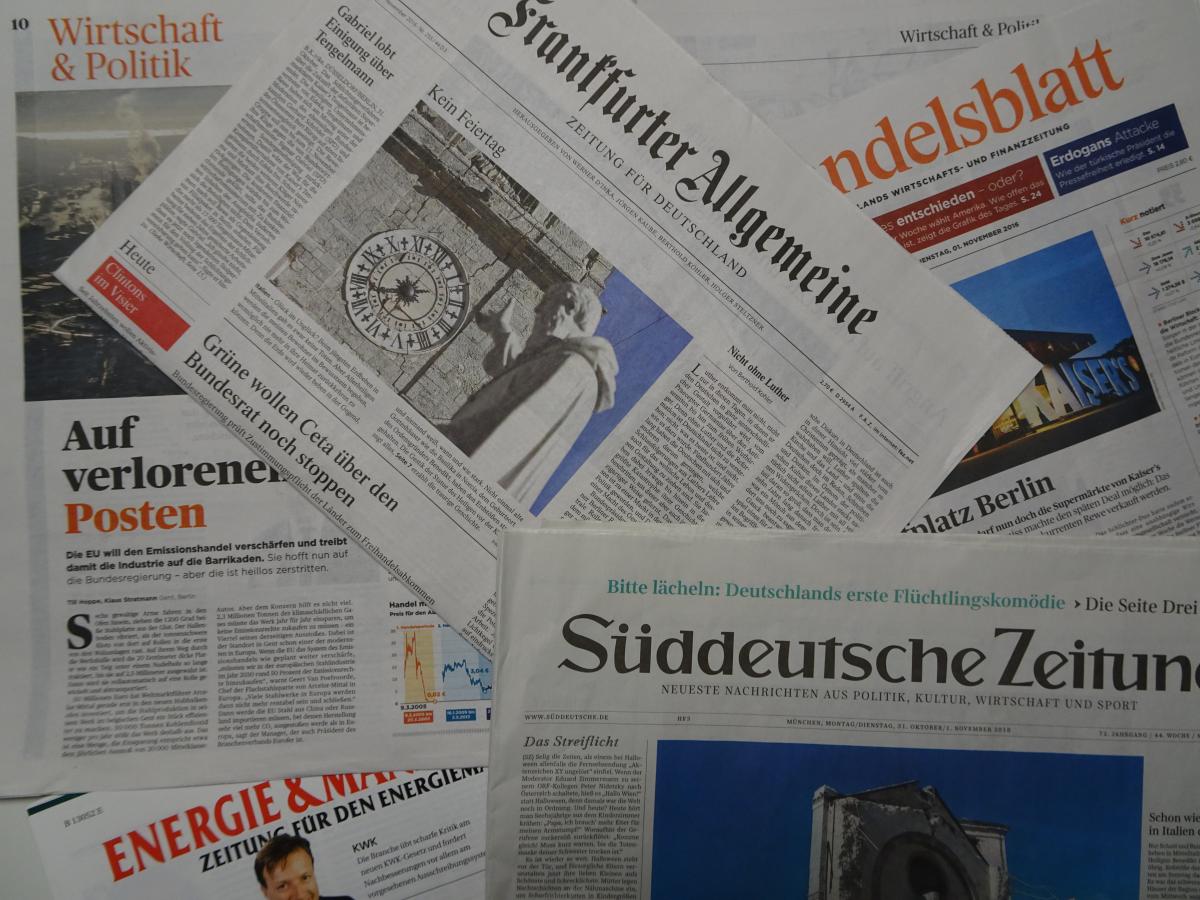 No climate plan ahead of COP22 / Power origin transparency
Environment Ministry
Federal Environment Minister Barbara Hendricks does not expect the cabinet to approve her Climate Action Plan 2050 before COP22 in Marrakesh next week. "My assessment at this moment is that it will be ready for approval in December," Hendricks said at a panel discussion organised by Tagesspiegel and German Federal Enterprise for International Cooperation (GIZ) in Berlin. Hendricks said she attached more value to content than speed. In a joint press release, environmental organisations said not having the plan in Marrakesh would be "an embarrassment for Germany".
"It's hypocritical to celebrate oneself for the ratification of the Paris Climate Agreement while doing nothing at home," said Tobias Austrup, energy and transport expert at Greenpeace.
Earlier this year, more ambitious drafts of the environment ministry's Climate Action Plan 2050 were watered down by the economics ministry and Angela Merkel's chancellery. The plan still faces strong opposition from conservative members of parliament. The main points of contention include emission reduction targets for each sector (energy, transport, industry, buildings, agriculture), and establishing a commission to deal with the question of a German coal exit.
Find the press release by environmental organisation in German here.
Also read the CLEW factsheet Germany's trimmed-down Climate Action Plan for background.
Handelsblatt
Trying to micro-manage Germany's long-term path to decarbonisation with a government climate plan is doomed to fail, because "politics is regularly unable to plan and regulate for decades," writes Klaus Stratmann in an opinion piece in Handelsblatt. He adds that some of the planned reduction efforts lack solutions, or are impossible because physical and technical limits have already been reached. "Even the most ambitious climate protection plan cannot circumvent the laws of nature," writes Stratmann. "It could all be so simple. Politics should mainly restrict itself to putting a price on CO₂ emissions. Beyond that it should interfere as little as possible," he concludes.
For background read the CLEW article Ministry avoids concrete targets in weakened Climate Action Plan.
Spiegel Online
Several German companies plan to provide customers with transparency on the exact geographical origin of the energy they purchase, writes Ralph Diermann on Spiegel Online. If consumers know their energy comes from the wind tur