Dieselgate forces VW to embrace green mobility
VW Group key figures 2016
Sales: 217 billion euros (compared to 2015: +1.9%)
Net profit: 5.4 billion euros (2015 loss: 1.4 billion euros due to emissions scandal)
Vehicle deliveries: 10.3 million (+3.7%)
Employees (average 2016): 626,715 (thereof in Germany: 279,993)
Market capitalisation (September 2017): around 66 billion euros
(September 2015 - before Dieselgate: 91 billion euros)
[Sources: VW Group Annual Report 2016, VW Group Sustainability Report 2016]
Total cost of Dieselgate remains unknown
Volkswagen (VW) admitted in September 2015 that it had cheated on US diesel emissions tests with secret software for years, causing a wave of lawsuits and fines. The total cost of the "Dieselgate" scandal, which affected nearly 11 million vehicles worldwide, remains unclear. VW's total provisions for the emissions scandal exceed 22 bln euros. But many lawsuits and criminal investigations all over the world are still pending. The Group is headed by CEO Matthias Müller. Müller took over from Martin Winterkorn, who left the company in the wake of the emissions scandal.
Thanks to strong growth in China, where the emissions scandal has little effect, 10.3 million vehicle deliveries in 2016 made VW the world's biggest carmaker. The Volkswagen Group comprises 12 brands from seven European countries: Volkswagen Passenger Cars, Audi, SEAT, ŠKODA, Bentley, Bugatti, Lamborghini, Porsche, Ducati, Volkswagen Commercial Vehicles, Scania and MAN. Its share of the world passenger car market is around 12 percent. In Western Europe, almost a quarter of all new cars is made by a Volkswagen company, according to company data.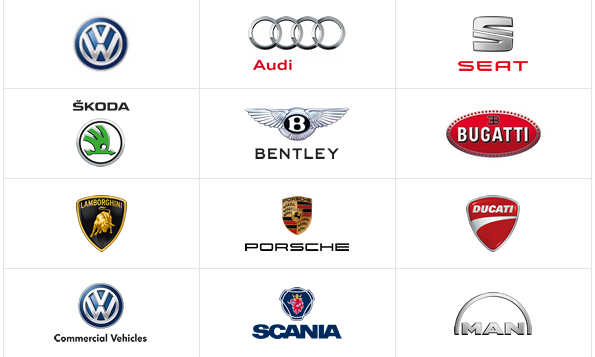 The Group operates 120 production plants in 20 European countries and a further 11 countries in the Americas, Asia and Africa. It produces approximately 43,000 vehicles every weekday.
VW is headquartered in Wolfsburg, northern Germany. It also produces large diesel engines for ships, chemical reactors, gear units for wind turbines, and many other specialised products. Its financial operations offer financing, leasing, banking and insurance activities, and fleet management.
VW is a publicly listed company. Its main shareholders include the state of Lower Saxony and Qatar.
VW and new mobility
Most experts consider the VW Group a relative latecomer to future mobility business areas. The core brand VW, for example, still has no model that is exclusively electric, but offers electric engines only as an option in existing models developed for combustion engines.
The VW brand started selling the electric city subcompact e-up! in late 2013 and added the e-Golf in 2014. The e-Golf has become a bestseller in e-mobility pioneer Norway.
VW is currently developing a new technology matrix for electric vehicles – the "Modular Electrification Toolkit" (MEB). It will be the company's underlying electric vehicle platform and can be used to make various e-cars in the future. The development of this entirely new vehicle architecture is very expensive and, therefore, seen by experts as a sign the company is now serious about electric mobility.
VW managed to catch the public's attention in 2016 and 2017 with the presentation of three purely electric concept cars, which are all based on the MEB: The Golf-sized I.D, the micro-bus BUDD-e, and a follow up to its legendary VW Bus, the I.D. Buzz. But these models won't be on the road before 2020.
The I.D., which was showcased at the Paris car show in September 2016, is aimed at the mass market. It will have a range of up to 600 kilometres and is "ready for fully automated driving", according to the company. It will be sold at the price of a Golf diesel.
VW's premium brands Audi and Porsche have made greater strides when it comes to electric mobility than the core brand VW, according to car experts. Both are currently working on electric models – an electric Audi SUV is slated to hit the road in 2018, and Porsche's "mission-E" after that. VW brands SEAT and SKODA have also announced their first e-cars for 2019.
To get a foothold in the market of ride hailing, VW spent 300 million dollars in May 2016 to buy GETT, an investment that was ridiculed by some media as a hectic and desperate attempt to catch up with the competition.
Strategy 2025 – "Evolution is much too weak to describe what lies ahead"
In mid-2016, still reeling from the emissions scandal, the company announced its eagerly awaited new Group strategy "TOGETHER – Strategy 2025". According to the company, the plan ushers in "the greatest process of change the company has ever seen", and will transform Volkswagen into "a world-leading provider of sustainable mobility". The strategy involves developing further "core competencies" such as battery technology, digitalisation and autonomous driving and artificial intelligence, and will "rely to a greater extent than before on partnerships and venture capital investments". VW CEO Müller said at the presentation: "The word 'evolution' is much too weak to describe what lies ahead [...] not only automobiles face dramatic changes, but mobility will be defined in a new way."
The strategy's first pillar is "transforming the core business for the new age of mobility". One focus is e-mobility, where VW plans a broad-based initiative. Another is automated driving: "The aim is to gain a license for a self-driving system developed in-house for fully autonomous vehicles."
Volkswagen said it will launch more than 30 purely battery-powered electric vehicles by 2025. "The company estimates that such vehicles could then account for around a quarter of the global passenger car market," it said. VW aims to sell between two and three million e-cars per year in 2025, "equivalent to some 20 to 25 percent of the total unit sales expected at that time".
The strategy's second pillar is "the establishment of a new cross-brand mobility solutions business. The cornerstone and starting point of the new business unit will be the provision of on-demand mobility". VW plans to offer services including "robotaxis, carsharing, or on-demand transport for the logistics industry". It hopes the new mobility solutions business unit will generate sales revenue "in the billions" by 2025.
VW aims to fund the new strategy primarily through efficiency gains across the entire group. It said it expected investments "in the double-digit billion range" in future technologies, and Müller promised his company "will be a technology leader and role model when it comes to environment, safety and integrity".
In late 2016, The VW brand specified its ambitions to become the "world market leader in e-mobility". The company's "TRANSFORM 2025+" strategy foresees making "e-cars the new trademark" of the core VW company. It also aims to sell one million e-cars annually within less than ten years. The carmaker will invest some 2.5 billion euros in its "e-offensive", which will "fundamentally alter" its corporate structure.
VW also said it would axe about 30,000 jobs worldwide in its shift to e-mobility, thereof 23,000 in Germany. Fulfilling a key employee demand, the company announced it would build its first factory for battery production in Germany.
At the Frankfurt car show (IAA) in September 2017, Volkswagen again accelerated its electric car programme with the presentation of its "Roadmap E". The carmaker said it would earmark more than 20 billion euros for the "industrialization of e-mobility" and roll out 80 new electric cars by 2025, up from a previous goal of 30, with plans to offer electric versions of all of its 300 group models by 2030. "We have got the message and we will deliver," VW CEO Matthias Müller said.
True conviction?
But doubts remain about VW's true conviction when it comes to shifting to green mobility.
Almost two years after the start of the emission scandal, it emerged that VW brands Audi and Porsche also cheated on emissions reductions. Both companies started recalls. Furthermore, media reports brought to light that carmakers met in "secret workshops" since the 1990s in order to coordinate their exhaust gas treatment systems and other issues.
CEO Müller said in July 2017 he can imagine a deal with the government in which the carmakers agree to a phase-out date for diesel engines in return for more support with e-mobility. But he also insisted that modern diesel engines are "part of the solution, not part of the problem". Like other carmakers, Müller says diesel engines are required to stay below CO2 emission limits.
At a "diesel summit" with the German government in August 2017, VW, Daimler and BMW pledged to install emissions control software updates in about 5 million diesel passenger cars, offer buyer's premiums for customers switching away from an old diesel, and bear half the cost of a 500-million-euro fund for city mobility concepts. But the commitment was widely seen as a "win for the car industry" in its efforts to prevent driving bans looming in German cities.
VW is also pushing natural gas in a bid to remain below the EU's 2020 fleet emission targets. In May 2017, it launched a cooperation with utility E.ON, Gazprom, Total and other companies to increase Germany's fleet of vehicles powered by natural gas tenfold to one million by 2025.