Reluctant Daimler plans "radical" push into new mobility world
Daimler Group key figures 2015
Sales: 149.5 billion euros (+15%)
- In Germany: 22 billion euros (+8%)
- Mercedes-Benz cars: 83.8 billion euros (+14%)
Net Profit: 8.7 billion euros (+19%)
Unit Sales: 2.85 million (+12%)
Employees (mid 2016): 286,860 (+1%)
- In Germany (mid 2016): 172,135
Market capitalisation (September 2016): 67 billion euros
Average EU car fleet emission: 123 g CO2/km
[Sources: Annual Report, Full year presentation, Interim Report Q2 2016]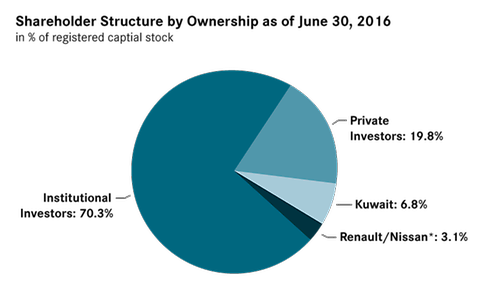 Daimler remained hesitant on electric mobility
Daimler says it was the first manufacturer to offer a series-produced e-car in 2007 with its smart brand microcar fortwo electric drive. It was also a major shareholder in US electric car pioneer Tesla from 2009 to 2014. But despite spectacular concept cars like the autonomous F 015 (pictured), the Stuttgart-based company remained sceptical on the future of electric mobility longer than Munich arch rival BMW, which boasted its dedicated electric "i" brand.

As a consequence, Daimler offers electric cars only as a modification of models originally developed for conventional combustion engines. The company started its own battery cell production in Germany but stopped in late 2015 because it was too costly. Mercedes-Benz says its current hybrid range comprises 13 models.
But Daimler, like VW, is currently developing a dedicated vehicle architecture for pure e-cars – a costly step. The move is seen by experts as an important indicator of a car company's dedication to electric mobility.
"Radical" switch to e-car sub-brand
Tesla's recent success caught Daimler by surprise. In 2015, the Tesla model S outsold Daimlers premium S-class in the US, which helped to convince Daimler that "the market is now ready" for e-mobility.
In June 2016, only days after VW unveiled its "Strategy 2025", Daimler announced dramatic changes to move the carmaker into the future of transportation. "Daimler will radically develop into a different company within the next ten years," according to CEO Dieter Zetsche. "The fundamental change has begun."
At the Paris Car Show in September 2016, Zetsche unveiled the Mercedes-Banz e-car sub-brand "EQ" - echoing BMW's earlier strategy. He presented an electric SUV that will launch the EQ brand in 2019, and said his company would offer more than ten pure electric models by 2025. Zetsche added the share of e-cars will be 15-25 percent of sales by that time.
According to Daimler, the group's microcar brand smart will soon be the world's first automotive manufacturer to offer its entire range of models either powered by internal combustion engines or operating entirely on battery power. Daimler says electric mobility at the company "will be in the six figures by 2020".
Daimler said it will invest more than seven billion euros in 'green' technologies in the next two years – but a company spokesperson told the Clean Energy Wire it was unclear how much of that money will be spent on making conventional engines cleaner.
Daimler extends focus to new mobility services
Daimler was quicker than many competitors to experiment with future mobility services. It now says its focus is "no longer solely on the car as a product, but also on services related to mobility".
As early as 2007, it founded the digital mobility subsidiary moovel, an app that allows users to compare travel times and costs for various modes of transport. Daimler also invested in Uber-competitor Blacklane and bought Taxi-App mytaxi in 2014. The app is now used in 40 European cities.
Daimler says its carsharing venture car2go, founded in 2008, is now the largest carsharing program in the world with almost two million customers, and a fleet of more than 14,500 vehicles in 30 locations across the globe. The fleet includes 1,320 pure electric vehicles.
Daimler, like Tesla with its Powerwall, also got involved in the market for small-scale stationary battery storage systems in 2015. Moreover, the company was part of a venture setting up the world's largest second-use battery storage system in Germany – recycling batteries from smart cars.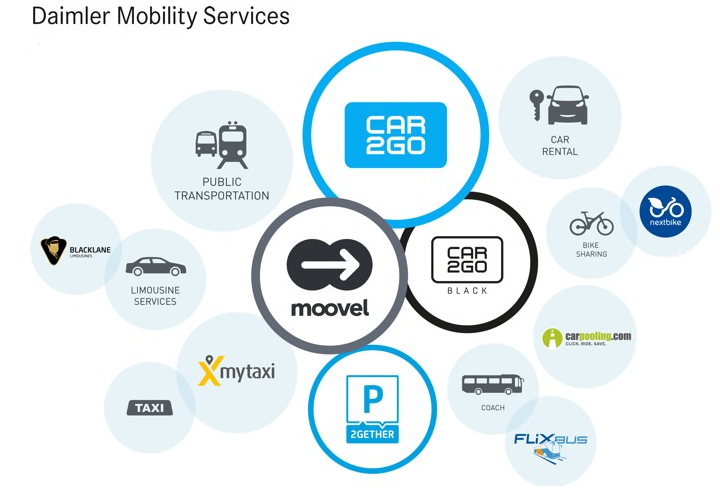 Conventional engines and fuel cells remain in focus
Daimler, despite its recent new mobility initiative, still "attaches key importance to the optimisation of modern internal combustion engines in its road map to sustainable mobility. In particular, the economical, clean and, especially in Europe, highly popular diesel engine makes an important contribution to the further reduction of fleet consumption". It spent billions on developing a new diesel engine, which has recently entered the market.
In contrast to many other carmakers, Daimler still invests heavily in fuel cell research. It says "fuel-cell technology is an integral part of Daimler's powertrain strategy".