Reluctant Daimler plans "radical" push into new mobility world
Daimler Group key figures 2016
Sales: 153.3 billion euros (compared to 2015: +3%)
- In Germany: 23.5 billion euros (+7%)
- Mercedes-Benz cars: 89.3 billion euros (+7%)
Net Profit: 8.8 billion euros (+1%)
Unit Sales: 3 million (+5%)
Employees (year-end 2016): 282,488 (-1%)
- thereof in Germany: 170,034
Market capitalisation (September 2017): around 66 billion euros
Average EU car fleet emission: 123 g CO2/km
[Sources: Annual Report 2016, Q4 and full year fact sheet 2016, Full year presentation 2016, Management Report 2016]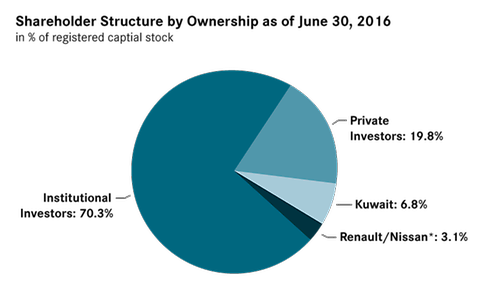 Daimler remained hesitant on electric mobility
Daimler says it was the first manufacturer to offer a series-produced e-car in 2007 with its smart brand microcar fortwo electric drive. It was also a major shareholder in US electric car pioneer Tesla from 2009 to 2014. But despite spectacular concept cars like the autonomous F 015 (pictured), the Stuttgart-based company remained sceptical on the future of electric mobility longer than Munich arch rival BMW, which boasted its dedicated electric "i" brand [see factsheet Early e-car starter BMW plans new mobility sprint].

As a consequence, Daimler offers electric cars only as a modification of models originally developed for conventional combustion engines. The company started its own battery cell production in Germany but stopped in late 2015 because it was too costly. But it started construction of its new 500 million euro battery factory in the East German town of Kamenz in 2017, where cells from other suppliers are assembled into battery packs.
Daimler, like VW, is currently developing a dedicated vehicle architecture for pure e-cars – a costly step. The move is seen by experts as an important indicator of a car company's dedication to electric mobility.
"Radical" switch to e-car sub-brand
Tesla's recent success caught Daimler by surprise. The Tesla model S outsold Daimlers premium S-class in the US, which helped to convince Daimler that "the market is now ready" for e-mobility.
In June 2016, only days after VW unveiled its "Strategy 2025", Daimler announced dramatic changes to move the carmaker into the future of transportation. "Daimler will radically develop into a different company within the next ten years," according to CEO Dieter Zetsche. "The fundamental change has begun."
At the Paris Car Show in September 2016, Zetsche unveiled the Mercedes-Benz e-car sub-brand "EQ" - echoing BMW's strategy. He presented an electric SUV that will launch the EQ brand in 2019. Zetsche added the share of e-cars will be 15-25 percent of sales by 2025. According to the company, electric mobility at the company "will be in the six figures by 2020".
In early 2017, Daimler sped up its electrification plans yet again. "In the coming years, the company will invest 10 billion euros in the expansion of its electric portfolio and will bring more than ten new electric cars in series by 2022," Zetsche announced. Earlier, Daimler had aimed to achieve that target by 2025.
At the Frankfurt car show (IAA) in September 2017, the company said it would offer electric versions of its entire model range by 2022. The carmaker also announced that its Smart microcars will only be available as fully electric vehicles from 2020 in Germany and other markets.
Daimler extends focus to new mobility services
Daimler was quicker than many competitors to experiment with future mobility services. It now says its focus is "no longer solely on the car as a product, but also on services related to mobility".
As early as 2007, it founded the digital mobility subsidiary moovel, an app that allows users to compare travel times and costs for various modes of transport. Daimler also invested in Uber-competitor Blacklane and bought Taxi-App mytaxi in 2014. The app is now used in more than 50 European cities.
Daimler says its carsharing venture car2go, founded in 2008, is the largest, fastest-growing carsharing programme in the world with more than 2.7 million members, and a fleet of about 13,000 vehicles in 26 locations across the globe. The car2go fleets in Stuttgart, Amsterdam and Madrid are entirely electric with a total of 1,400 cars.
Daimler, like Tesla with its Powerwall, also got involved in the market for small-scale stationary battery storage systems in 2015. Moreover, the company was part of a venture setting up the world's largest second-use battery storage system in Germany – recycling batteries from smart cars.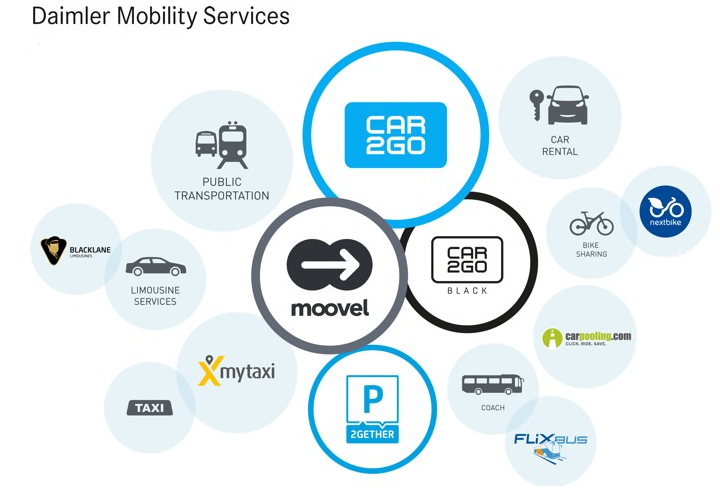 Conventional engines remain in focus, fuel cells fall out of favour

In 2017, Daimler became embroiled in the diesel emissions scandal and will retrofit diesel engines with new software to reduce nitrogen oxide emissions. Media reports brought to light that German carmakers including Daimler met in "secret workshops" since the 1990s in order to coordinate their exhaust gas treatment systems and other issues.
At a "diesel summit" with the German government in August 2017, VW, Daimler and BMW pledged to install emissions control software updates in about 5 million diesel passenger cars, offer buyer's premiums for customers switching away from an old diesel, and bear half the cost of a 500-million-euro fund for city mobility concepts. But the commitment was widely seen as a "win for the car industry" in its efforts to prevent driving bans looming in German cities.
Along with arch-rival BMW, Daimler was was ranked among the most influential companies that "delay or dilute efficiency and CO2 emissions standards and procedures both in Europe and North America" by British think tank InfluenceMap.
Daimler, despite its recent new mobility initiative, still "attaches key importance to the optimisation of modern internal combustion engines in its road map to sustainable mobility. In particular, the economical, clean and, especially in Europe, highly popular diesel engine makes an important contribution to the further reduction of fleet consumption". It spent billions on developing a new diesel engine, which has recently entered the market.
The company might even develop a new generation of diesel engines regardless of pending driving bans in many German cities. "From today's point of view, there is no reason to say there will not be a next generation for this diesel family," according to Ola Källenius, head of Daimler research and development.
But Daimler seem to have lost interest in fuel cell technology. Until recently, Daimler invested heavily in fuel cell research, in contrast to many other carmakers. Together with rivals BMW and Toyota, Daimler formed part of a group of 13 companies pledging to invest more than 10 billion dollars in the next five years to push hydrogen fuel-cell vehicles with infrastructure-building and technology advancements.
But more recent statements by Zetsche indicated that fuel cells are no longer a major part of Daimler's plans. Zetsche pointed to declining battery costs that made fuell cell vehicles uncompetitive.