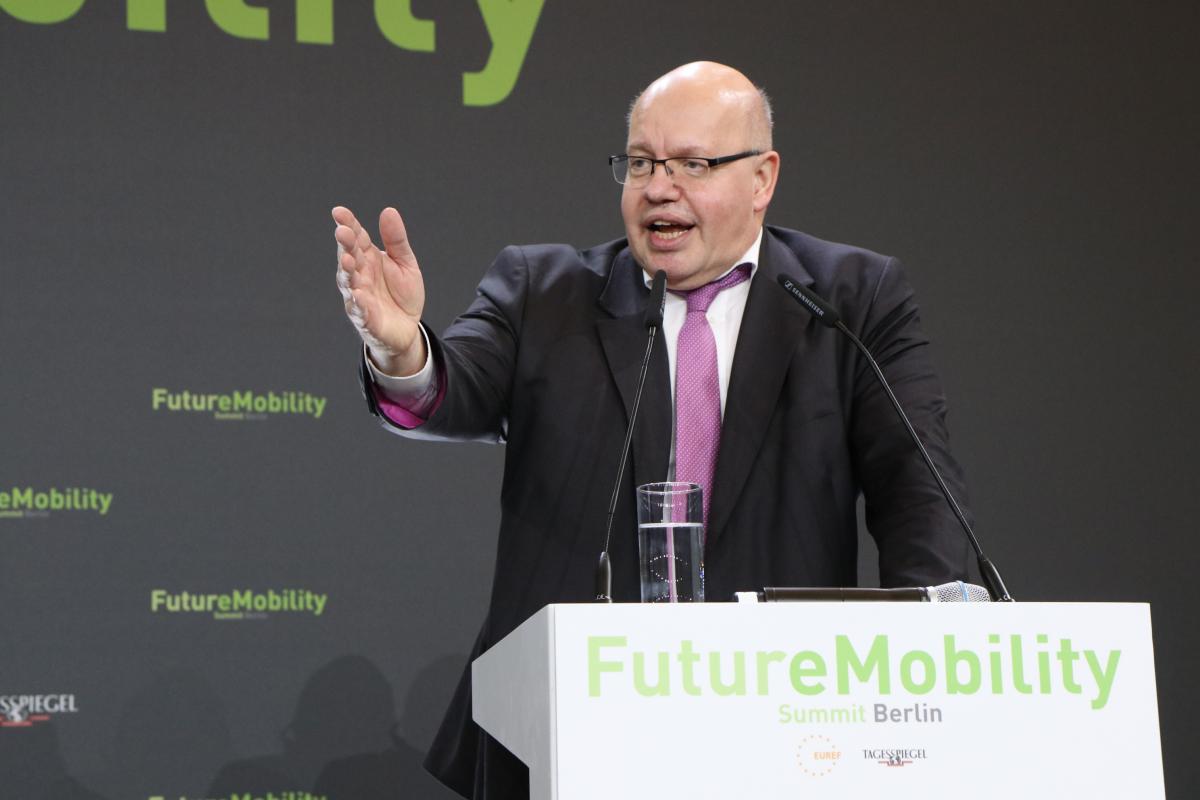 Economy minister Altmaier calls for mobility transition push
Germany has to accelerate the country's transition to a mobility of the future and start implementing necessary changes now, Altmaier said at the Tagesspiegel's Future Mobility Summit in Berlin. "I believe that we have to bring the alternative drives and e-mobility to a crucial result over the coming four years," he added. This included fully electric vehicles, hybrids, fuel cell vehicles, efficient and environmentally friendly optimised combustion engine vehicles.
For future mobility, the time for discussions, planning and forming special commissions is over, according to the long-time Merkel ally. Together with European allies, the German government wants to ensure that the EU and Germany remain "locations for innovation" and technological leaders. "We do not only want to be the first to buy the cars of the future; we want to be those who produce the cars of the future and the mobility of the future," Altmaier said. This includes everything from the energy systems that power transport to batteries and any necessary parts and equipment.
Car-proud Germany, home to industry giants BMW, Daimler and Volkswagen, is currently caught up in a fervent debate over the future of transportation in general and the fate of diesel in particular. The country is struggling to manage the shift to a more sustainable transport system and the technological overhaul of its most important export product. In the world's fourth largest economy, transport is the only sector that has made no recent climate progress whatsoever. Economic growth, coupled with the rising number of cars and heavy vehicles, have instead increased the sector's CO2 emissions, putting Germany's climate targets further out of reach.
Altmaier said Germany's current city air quality problems – a health risk caused in large part by diesel vehicles – provided an opportunity for the country to avoid trailing behind international competitors. After the EU had put increasing pressure on Germany to reduce pollution levels in cities that exceeded the Union's air quality rules, the government named five "lead cities" as test grounds for measures aimed at curbing pollution.
Germany had taken the problem of nitrogen oxide emissions in big cities too lightly for a long time, Altmaier said. "We woke up at a moment when EU infringement procedures loomed and citizens and environmental initiatives said they were no longer willing to accept such non-compliance with environmental regulation." Now, the experience gained from the "lead cities" project could help Germany remain competitive when it comes to the future of mobility, said Altmaier.
At the same conference, Lower Saxony state premier Stephan Weil warned that the current development of diesel cars being replaced by more CO₂-intensive petrol cars could increase greenhouse gas emissions in the transport sector. "I fear that we could stumble from the diesel trap to the CO₂ trap," Weil said.
Clean transport and industry's responsibility
"If I had my way, every taxpayer euro spent on #emobility will be linked to the auto industry presenting us a vehicle w/ 10km more range than a @Tesla, which looks at least as good and costs $5 less" - #Germany's econ min @peteraltmaier at #FutureMobility summit #Tesla @elonmusk

— Julian Wettengel (@J_Wettengel) April 10, 2018
Altmaier said that the mobility of the future would be individual, environmentally friendly, digital and connected, pointing out that he did not want to lose the concept of individual mobility, which he called "the great achievement of the second half of the 20th century". However, "individuality in mobility will only survive, and I say this as the economy minister who was environment minister some time ago, if it is environmentally friendly at the same time," he said. "We will consider environment, energy, technology, economy and competitiveness as equal."
Altmaier added that it was not the job of politicians to decide which innovations become marketable at what moment and which technologies are successful. "It will be the market which decides, and it will be you who decide this, because at some point you have to stake everything on one card and ensure market penetration," Altmaier told the audience of mobility experts and industry representatives at the conference. Politicians' tasks, on the other hand, were realising changes in the technological and market environment and making sure that jobs stayed in Germany and Europe.
The minister also called on the German digital industry to come up with new mobility solutions. While many companies were currently developing and offering mobile applications to organise mobility, people would not use 10 different ones in the future, he cautioned. "There will be one app for mobility. This has to be globally compatible and scalable. I want a mobility platform that on a global scale is as popular as Facebook." If Europe didn't make this happen, others in the US or China would, he added, noting that apps to book hotels and e-commerce websites were registered in other countries. "But can't we at least agree that every time mobility is organised, the tax should be paid in Germany or Europe – that the added value happens here with us, where the automobile was invented?"
German carmakers BMW and Daimler had recently signed an agreement to merge their mobility services business units - including car-sharing units Car2Go and DriveNow as well as ride-hailing, parking and charging services - to compete with Uber in the United States and Didi Chuxing in China.
At the end of his 30-minute speech, which was met with much applause, Altmaier dodged the question whether the grand coalition government's two-day informal cabinet meeting on Tuesday and Wednesday (10 – 11 April) would lead to concrete policy proposals on Germany's transport transition. Earlier in the week, there had been reports about the government weighing a joint fund with carmakers to refit diesel cars.