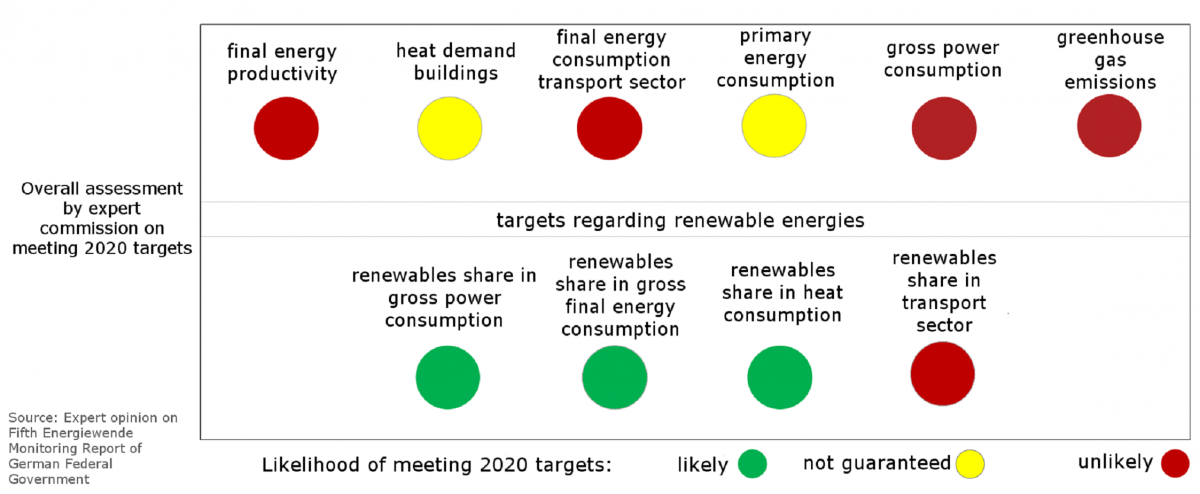 Experts call for CO2 price to retain Energiewende's credibility
Germany will probably fail to meet several of its key energy transition targets for the year 2020, according to leading experts commissioned by the German economy ministry (BMWi). In its advisory opinion on the ministry's 5th Energiewende Monitoring Report, the commission said "achieving central aims of the government's energy concept" now appeared "unlikely." There was a "considerable need for action" to ensure the self-imposed targets are met and the Energiewende's "credibility" is not undermined.
The government appointed four independent energy and economics academics to assess the progress of the Energiewende. In 2012, they released their first report, not only taking stock of the project but also advising on policy to reduce the country's carbon emissions while simultaneously phasing out nuclear power production.
In order to speed up the transition, the commission recommended introducing a flat, national CO2 price to be imposed across all sectors and replace what they depicted as an ineffective patchwork of different measures that were failing to make a real impact on emissions.
Federal Minister for the Economy and Energy Minister Sigmar Gabriel said the government had put in place the right policy framework for the Energiewende, boosting renewables while keeping an eye on cost. "We need further progress with energy efficiency, however," Gabriel said in a press release. "But we are on the right track with a number of new support programmes."
"Not observable how the government wants to achieve this"
The commission noted that Germany was well on track with its goal to increase the share of renewables in power consumption but said its performance on energy efficiency and emissions was "unsatisfactory." The country was likely to reach a share of renewables in power consumption of 35 percent by 2020, they noted. Windmills, solar panels and other renewable energy sources already covered 31.6 percent of power consumption in 2015, making an achievement of the target "very probable," they found. First 2016 figures indicated the share might have risen to around 34 percent.
However, the target of reducing primary energy consumption by 20 percent by 2020 compared to 2008 levels appeared to be "very distant," the experts said. So far, consumption had been reduced by "merely 7.6 percent" and even slightly increased in 2015, raising "well-founded doubts" over the target's feasibility.
In the same vein, the target of reducing greenhouse gas emissions by 40 percent by 2020 compared to 1990 levels – a "central political aim of the government's energy concept" [see the CLEW dossier on The energy transition and climate change] – was "very likely to be missed," the commission said. In order to achieve this goal, Germany would have to reduce its emissions by 3.8 percent per year – or three times faster than the 1990-2015 average. It was "not observable how the government wants to achieve this," the commission noted.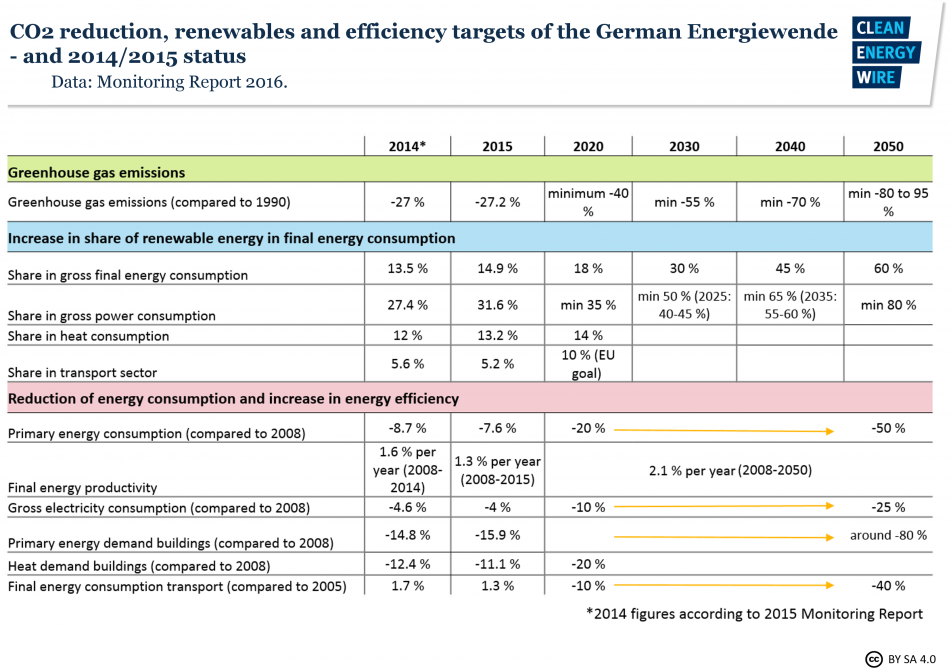 The German government put a series of reforms and programmes in place over recent years, including a Climate Action Programme to meet the 2020 targets and also has put climate protection on the agenda of its G20 presidency, which started on Dec 1.. However, the environment ministry acknowledged in its latest Climate Protection Report, also released on Wednesday, that the measures were unlikely to achieve their goal.
Federal Environment Minister Barbara Hendricks said Germany still needed to "work hard" on achieving its targets and additional steps could follow if the programme failed to deliver, though new initiatives look unlikely in the short-term as the county heads into a year of crucial regional and federal parliament elections. A ministry said spokesperson the environment administration would "prepare the next government" for closing the gap between the country's 2020 climate targets and current projections. In the ministry's report it was said policy adjustments to the programme would be possible by 2018.
Carbon price tag to underpin renewables expansion

In light of these shortcomings, the government needed to make sure the "Energiewende's credibility is preserved," the experts warned. They recommended a "general CO2 price tag" to finance future renewable energy expansion. Current measures to curb emissions consisted of "a multitude of small-scale regulations and incentives" undermined by numerous "self-serving" exceptions.
The commission said ideally this would be part of a strengthened European Emissions Trading System, but a European agreement was unlikely and national measures adequate to reach national targets.
They also called for renewable power production to be exposed to market mechanisms, in order to cut costs to consumers. The recent reform of the renewable energy act (EEG) that is to replace guaranteed feed-in tariffs with a tender system next year was a step in the right direction but still failed to expose operators to market risks, the commission found. Since a CO2 price would lead to higher electricity prices, an end to the renewables support via guaranteed tariffs was possible, they said.
The experts also called for a "comprehensive" transport transition spanning all mobility systems [see the CLEW dossier on The energy transition and Germany's transport sector]. So far, there had been "no significant change" in transport policy meaning the sector now consumed 1.2 percent more energy than in 2005. The commission said there was "no realistic scenario" in which the 2020 goal 10 percent reduction in transport emissions by 2020 would be met.
If the government took CO2-reduction from transportation seriously, in line with European emission targets, a "profound policy change" would be necessary, it argued. The government ought to focus on increased efficiency of conventional engines and rapid expansion of alternative engines, seeking to "avoid motorised transportation" where possible.