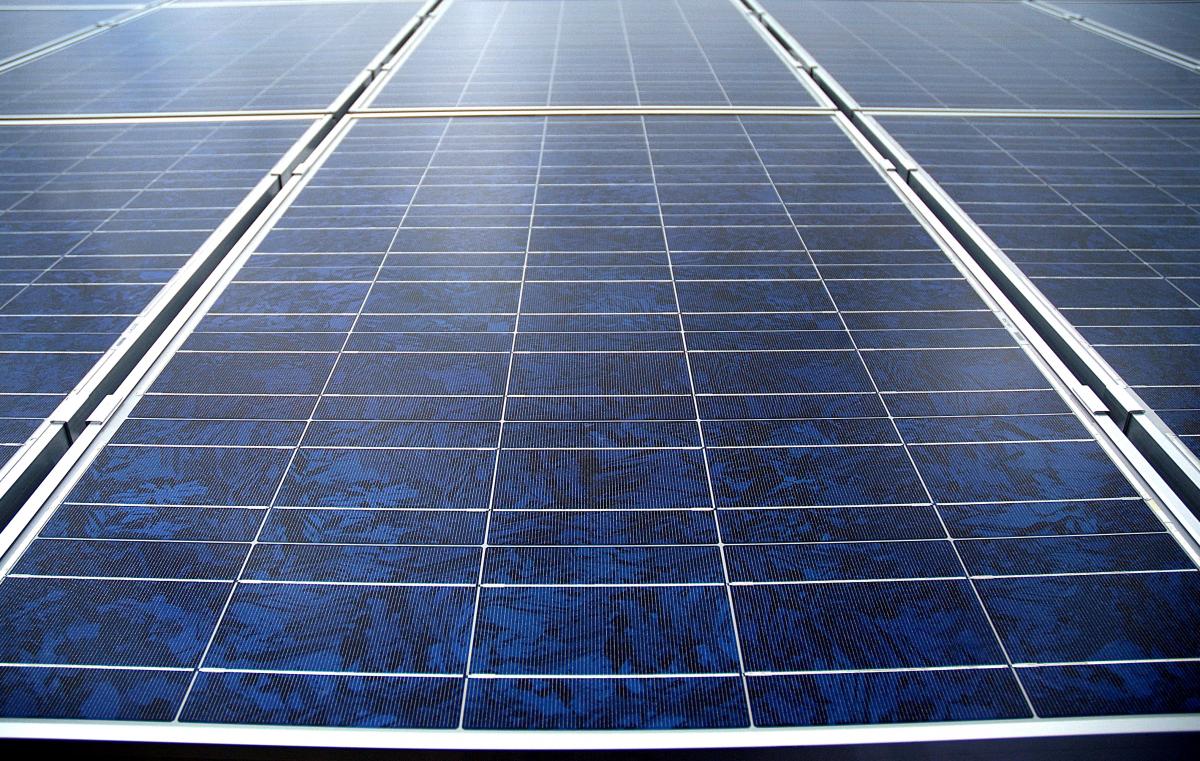 PV auctions: More competition, but critics warn of target shortfalls
Mandated by its 2014 Renewable Energy Act (EEG), Germany shifted from a system of guaranteed feed-in tariffs (FiT) for solar projects to (pilot) auctions last year. In place of the fixed payments, the country introduced pilot tenders for large-scale, ground-mounted facilities. The move is envisaged to make Germany's renewable energy subsidy programme more market-oriented and the sale of solar electricity more competitive, bringing it in line with EU strategy.
In the pilot, the auctions kicked off with 500 megawatts (MW) awarded in 2015, 400 MW in 2016 and 300 MW planned for 2017. The new EEG 2017 then calls for 600 MW of solar capacity to be auctioned annually while aiming for an overall annual capacity target of 2.5 gigawatts (GW), with smaller PV installations that do not participate in the tenders accounting for the rest. This means the lion's share of new solar PV additions is still planned to come from such smaller installations, typically on homeowners' rooftops which will continue to receive feed-in tariffs. The size of large-scale arrays is limited to 10 MW. So far solar PV is the only renewable energy source for which the auction system has been tested.
While some see the switch to auctions as a sensible move, particularly in view of the country's grid limitations, others criticise what they deem to be a curbing of renewables, greater government control over the expansion of clean energy sources and increased limitations, like the 10 MW size restrictions.
Jenny Chase, manager of Solar Insight at Bloomberg New Energy Finance (BNEF), says the auctions are working "fairly well as a price discovery mechanism to find out what developers need to be paid to build." They are also working much better than FiTs at containing total build, she adds.
Auctions are oversubscribed
German Solar Association (BSW) spokesman David Wedepohl says the auctions have attracted high interest but adds that it's too early to predict whether the annual tendered volume will be met. "The industry is naturally hoping that the tendered volume of 600 MW a year will at least be close to realised in spite of all of the unnecessary restrictions and additional risks."
For developers, the auctions include new restrictions on system size, a limited amount of annual capacity that is being tendered and tougher conditions for smaller players. "The oversubscription of the pilot tender illustrates at least that there is still very large interest in solar technology. It's still too early for a reliable forecast, however," Wedephol adds.
Like previous tenders, the August auction was significantly oversubscribed. The Federal Network Agency (BNetzA), which oversees the programme, initially tendered 125 MW and received 62 bids for a total volume of 311 MW. In the end, 130 MW went to 25 projects with an average bid price of 7.23 cents, down from the 7.41-cent average of the previous auction in April.
"The price level in the fifth round of tenders dropped slightly again despite a smaller number of bids," said Federal Network Agency President Jochen Homann. The lower price shows that the auction has resulted in effective competition in the ground-mounted PV sector, Homann added.
The previous auction attracted 21 winning bids for 128.21 MW, with prices ranging from 6.94 to 7.68 cents per kilowatt-hour and well under the targeted 8-cent mark, the unit price achieved in the country's third tender in December, which saw 204 MW spread across 43 projects.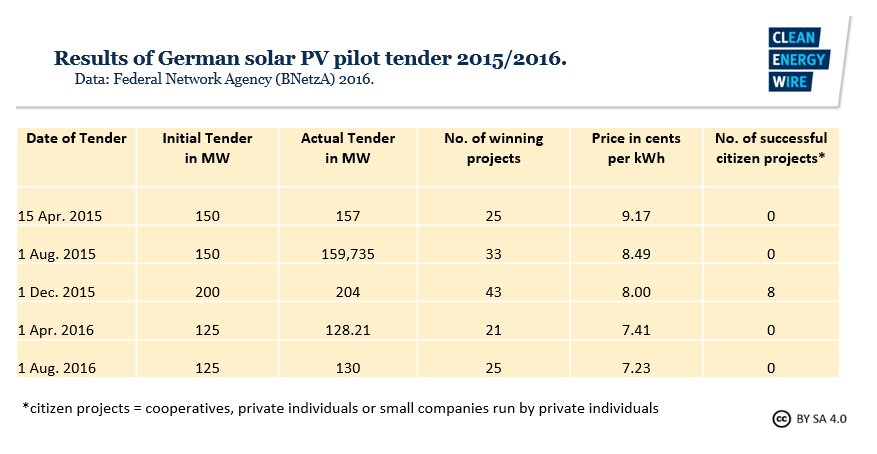 Rainer Baake, state secretary at the economics and energy ministry, said the process demonstrated that auctions work, adding that the strong and wide-ranging participation showed that solar developers had accepted the new system and that there were no obstacles to its further rollout.
Solar targets and construction lagging behind
German Solar Association (BSW) CEO Carsten Körnig said at the time of the first auction that the high number of bidders reflected a significant readiness to invest in Germany's PV sector, and that the low price level solar had reached also backed this up. Körnig expressed disappointment, however, that the government was not auctioning off much more solar capacity, particularly in view of the 170 bids, amounting to 700 MW. The 150 MW awarded accounted for about 20 percent of the overall capacity bid on. "The apparent losers in the process are the more than 80 percent of remaining bidders who were also willing to build solar parks at very minimal cost," Körnig said, adding that the solar park tender volume of only 1.2 GW over three years fell well short of what was necessary to meet the country's energy transition targets.
"Without incurring any noticeable added costs, it would be possible to increase solar capacity many times over, an increase that is crucial in the effort to achieve effective climate protection," he said.
The BSW has continued to express disappointment at what it sees as too little solar capacity being tendered. Describing the results of this year'sApril auction as "remarkable," Körnig noted that PV prices had reached the level of onshore wind power. "This shows that the energy transition can be achieved inexpensively with a significant expansion of photovoltaic hand in hand with wind power." Instead, PV expansion this year would clearly miss its annual target for the third time, he warned. "This is completely at odds with the federal government's climate and energy policy objectives."
Indeed, the expansion of Germany's solar capacity has lagged far behind the government's annual 2.5 GW solar target. In the first six months of 2016, the country installed just 512.7 MW of new capacity.
In addition, despite the seeming success of the auction programme, actual construction of tendered projects has been slow. So far, just 25 percent of the winning projects in the first auction have been realised, according to state secretary Baake. Of the projects selected in the second tender, only 27 percent had been installed through the end of July. Developers have two years to realise their projects. Many projects could go into operation towards the end of that period, Baake said.
Energy cooperatives on unequal playing field
While widely praised, the PV tender process has made it more difficult for smaller energy cooperatives and community solar initiatives, while favouring deep-pocketed investors and developers who can afford to offer lower rates.
"Diversity and proximity is of course very important for the acceptance of the energy transition," says BSW's Wedepohl. "Players without portfolio advantages will have a very hard time in the long run and will likely only be able to build small ground-mounted systems of less than 750 kW using the conventional feed-in tariff programme." Wedepohl points out that energy cooperatives and power consumer projects were not very successful in the auctions. "The results of the auction speak for themselves."
BNEF's Chase points out, however, that the auction's focus on price excludes any developers that cannot be cost competitive as well as more complicated schemes, which take money to set up. "That is kind of the point." She adds that projects owned by power consumers "won't bother with the auction system because they should be negotiating a power purchase agreement at prices competing with the much higher retail rates."
According to Lekha Sidhar, a researcher at the Berlin-based Independent Institute for Environmental Issues (UfU), cooperatives are heavily dependent on a favourable policy climate. In her recent paper, Sidhar writes that in 2014, the number of new cooperatives fell sharply due to the changes in the EEG that reduced incentives and increased financial regulations. The PV auction system that partly replaced feed-in tariffs "has put cooperatives on an unequal playing field," Sidhar writes. "Cooperatives and other small enterprises find it extremely difficult to compete with the tariffs offered by strategic investors."
In addition, increased demand for investor protection has led to greater financial burdens for cooperatives. "Since 2014, banks also require greater equity capital share from cooperatives before extending credit," Sidhar adds.
Nevertheless, the researcher points out that many cooperatives in Germany are weathering the storm through mergers, increased cooperation that is providing them with greater political strength and by moving into new areas, such as consulting services.