German top court postpones ruling on diesel driving bans
The Federal Administrative Court in Leipzig said on Thursday that it wanted to "thoroughly deliberate" the question whether driving bans can be a lawful measure to bring pollution levels in German cities below EU limits, according to press reports. The court will announce its verdict on Tuesday, 27 February.
The court also said it considered passing the matter on to the European Court of Justice to clarify whether German municipalities can ban diesel cars without a legal framework on the federal level.
More than two years after the beginning of the dieselgate scandal, the ruling is considered crucial for the future of diesel cars in Germany. A ruling opening the door for driving bans is likely to hasten the decline of the technology, and might prove a boost for electric cars and green mobility, which will be key for Germany to reach its climate targets.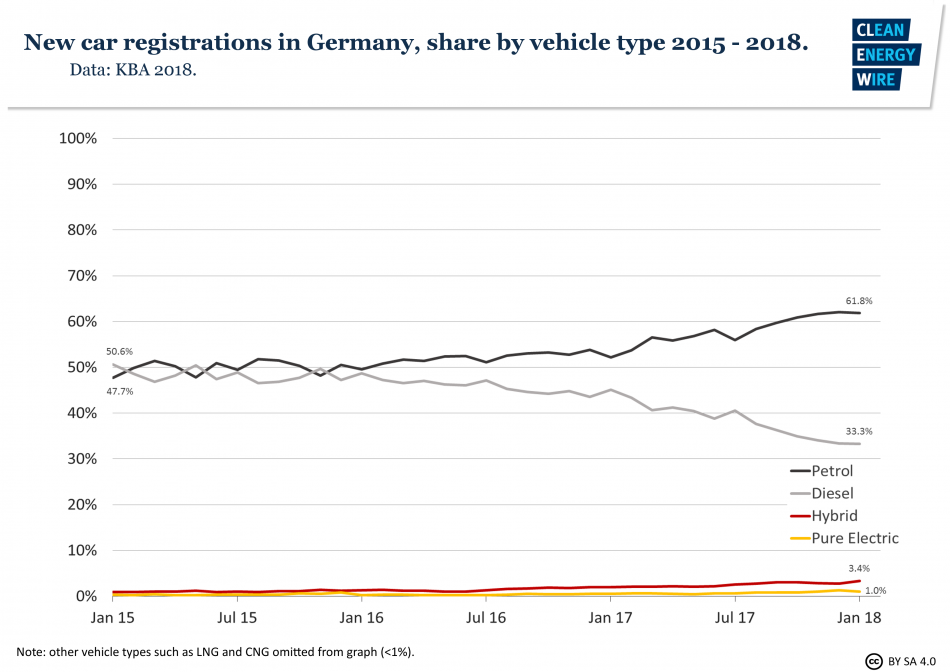 After years of administrative failure to curb excessive pollution, local courts had ordered western German cities Stuttgart – where carmakers Daimler and Porsche are headquartered – and Düsseldorf to reduce nitrogen dioxide (NO2) emissions below EU limits, if necessary by banning the use of most diesel cars.
The federal German states, strongly resisting an unpopular "dispossession" of Germany's 15 million diesel car owners, had countered that driving bans were unlawful, and transferred the matter to the Federal Administrative Court, which has the last word on such matters.
The expected ruling concerns local nitrogen oxide emissions, but will have ramifications for Germany's climate ambitions. Car-proud Germany is struggling to manage the shift to a more sustainable transport system.
Combustion engine cars not only cause local air pollution, but are also responsible for around 20 percent of the country's overall greenhouse gas emissions.
The EU has put increasing pressure on Germany to reduce pollution levels in cities that exceed the Union's air quality rules.
Find background on the ruling in the factsheet Diesel driving bans in Germany – The Q&A.
The factsheet "Dieselgate" - a timeline of Germany's car emissions fraud scandal traces the developments surrounding the manipulation of car emission data.
The CLEW article Why the German diesel summit matters for climate and energy explains the significance for Germany's energy transition.