"Dieselgate" - a timeline of Germany's car emissions fraud scandal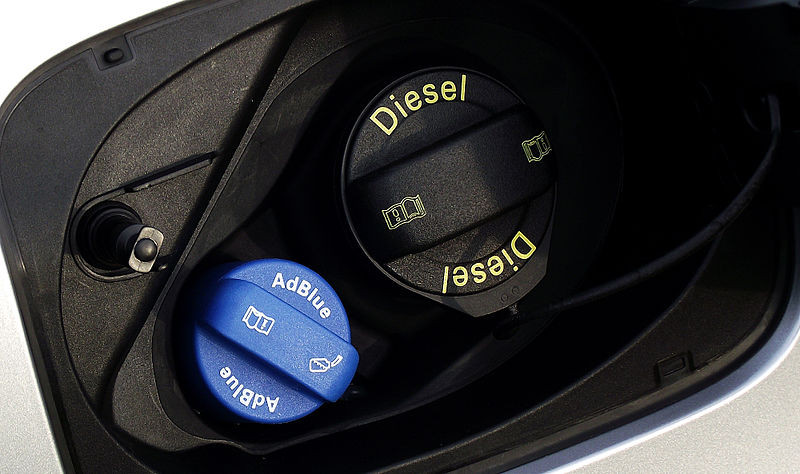 Note: Get the latest information on the diesel engine's fate in Germany via CLEW's search function.
September 2018
The Federal Administrative Court rules that Germany's financial centre, the city of Frankfurt, must introduce a ban on older diesel vehicles as part of a plan to improve air quality.
German Consumer Organisations (vzbv) and auto club ADAC say they will file the first major class action lawsuit in Germany against Volkswagen on 1 November, the day on which class action lawsuits will become permissible in the country.
While experts commissioned by the federal government at the diesel summit in 2017 agree that diesel vehicle hardware retrofitting is an effective measure to reduce nitrogen oxide emissions, transport minister Scheuer continues to oppose the measure, and confirms that the government will present a plan on how to deal with the issue by the end of September.
German carmakers fight a proposal by the EU Parliament to tighten future fleet emission limits. Industry association VDA called the plans "highly alarming," "unworkable," and warns they would lead to the "loss of many jobs in Europe." The government still struggles to find a common position on the issue.
August 2018
Petrol cars represent 62 percent of all new registrations in Germany, while the share of diesel cars amounts to 33 percent and the share of purely electric cars stands at 0.8 percent.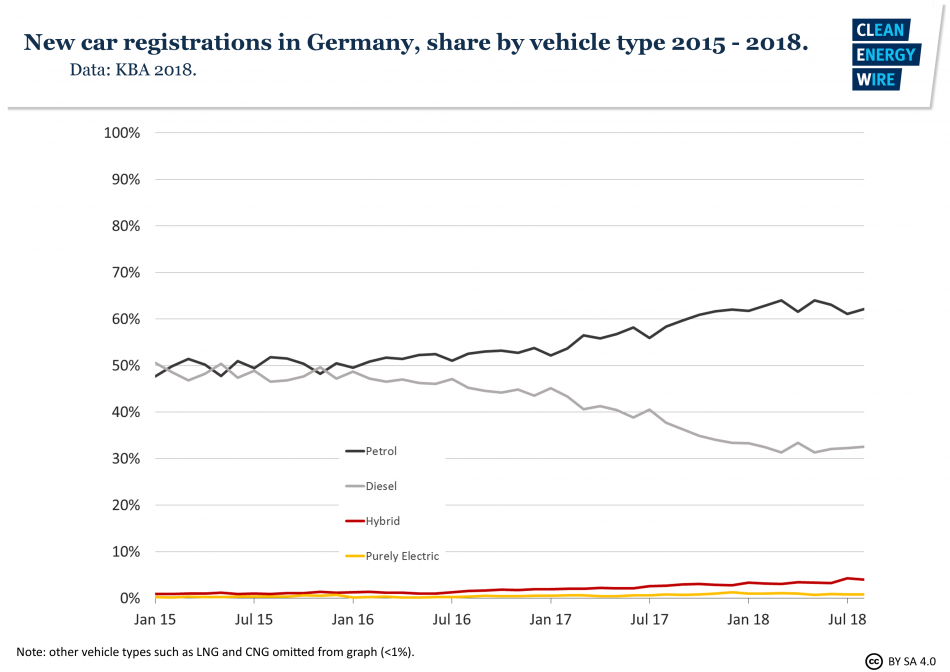 Luxury carmaker Daimler reportedly has to recall about 700,000 cars throughout Europe that need to be equipped with a new software, following an order by the Federal Motor Transport Authority (KBA). According to the company, CEO Dieter Zetsche agreed on the recall at a meeting with transport minister Scheuer.
Meanwhile, another report says new VW CEO Herbert Diess knew about his company's emissions fraud software much earlier than he previously conceded. This might constitute a violation of the company's investors' rights. VW, on the other hand, fires several leading employees, including board member and former chief of development, Heinz-Jakob Neusser, for allegedly revealing confidential information about the company's emissions manipulation to prosecutors.
July 2018
Transport minister Andreas Scheuer remains opposed to so-called "blue badges" for older diesel cars to facilitate the enforcement of driving bans. "I continue to reject the blue badge and thus the general driving bans," Scheuer tells journalists in Berlin. The government of Baden-Wurttemberg earlier had met with the federal government to discuss how a planned driving ban in the city of Stuttgart could be implemented.
June 2018
Daimler's home town Stuttgart will introduce diesel driving bans across the city by 2019, the state government of Baden-Wurttemberg announces.
VW is fined one billion euros by German prosecutors over the diesel emissions cheating scandal.
Audi CEO Rupert Stadler is arrested and his home raided over allegations that he played a role in the Volkswagen Group's diesel scandal.
Daimler has to recall nearly 775,000 diesel cars after doubts arose over the veracity of the luxury carmaker's claim that its vehicles had never had emissions-cheating devices. Transport minister Scheuer threatens steep fines unless Daimler agreed to full transparency and cooperation.
May 2018
Hamburg becomes the first German city to impose diesel driving bans on two selected roads in the city centre. After an initial trial phase, the police begins enforcing the ban at the beginning of June.
The European Commission decides to sue Germany and other countries for failing to take action against excessive air pollution levels in inner cities.
In 2017, most new car technology patents in Germany were registered for diesel and petrol engines, far outnumbering patents for electric vehicles, says a news report. According to the report, German manufacturers registered 2,108 patents for combustion engines and just 170 for e-cars.
April 2018
New environment minister Svenja Schulze says that German carmakers have enough money to pay for the retrofitting of cars they had manipulated. The costs are estimated at 1,000 to 3,000 euros per car, depending on the model. "What is clear is that the manufacturers have to pay for retrofitting as they have caused this problem," the Social Democrat says.
Volkswagen appoints VW brand chief Herbert Diess as new CEO after Matthias Müller is ousted by the board of directors.
Chancellor Angela Merkel says the mighty German carmakers had made "serious mistakes" in their handling of the dieselgate affair. "The customer or taxpayer cannot be made accountable for that," she says, stopping short of naming concrete steps that she expects the companies to take to compensate their customers.
New transport minister Andreas Scheuer says Germany's clean air programmes agreed on at the national diesel summit in 2017 would become "export hits."
In March 2018, diesel registrations fall by over 25 percent compared to the same month in the previous year, the Federal Motor Transport Authority (KBA) says.
March 2018
A study conducted by the International Council on Clean Transportation (ICCT) finds that declining diesel sales do not threaten the EU's emissions reduction targets. The alleged climate advantages of diesel cars were a major argument for the government's support of the technology.
Chancellor Angela Merkel says solving the diesel crisis and preventing driving were tantamount to "squaring the circle." Meanwhile, diesel registrations in the country continues to fall unabatedly, and only 13 percent of respondents to a survey say they would buy a car equipped with the technology.
Andreas Scheuer, a conservative politician (CSU), is appointed as Germany's new transport minister. In his maiden speech in parliament, the car-loving politician from Bavaria says people should have "no panic" as there would be "no bans" for diesel cars and signals that he does not intend to increase government pressure on the car industry.
A report compiled by the Greens/EFA Group in the European Parliament finds that the divergence between type approval and real-world emission values cost Germany 1.2 billion euros in lost motor vehicle tax revenues in 2016. Type approval CO₂ emission values turned out to be "a seriously flawed tax base," the Greens said.
A study published by Germany's Federal Environment Agency (UBA) finds that nitrogen oxide (NOx) emissions, the central factor in the dieselagte emissions fraud scandal, pose a "significant burden" on human health and cause thousands of premature deaths in the country every year. "Diesel cars are clearly a significant reason for the harmful nitrogen oxides in the air," says UBA president Maria Krautzberger.
Shortly after a court ruling paved the way for imposing driving bans in Germany's inner cities, VW CEO Matthias Müller says his company is of "systemic" relevance for the entire country. He says VW could not afford to pay billions of euros for mechanical retrofitting of manipulated cars in Germany as it was already burdened by fines in the US.
February 2018
Court ruling opens door for diesel bans in German cities - German cities may ban diesel cars from polluted areas following a landmark court ruling. In a major blow to German carmakers still heavily relying on diesel car sales, and a victory for environmentalists, one of Germany's top courts said on Tuesday (27 February) driving bans are legally admissible to enforce EU clean air rules.
The NGO Environmental Action Germany (DUH) has said it is sceptical of government efforts to prevent the looming driving bans on diesel cars in inner cities, as well as a lawsuit by the European Union over excessive air pollution. Ahead of the crucial ruling by Germany's administrative court in Leipzig on 22 February on whether or not diesel driving bans in polluted cities are legally admissible, says it is "curious to see" what the court will decide. The DUH acted as the plaintiff that set the ball rolling on driving bans by launching legal proceedings in the city of Stuttgart.
Just a day before the ruling, Germany's most influential car club ADAC said mechanical retrofitting of polluting diesel cars is "indispensable" for avoiding driving bans. The ADAC stated it carried out tests with retrofitted cars which had shown that cutting air pollution with nitrogen oxide (NOx) emissions "is not only possible but also highly effective."
A survey by pollster YouGov revealed that Germans are split over driving bans. Less than half (43 percent) of those surveyed said they approve of blocking out diesel cars from inner cities while about the same proportion of respondents regarded bans to be "bad or very bad" in certain urban areas. Less than a third of respondents said they were very concerned that NOx pollution from diesel fumes could damage their health.
January 2018
Volkswagen suspends its chief lobbyist, Thomas Steg, following reports that the company helped funding tests in which researchers studied the effects of substances contained in diesel emissions on monkeys and humans. In a statement, the company said it would "draw the first consequences" of the tests after these had been publicly condemned by the German government and VW head Matthias Müller. Müller said "Mister Steg has declared to assume full responsibility" for the tests and VW accepted his request to be put on leave.
The European Research Group on Environment and Health in the Transport Sector (EUGT), a joint research group funded by BMW, Daimler and VW had tested the toxic effects of diesel fumes from manipulated cars on monkeys in the US in 2014, a report by the New York Times reveals. In their first reactions, the German carmakers condemned the tests, saying the treatment of the animals by violated their ethical standards.
A further report by Stuttgarter Zeitung says the EUGT also conducted tests on humans. At the University of Aachen "25 young and healthy people were examined after having inhaled nitrogen dioxide in different concentrations over several hours," the report says.
Meanwhile, a study by the Center for Automotive Research (CAR) said ten German cities considerably exceed EU nitrogen oxide, making diesel driving bans more likely in 2018, newspaper Tagesspiegel reports. A crucial ruling by Germany's Federal Administrative Court expected on 22 February could determine whether German cities could use diesel driving bans to stay within EU air quality limits.
December 2017
NGO Environmental Action German (DUH) accused BMW of using an illegal defeat device to reduce nitrogen oxide (NOx) emissions in one of its diesel models. The carmaker rejected the accusations and insisted that it did not use such devices. Germany's transport ministry instructed the Federal Motor Transport Authority (KBA) to look into the matter. According to DUH, the car's exhaust cleaning mechanism is throttled as soon as the engine exceeds 2000 revolutions per minute, and is completely switched off beyond 3500 rpm. DUH said this was illegal because it affected normal driving conditions.
Registrations of new diesel cars fell by 17 percent in Germany in November compared to the same month in 2016, according to the Federal Motor Transport Authority (KBA). The share of new cars sold with diesel engines now stands at 34 percent.
November 2017
At a second meeting with representatives from states and municipalities on 28 November, the chancellery repeated its willingness to set up an ad-hoc programme worth one billion euros to improve air quality in German cities. The money would be made available "as off tomorrow", Merkel told the summit. The money will be used on the electrification of vehicles such as public buses and digitalisation measures in traffic management systems in communities with high nitrogen oxide emissions, a paper by the chancellery states. Chancellor Angela Merkel reiterated after the summit that it was in the "highest interest" to avoid diesel car driving bans in German cities.
Michael Ebling, major of the city of Mainz, said in a statement that federal support had to continue after 2018 and that "the elephant in the room", i.e. the car industry had to present alternative engines more quickly.
Merkel said she wanted to include the ad-hoc programme in pending talks to form a new government, dpa reports.
In Feburary 2018 the Federal Administrative Court will rule on the need for driving bans to limit NOx emissions.
The government's handling of the dieselgate scandal is given bad grades by the German public. In a survey by the Federation of German Consumer Organisations, two thirds of respondents say that the commitment by the government to get past the diesel scandal was bad or very bad. Nearly as many say the carmakers performance in the wake of the scandal was equally poor.
Environmental organisation DUH says it will expand its legal action over air pollution from diesel cars to several more German cities. It called on 42 other cities to prepare for bans on diesel cars that could take effect after a Stuttgart court ruled that such bans, demanded by the DUH, were legally warranted if diesel cars are not retrofitted to reduce NOx emissions by 2018.
The European Union announces new carbon emissions reduction targets that are perceived as favourable for the car industry. According to the Süddeutsche Zeitung, Germany's chief car lobbyist Matthias Wissmann (VDA), personally intervened at the EU Commission to water down the new emissions targets "as if dieselgate had never happened".
The transition in the transport sector emerges as a major issue in Germany's coalition talks between the environmentalist Green Party, the pro-business FDP and Chancellor Angela Merkel's conservative CDU/CSU alliance. A concession made by the Greens to relinquish their demand to ban new registrations of combustion engines by 2030 is ridiculed by conservative transport minister Alexander Dobrindt as "giving up a silly end date" that had "never been up for debate".
October 2017
VW CEO Matthias Müller says electric mobility "will see a global tipping point around 2030", adding that his company would play a leading role in this transition. "Anyone who believes the glory days of the German car industry are over is wrong," Müller said. VW would also continue to further develop diesel engines, Müller said.
Diesel car registrations in Germany continue to fall, standing 21.3 percent lower in September 2017 than one year before, the Federal Motor Transport Authority (KBA) says.
The Green-led government of Germany's southern state Baden-Wuerttemberg, home to carmakers Daimler and Porsche, lodges an appeal against the court ruling that found inner-city driving bans for polluting cars permissible. The plaintiff, the Environmental Action Germany (DUH), welcomed the appeal saying it would accelerate the process of reaching a final decision.
September 2017
In her opening speech at the Frankfurt car show (IAA), Chancellor Angela Merkel says carmakers have "excessively exploited loopholes" in regulations and need to rebuild trust not only for their own sake, but also for Germany as a whole. The head of the German car industry association VDA, Matthias Wissmann, argues in his speech that EU nitrogen dioxide (NO2) limits were too strict and should be relaxed.
German carmakers accelerate their plans for e-mobility at the show [For details, see the factsheets Dieselgate forces VW to embrace green mobility, Reluctant Daimler plans "radical" push into new mobility world, and Early e-car starter BMW plans new mobility sprint]. "We have got the message and we will deliver," says VW CEO Matthias Müller.
But while carmakers talk a lot about their future plans for e-mobility at the IAA, large diesel SUVs dominate new models that are soon available in showrooms.
Daimler and BMW are ranked among the most influential companies that "delay or dilute efficiency and CO2 emissions standards and procedures both in Europe and North America" by British think tank InfluenceMap.
Meanwhile, diesel car sales in Germany continue their decline – their share of new registrations fell by almost 14 percent year-on-year in August, according to the Federal Motor Transport Authority (KBA).
At a another "diesel summit" with mayors of over 30 German cities and municipalities affected by high levels of air pollution, Merkel says it is the intention of the federal government and local administrations to avoid looming driving bans for specific car models "by all means." However, she concedes that the challenges for the government as well as for the German industry were significant.
August 2017
The NGO Environmental Action Germany (DUH) initiates several additional legal proceedings on emissions limits in German cities, bringing the total number of affected cities to 45.
Environment minister Barbara Hendricks says the software updates for diesel cars exceeding emission limits agreed on at the national "diesel summit" in early August can only be "a first step" and need to be followed by technical retrofitting of the engines.
Merkel voices support for the idea of banning internal combustion engine cars sometime in the future, as planned by other European countries, such as France and the UK. "I cannot name a specific date now, but the approach is right, because if we invest more in charging infrastructure and technology for e-cars fast, a general transition will structurally be possible", Merkel says in an interview.
At the first "diesel summit" with the German government in August 2017, VW, Daimler and BMW pledge to install emissions control software updates in about 5 million diesel passenger cars, offer buyer's premiums for customers switching away from an old diesel, and bear half the cost of a 500-million-euro fund for city mobility concepts. But the commitment was widely seen as a "win for the car industry" in its efforts to prevent driving bans looming in German cities.
July 2017
German carmakers make a proposal on how to retrofit older diesel cars with a software update that reduces exhaust emissions from Euro 5 vehicles by an average 25 percent. Matthias Wissmann, head of the Association of German Carmakers (VDA), says "we need to avoid driving bans".
The VDA wants to present its proposal at the "National Forum Diesel" in early August. The summit is aimed at bringing the carmakers and Germany's ministries for transport and for the environment together to identify ways to ensure that emission limits are respected in the future and that customer confidence is regained.
Media reports say Daimler has manipulated more than one million cars sold in Europe and the US.
EU Industry Commissioner Elzbieta Bienkowska warns carmakers that they must withdraw millions of manipulated diesel vehicles from circulation across the EU if they are not fully retrofitted by the end of the year.
News magazine Der Spiegel reports that Germany's most important carmakers have violated anti-trust laws by regularly meeting since the 1990s to agree on prices, suppliers, and technological standards – including exhaust emission control systems for diesel cars.
Transport minister Alexander Dobrindt announces a recall of 22,000 Porsche Cayenne and orders a registration moratorium for new vehicles after tests by the ministry (BMVi) and the Federal Motor Transport Authority (KBA) found potentially illegal emissions software.
A court in Daimler's hometown Stuttgart rules that driving bans to curb air pollution are permissible, possibly setting a precedent for numerous other German cities where Environmental Action Germany (DUH) has filed similar lawsuits.
June 2017
Allegations against VW's subsidiary Porsche arise. Prosecutors say the luxury brand manipulated the emission values of its successful Cayenne model. Porsche denies the allegations.
US authorities issue search warrants against five former VW managers for allegedly conspiring to commit fraud and for violating US environmental guidelines.
May 2017
VW CEO Müller says "diesel is part of the solution, not of the problem".
Prosecutors search several offices of carmaker Daimler over allegations that the Stuttgart-based company used manipulation devices similar to those used by VW.
April 2017
EU Industry Commissioner Elzbieta Bienkowska says that diesel engines will disappear much sooner than previously thought.
March 2017
Prosecutors search VW's Wolfsburg headquarters, as well as that of its subsidiary Audi in Munich and of an US lawfirm VW hired, looking for evidence on about 80,000 diesel Audi cars destined for the US market, which had allegedly been equipped with defeat devices. Volkswagen calls the raids "unacceptable" and announces its intention to pursue legal action to defend itself.
February 2017
Ferdinand Piech, former head of VW's Board of Directors, tells prosecutors that CEO Winterkorn had been informed about the engine manipulation long before the scandal broke.
VW's Board of Directors announces that it will cap future executive wages at ten million euros per year.
January 2017
Despite the emissions scandal, Volkswagen becomes the world's largest carmaker, selling 10.3 million vehicles in 2016.
The company reaches a settlement with the US authorities. It agrees to pay about 4.1 billion euros in fines and admits to being guilty of breaching US law.
Former VW CEO Martin Winterkorn, meanwhile, tells the German parliament that he had "no early and unequivocal notification about the testing problems".
December 2016
VW reaches an agreement with the US Environmental Protection Agency (EPA). Customers can decide whether they want to have their vehicles retrofitted or bought back by the company.
November 2016
VW presents its reform package "Transform 2025+", projecting several billion euros in investment in alternative engines and cuts of about 30,000 jobs globally.
September 2016
A VW engineer tells a US court that work on emissions manipulation already began in 2006. After reaching a settlement with retailers and customers in the US, VW's liabilities in the country reach 15.2 billion euros.
Allegations against supplier Bosch of being involved in the affair become more substantial, with documents used in a US court saying manipulations in emissions tests had been "an open secret" between VW and its subcontractor.
June 2016
The German Federal Motor Transport Authority (KBA) gives permission for the recall of about two million vehicles across Europe.
Norway's state fund, a major VW shareholder, announces to sue the company for over 680 million euros in compensation. Fines and compensation payments in the US, meanwhile, amount to 13.3 billion euros.
May 2016
According to media reports, VW plans to build its own battery factory in Germany to decrease its dependence on Asian producers.
April 2016
VW sets aside 16.2 billion euros for compensation payments and fines. Bonus payments for the management are – temporarily – cut by 30 percent.
March 2016
According to NDR, WDR, and Süddeutsche Zeitung, Volkswagen's management knew about the manipulation software since at least August 2015. Since the public was informed by the US authorities only in September, the company apparently held back the information intentionally.
VW announces its intention to axe one in ten of its administrative positions.
January 2016
The US Justice Department sues VW and its subsidiaries Audi and Porsche over their use of emissions-cheating software and for violating climate protection regulations. CEO Müller, meanwhile, argues that the manipulation was down to "a mistake the company's engineers had not been aware of".
December 2015
Hans Dieter Pötsch, head of VW's Management Board, comments on the affair for the first time: "Nobody could have imagined that our company would ever get into a situation that we experience since September". CEO Müller says "the crisis will be the catalyst for change that Volkswagen needs".
The European Parliament decides to set up an inquiry committee to investigate the role of the Commission and the member states in the affair.
November 2015
The EPA says further VW models have been manipulated. The company admits that it not only cheated on NOx, but also on CO2 emissions. The European Commission demands information on actual CO2 emission levels.
VW proposes a plan for dealing with the affair in the US. German authorities agree to a national retrofitting scheme. VW announces it will suspend production in several factories.
October 2015
France and several other states say they will start investigations into possible fraud by VW; a private investor files the first lawsuit in Germany for alleged losses incurred due to the affair.
German weekly Bild am Sonntag reports that VW engineers admitted to having installed the manipulation equipment in diesel engines in 2008. The reasons cited were irreconcilable emission limits and cost constraints.
VW CEO Müller says his company has to brace for tough cuts. German prosecutors search VW's headquarters and other offices. VW admits that it also manipulated cars sold in China.
Michael Horn, CEO of Volkswagen US, says he knew about the manipulation already in 2014.
NGO Environmental Action Germany (DUH) announces its intention to press charges if authorities do not oblige VW to recall its affected vehicles.
German authorities demand that VW recalls 2.5 million diesel cars in the country. VW voluntarily expands the recall to 8.5 million cars in Europe.
VW sales slip globally. The company says it expects job cuts, and opens a new Compliance Department.
September 2015
The US Environmental Protection Agency (EPA) accuses VW of installing illegal manipulation devices. VW admits to this, but remains reluctant to share further information with the public.
The scale of manipulation expands as the US Justice Department commences with its investigations. At least half a million cars are said to be affected in the US alone; VW's stocks plunge.
German Transport Minister Alexander Dobrindt says he only learned about the allegations "from the newspapers".
Allegations against supplier Bosch arise, claiming that the company had programmed the manipulation software. Bosch denies the allegations.
VW CEO Martin Winterkorn resigns, insisting he did not know about the manipulation devices. Former Porsche CEO Matthias Müller takes over as head of VW.
At the end of the month, VW says that defeat devices were installed in over two million cars made by subsidiaries Audi and Skoda, and in VW utility vehicles. The company says that that 6.5 billion euros reserved for dealing with the affair will likely not be enough.
The head of the German Carmakers' Association (VDA), Matthias Wissmann, complains that an "anti-diesel lobby, which is led by non-governmental organisations" tried to discredit the technology.
According to Frankfurter Allgemeine Zeitung, emissions manipulation software has been used by VW as early as 2005. The decision, the newspaper says, had been made in the engine development department of VW's Wolfsburg headquarters. It also reports that supplier Bosch allegedly sent a written warning to the carmaker against the illegal use of its technology
2014
A study conducted by the International Council on Clean Transportation (ICCT) reveals excessive emission volumes in several VW cars sold in the US.
2011
The European Commission's Joint Research Centre finds that the levels of harmful nitrogen dioxide (NOx) emissions exceed the EU levels by up to 14 times in different car models while testing exhaust emissions under gas under real road operating conditions.
2007
The EU introduces new rules for carmakers that prohibit so-called "defeat devices" – software that manipulate exhaust emissions depending on whether the car runs on a test stand or on the road.