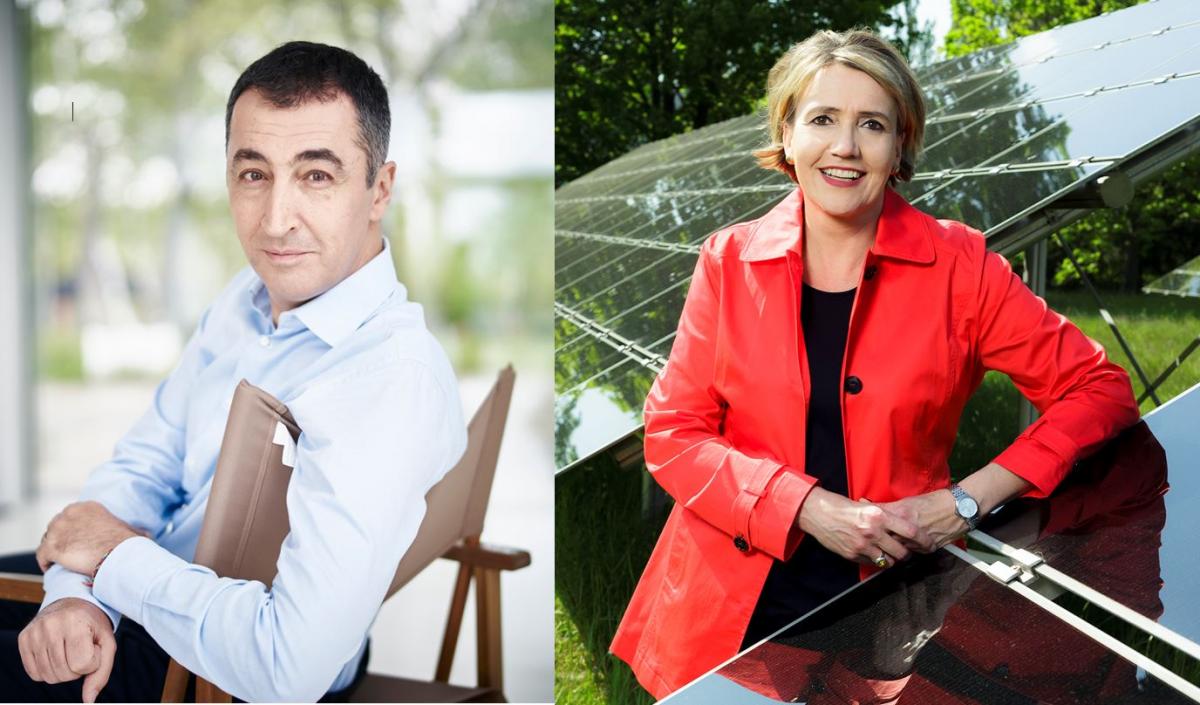 Greens ready to make climate policy concessions in coalition talks
The German Green Party appears to be ready to make substantial concessions on climate protection for the sake of moving forward the stagnant coalition talks with Chancellor Angela Merkel's conservatives and the pro-business FDP. The party leadership markedly softened demands on banning combustion engines in new cars and exiting coal power by 2030. The move is seen as a difficult political manoeuvre for the party but injects fresh impetus into the negotiations, which are seen at risk to fail – not least over differences in climate and energy policy.
Green deputy parliamentary group leader, Oliver Krischer, told the Clean Energy Wire on Tuesday that in spite of concessions made on coal and car emissions, abiding by the national climate protection goals for 2020 and beyond was "not negotiable" for his party. "We've made it clear from the beginning that these dates are not axiomatic", Krischer said. He added that the Greens were primarily concerned with "the number of tonnes of CO2 that we do not emit," Krischer said.
Green Party co-leader Cem Özdemir on Monday said his party would relinquish its prominent election campaign demand to phase out internal combustion engines in newly registered cars by the end of the next decade. "I'm aware that we cannot enforce a 2030 end date for licensing fossil combustion engines all by ourselves," Özdemir told the Stuttgarter Zeitung. Instead of a fixed end date, the Greens are now trying to obtain "a clear commitment" from their potential coalition partners "to do everything in our power to make cars of the future interconnected, automated, and emissions free", Özdemir said.
A "pragmatic" approach
By signalling willingness to compromise on ending coal-fired power production, the environmentalist party also seems ready to make concessions on an even more delicate climate policy demand. Exiting coal completely by 2030 was a proposition that stood at the core of the Green election campaign.
"For us, it's not about whether the last coal plants goes off the grid in 2030 or in 2032", party co-leader Simone Peter told the Rheinische Post. The Greens are following a "pragmatic" approach and rather wanted to make sure that Germany abides by its 2020 climate protection goal to lower CO2 emissions by 40 percent compared to 1990 levels, and stays on track to also meet its 2030 goals for lowering emissions in the energy, transport, and construction sector, Peter said.
Deputy parliamentary group leader Krischer specified to Clean Energy Wire that shutting down Germany's 20 dirtiest coal plans immediately remained a clear goal of further negotiations. "Initiating a coal exit as well as a transition in transport remains key for us", he said.
The Greens' signal for compromise comes at a critical point at the ongoing exploratory talks for a possible Jamaica coalition, the only politically viable government option after parliamentary elections in late September. The first round of informal negotiations with the FDP and the conservative CDU/CSU alliance failed to produce substantial political agreements between the three camps, particularly in the field of climate and energy.
So far, the Greens have been adamant on defining concrete steps for a coal exit and a fossil combustion engine phase-out in any possible coalition agreement, but encountered fierce opposition by its negotiating partners, who say that these policies would put Germany's energy supply security and economic competitiveness in jeopardy.
FDP head Christian Lindner has warned last weekend that the Jamaica coalition talks might in fact break down if the three camps failed to achieve any rapprochement in core policy areas. "We're not afraid of new elections", Lindner said. He argued that "our convictions" were more important to his party than government participation and reiterated his criticism of a coal exit, arguing that such a move would merely lead to Germany importing coal power from neighbouring Poland or nuclear power from France.
Chancellor Merkel has rejected Lindner's remarks on new elections and reminded all three negotiating partners of their political responsibility to form a stable government. She said the parties should conclude the current exploratory talks by 16 November the latest, and move on to launch formal coalition talks aimed at producing a proper coalition agreement. However, the Green Party intends to consult with its party basis on 25 November whether it should enter into formal negotiations.
With a view to Germany's imperilled 2020 emissions reduction goals, Merkel said the "challenging" target that had been set under her leadership was "not so simple to meet." However, CDU parliamentary group leader, Volker Kauder, on Monday insisted the goals remained firmly in place, adding that in a coalition with the Green Party, reducing ambitions in this field was "hardly conceivable."
Greens expect mutual give-and-take
Green parliamentary group leader Anton Hofreiter said that his party expected the give-and-take-approach would also lead to a greater readiness for a compromise by the conservatives and the FDP. "Especially with regard to the car industry", the Greens were "not inclined to play along with the cronyism of the past", Hofreiter told public broadcaster ZDF.
He insisted that carmakers implicated in the dieselgate emissions fraud scandal had to mechanically retrofit affected their vehicles and reiterated that inner city driving bans for polluting cars remained a concrete possibility. Hofreiter said the Greens hoped to find compromises in other policy areas as well, for example on migration policy.
Conservative Transport minister Alexander Dobrindt said the Greens' softened position on combustion engines did not yet amount to rapprochement. "If you give up on silly end dates, that's not a compromise," Dobrindt told Süddeutsche Zeitung. Phasing out combustion engines over the course of the next decade "never was up for debate" anyway, Dobrindt added.
The FDP's reaction, however, was more conciliatory. The party's deputy parliamentary group leader, Frank Sitta, said the Greens were sending the right signals, and that his party "will be sending out similar ones." Sitta told the public broadcaster MDR the FDP was not clinging to "dirty" combustion engines, but rather wanted to make sure that the debate over one of Germany's most important industry branches was conducted "with prudence."
The Greens' new-found readiness to compromise has also led to criticism from the environmental organisation Greenpeace. "Those who shun setting a clear end date for combustion engines free the carmakers from any responsibility to make future efforts in climate protection", Greenpeace's Tobias Austrup said.
If the aspiring Jamaica coalition partners fail to define an end date for combustion engine technology in a coalition treaty, "they sabotage the Paris Climate Agreement" and only ensure that Germany further distances itself from the decarbonisation trends in the car industry that characterise the approach in many countries, Austrup said.