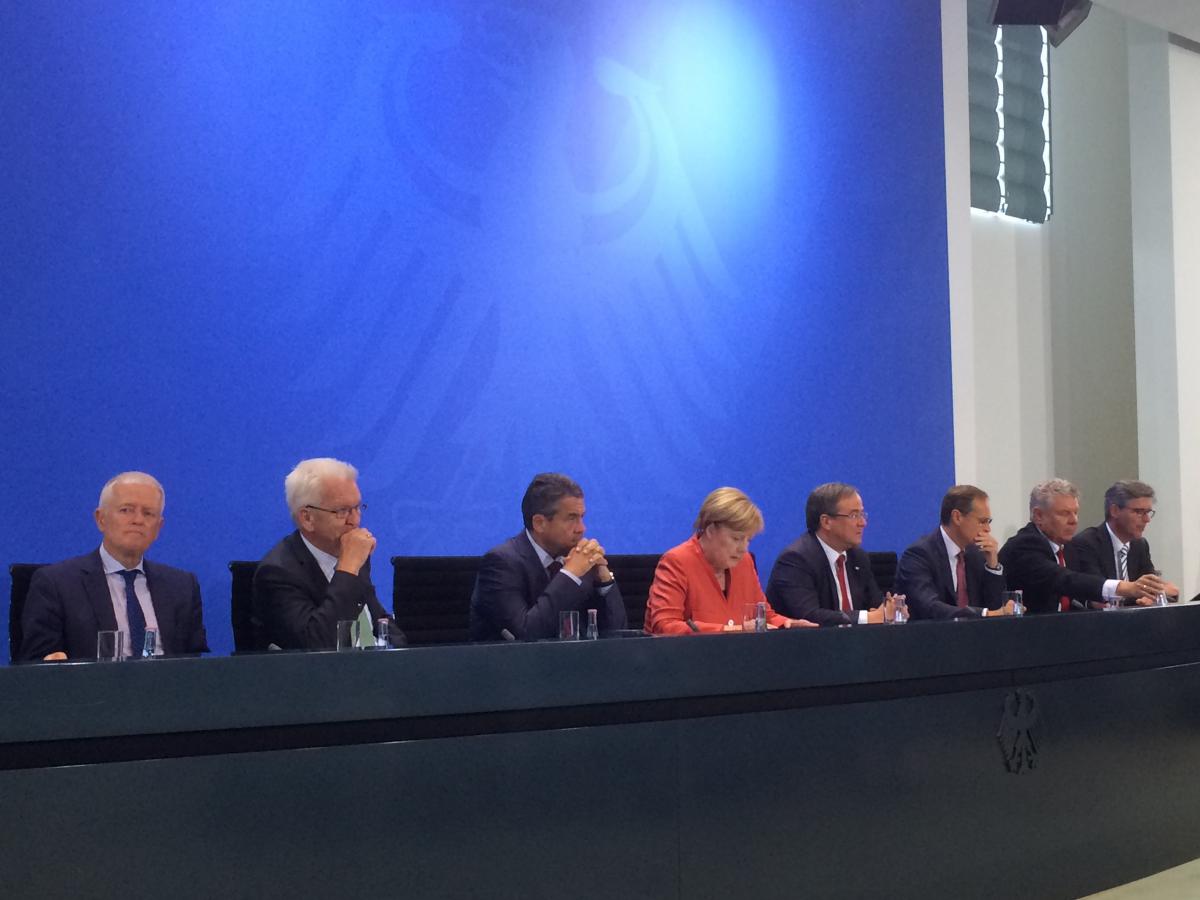 Merkel at second diesel summit: must avoid driving bans "by all means"
Merkel said the large number of high-ranking officials from the federal government as well as from the federal states present at the second diesel summit "shows the magnitude of this problem" that threatens the country's most important manufacturing branch. However, there also was "a great range of options" for the government to react to the challenges and to avoid driving bans that could become effective in several cities by next year.
At the first summit in August, the government and the carmakers agreed on a first set of measures, such as software updates for vehicles, buyers' premiums for replacing older diesel cars with newer, less polluting models and a "sustainable mobility for the city" fund originally endowed with 500 million euros.
The government would now top up the fund to one billion euros with government money, Merkel said after the summit. This would bring the state's expenses up to a total of 750 million euros as carmakers so far agreed to contribute 250 million euros. The money should help finding solutions for emissions-free public transport systems, more efficient traffic routeing, expanding bicycle and pedestrian infrastructure and cutting red tape in traffic regulation.
Even before the diesel emissions cheating scandal broke in 2015 German carmakers struggled to get the transition to low-emission mobility going. Transport is still one of the sectors where greenhouse gas emissions continue to rise, making it harder for the country to meet its 2020 climate goals. The government's climate action plan 2050 sets emission reduction goals for the transport sector, which many experts think will be hard to meet without shifting gears towards more e-mobility.
"We have to set feasible aims"
The diesel scandal and the debate about driving bans focused on harmful nitrogendioxide emissions and particle matters. But the discussion affects the climate debate as some industry experts and politicians consider diesel cars an important bridging technology because for a long time they emitted less CO2 than petrol cars.
Merkel said the federal government already had drafted a strategy paper on this which had been "endorsed by some federal states and acknowledged by others." Efforts were made to set up a communication platform to better integrate approaches of the federal government, federal states and municipalities. Further steps would be discussed at the next meeting in late October or early November, she added.
Vice-chancellor Sigmar Gabriel (SPD) stressed that an agreement had been found "despite the current election battle" between his social democratic party SPD and Merkel's conservative CDU, who have been governing Germany for the past four years in a grand coalition, illustrating the gravity of the issue.
Gabriel warned against "overdrawn hopes" of a quick mass roll-out of electric cars. Citing the experiences made during his time as economy minister, when he was charged with overseeing the complicated expansion of Germany's transmission grid network for transferring renewable power, Gabriel said the challenges associated with setting up a distribution grid network for millions of e-cars would let the former "seem like a mild summer breeze."
The Vice-chancellor said "we must not pretend that we can do without combustion engines tomorrow" and stressed that the technology still created a great deal of value for the German economy. "And we need this success to finance any transition," Gabriel said.
"A fatal signal"
Environmental organisation WWF Germany said the second diesel summit was "not going to induce the necessary transport transition." Throwing money at the problem was not equal to "an integral mobility concept," the WWF said in a press release. WWF's Michael Schäfer said the Chancellor had made it clear that combustion engines remained important for decades to come. "Yet, she does not explain how that fits together with her own climate goals," Schäfer said.
Benjamin Stephan of environmental organisation Greenpeace said using taxpayers' money to contain a problem caused by private companies sent "a fatal signal."
Environmental Action Germany (DUH), which filed the lawsuit in Stuttgart and other cities, said the second diesel summit did not produce any substantial results that could improve air quality in cities in the short run. DUH head Jürgen Resch said the summit failed to provide an idea how the government intends to meet air quality requirements "in any other way than by imposing driving bans."