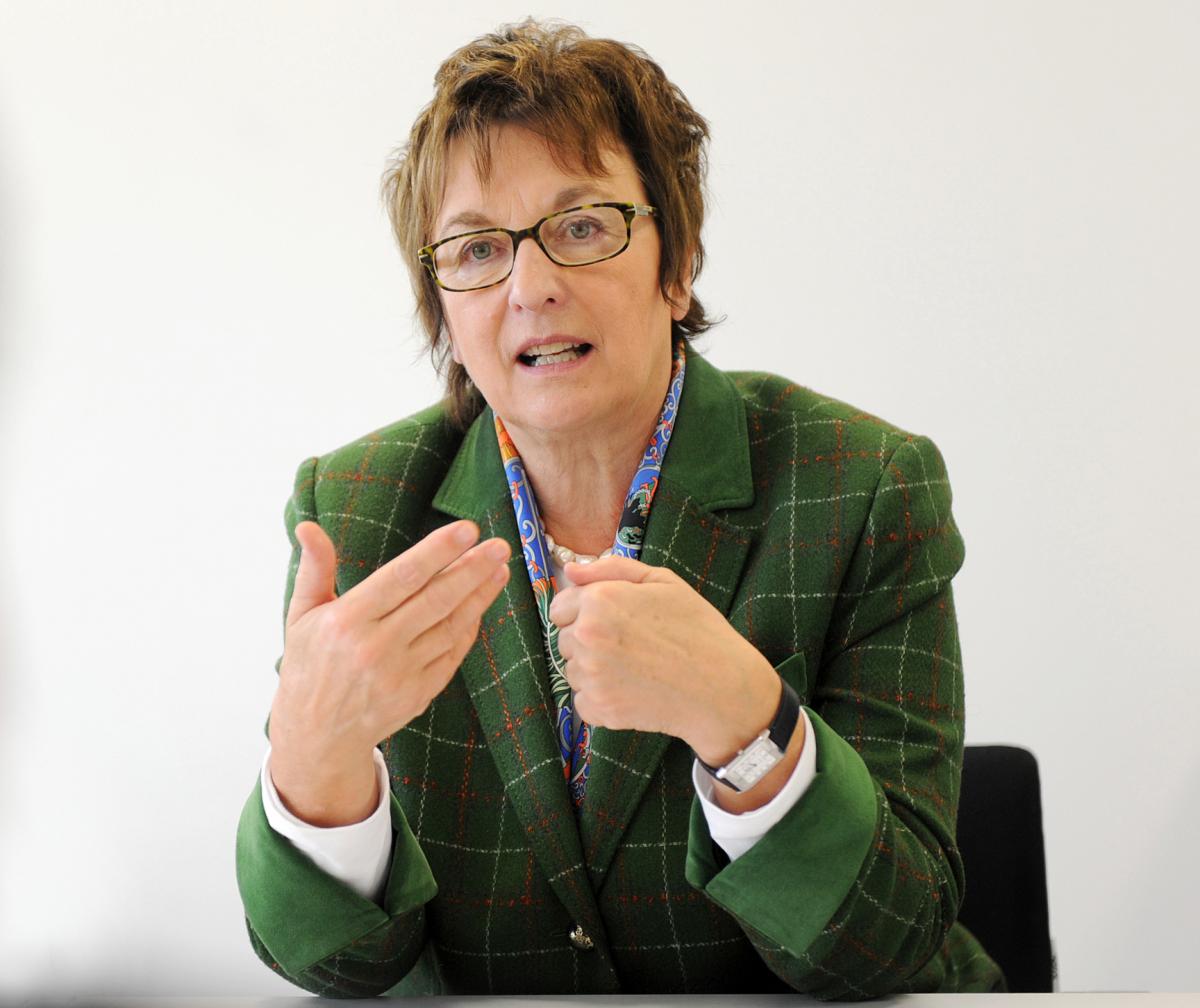 New energy minister seen keeping Energiewende course till elections
"Zypries has ample experience as a minister and was state secretary under Gabriel. She will have her experts and I have no reason to doubt she would do a good job with the political management," Tobias Austrup, energy expert at Greenpeace Germany told Clean Energy Wire.
This week Friday in the German parliament, Zypries will be sworn in as the country's new top Energiewende manager, while Gabriel is set to take the oath as Germany's next Minister for Foreign Affairs. Zypries was federal justice minister from 2002 to 2009.
Gabriel's position as economy and energy minister needed to be filled after his surprise move not to run for Chancellor in this year's federal elections. He left the candidacy to former European Parliament president and Social Democratic Party (SPD) colleague Martin Schulz, and decided to switch offices to become Germany's new foreign minister to succeed Frank-Walter Steinmeier, who is to be elected German President on 12 February.
Greenpeace's Austrup does not believe Zypries will use her experience to start major new initiatives. "In the current pre-election phase I do not expect any policy agenda setting from the current government. And most energy related projects on the government agenda have already been completed or gotten off the ground in the past years."
Safe pair of hands
Zypries' leadership will still matter, says Andreas Kuhlmann, Chief Executive of the German Energy Agency (dena). "I hope she will be courageous, decisive and curious enough to focus on innovation in energy transition and to lay the foundation for the important decisions that will have to be taken in the next legislative period," he told Clean Energy Wire.
Newspaper commentators noted Zypries had not stood out in regards to energy policy. But most agreed that the former lawyer was a safe pair of hands to manage the ministry until September's federal elections – the "ideal transition cast," as conservative daily Frankfurter Allgemeine Zeitung put it.
As Parliamentary State Secretary in the economy ministry, Zypries has regularly filled in for Minister Gabriel since 2013, especially on digital policy, foreign trade, start-ups and industrial policy. Zypries has said she planned to step down from federal politics after the elections in autumn.
Disputed legacy
Gabriel's announcement overshadowed the minister's own stock-take of his past three years steering Germany's generational project Energiewende. At an energy industry conference in Berlin, Gabriel argued that Germany's transition towards a low-carbon energy industry had been an overall economic success while further reform was needed.
Policy experts had mixed views on Gabriel's legacy. Energy and climate expert Claudia Kemfert of the German Institute for Economic Research (DIW) criticised the minister's policy:
"Capping the renewable energy development is counterproductive, the grid expansion is oversized and expensive, a structurally acceptable coal exit is lacking; instead, an inefficient and expensive 'scrappage premium' for old coal-fired power plants was introduced and industry exemptions extended. The low wholesale prices are not passed on to consumers, electricity prices are rising due to a lack of policy.
"On top of that, we lack a transport and heating transition. So the assessment of energy minister Gabriel is: very meagre. Brigitte Zypries will surely not be able or willing to change that," Kemfert told Clean Energy Wire.
Renewable utility E.ON CEO Johannes Teyssen, on the other hand, praised Gabriel's work. Speaking at business daily Handelsblatt's annual energy industry conference, he said it was regrettable that "we, as an industry, have lost our energy minister."
Gabriel had pursued a straightforward policy approach, although not always with the right touch, Teyssen explained. However, the minister had "achieved many things many people didn't believe he would achieve," he added.
Dena's Kuhlmann agreed that Gabriel "has probably been the most active and successful economy and energy minister we have had in a long time. He has tackled all the important issues that have been on the agenda," Kuhlmann told Clean Energy Wire.