Regulator says German power system stable, price rise slows
The market share of Germany's four largest utilities combined dropped to 67 percent in 2013 compared to 73 percent in 2010, according to the annual monitoring report on energy, published by the German grid regulator (Bundesnetzagentur) and the Federal Cartel Office. "Because of this, competition on the electricity markets has increased," Andreas Mundt, President of the Federal Cartel Office, said. Customers made use of their freedom to choose among different power suppliers, a press release by the two regulators said.
The 377-page annual report highlights developments on the German electricity market and grid system, paying close attention to changes made or needed due to the expansion of renewable energies and the nuclear phase-out, also known as the Energiewende.
As a reason for more competitive markets, the report names production overcapacity both in Germany and the whole of Europe. Moreover, a growing share of power demand is covered by renewable energies, which is hurting big utilities, focused on more conventional power.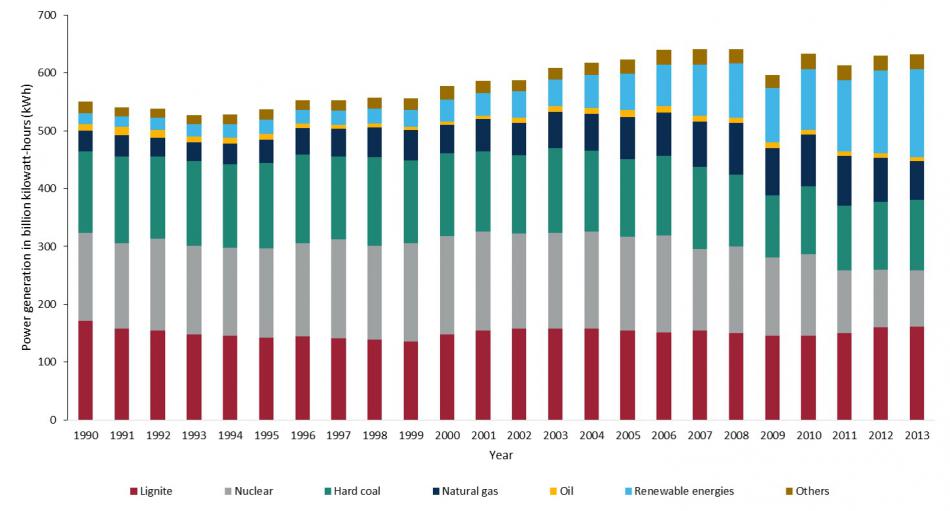 System stability
The Achilles heel of the German transmission grid is the southern Germany power system in the winter, the report said. Its authors said that transmission grid operators need enough production capacity to ensure system stability, while more power lines are needed to bring electricity from renewables sources in the north.
Last year, reserve capacity of 2.5 gigawatts was considered necessary. However, these reserves were not used in the winter of 2013/2014. For the current winter 2014/2015, much of the reserve capacity of 3.1 gigawatts is being provided by power stations in southern Germany that have been registered for retirement. Plant owners would like to see these expensive plants closed, but the grid regulator has deemed them "relevant for the system," as nuclear plants are also due to be closed in the south (see factsheet nuclear phase-out). Nevertheless, the so called System Average Interruption Duration Index (SAIDI), a measure of the average time during which power was unavailable per user, fell to 15.32 minutes in 2013, compared to 15.91 minutes in 2012. This is one of the lowest in Europe.
Grid expansion
New power lines are planned across Germany to accommodate the rising production of renewable energy and the need to transport this from large wind farms in the north to industrial centres in the south. Grid operators had to disconnect wind turbines and solar power panels from the grid that otherwise would have contributed 555 gigawatt-hours of power to the system to maintain stability. An extended grid would help to limit these congestion problems, but so far, only 438 kilometers of an envisaged 1,887 kilometers have been built, the monitoring report said.
Hildegard Müller, chairwoman of the German Association of Energy and Water Industries (BDEW) commented that the German power grid was under immense pressure in some regions, stressing that a north-south grid connection was badly needed.
Electricity costs and customers
The average wholesale price for power on the spot market fell to 37.78 euros per megawatt-hour in 2013, 11 percent lower than in 2012, the report said.
Households in Germany were able to choose between an average of 80 different power suppliers in 2013. More private customers changed to a different supplier, rising from 3.2 million in 2012 to 3.6 million in 2013. However, most of them only choose to do so when moving house. 17 percent of all power consumers opted for an ecological-power supply contract.
The average price for electricity paid by households in April 2014 increased over April 2013 to 29.53 cent per kilowatt-hour, but the rise was much slower than in previous years, the report said. Lower wholesale prices and competition were dampening price rises, the report said. In Europe, only Denmark has higher electricity household prices than Germany. The share of surcharges (like the EEG surcharge for the development of renewable energies), taxes and grid-fees amounted to 73 percent of the price paid per kilowatt-hour. The other 27 percent accounts for power acquisition, marketing and the supplier's margin.
Nearly seven million households were warned that their power could be cut off by the supplier, with 344,798 suspensions actually carried out, an increase of 23,000 compared to 2012, the report said.
Power prices for industry and business customers were stable when compared with April 2013, the report said. The average price for a business customer using 24 gigawatt-hours per year and not eligible for any exemptions amounted to 15 cents per kilowatt-hour, above European average, with 10.5 cents being due to charges, taxes and fees influenced or set by the government, the report said. However, many companies are exempted from one or several of these charges and fees, lowering their amount to just about 1 cent per kilowatt-hour in extreme cases. This resulted in prices for industrial customers with exemptions that were below the European average, the regulators said.