Fighting windmills: When growth hits resistance
Onshore wind power production in Germany has seen an enormous increase in scale in the past years. The number of turbines has tripled to almost 30,000 since the year 2000 while their average height nearly doubled to 130 metres. Based on current expansion schemes, wind power capacity is set to grow by about 2.5 gigawatt annually, which roughly translates into 900 additional turbines.
Wind power's rapid development has sparked a parallel increase in protest movements across the country that refuse to embrace the green power installations in their neighbourhood. "The great fear of a 'wind industry-desert," "Wind power? Yes, but not on my doorstep," "Protest pays off: wind power plans binned" – headlines like the ones above become a common sight in the country's local as well as national newspapers. Activist website windwahn.de ("wind delusion") lists over 660 active citizen initiatives that oppose wind power projects in Germany.
General acceptance of wind power installations
Despite adamant rejection of wind power by individual interest groups, the predominant sentiment among the German population towards renewables is positive; approval rates for further expansion still reach up to 93 percent [See the CLEW factsheet on citizen's support for Energiewende for details].
According to a 2016 survey by the Renewable Energies Agency (AEE) published by strom-report.de, 52 percent of Germans would accept having a wind turbine in their immediate neighbourhood – the second best rate for any form of power production after solar power, which 73 percent of those surveyed accept. Conventional power plants fare a lot worse in this respect, with coal and nuclear plants being rejected by 94 and 95 percent, respectively.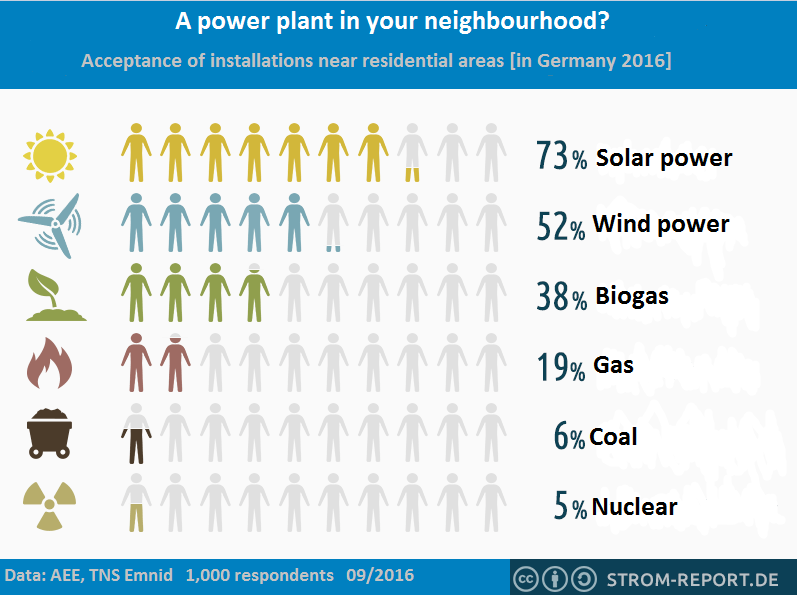 Among people who already have wind farms near their homes, acceptance climbs to almost 70 percent – slightly down from 74 percent in 2014, the year that saw the strongest onshore wind power expansion so far. Acceptance also grows for coal and nuclear plants if they already are part of people's daily environment, but with 30 and 17 percent acceptance, respectively, conventional plants are still far less embraced than wind turbines.
Nimbys and Pimbys
Acceptance is particularly high in northern Germany, where most of the country's turbines are located. 80 percent of those surveyed in northern states tolerate wind power installations in their vicinity, according to a survey by Renewable Energy Hamburg (EEHH). People in the North "experience the benefits of a national energy transition in their immediate surroundings, for example by economic effects in their region or circle of acquaintances," EEHH head Jan Rispens explains.
It is fitting in this context that 84 percent prefer to source their electricity from nearby decentralised plants rather than from distant centralised units. However, a report compiled by the University of Stuttgart on popular Energiewende perceptions suggests that this preference declines with each metre that a turbine comes closer to peoples' homes: while a majority of 52 percent accepts a wind park within a distance of at least 5 kilometre from their homes, the number drops to 35 percent if the distance is reduced to 500 metres.
This tendency towards a "not in my backyard," or Nimby mentality, can be abated if affected citizens are financially compensated for putting up with a wind turbine in their neighbourhood, the researchers found. Almost half of respondents said they could put up with a nearby turbine if they were paid for it.
According to a survey conducted by the University of St. Gallen in Switzerland, about half of German citizens would consider investing in renewable power installations, with wind power a priority option. Respondents indicated "a slight preference for projects in their own neighbourhood compared to nation-wide projects." Researchers conclude there could be an inverted trend from "Nimby" to "Pimby," where citizens' attitude towards renewables becomes "Please in my backyard."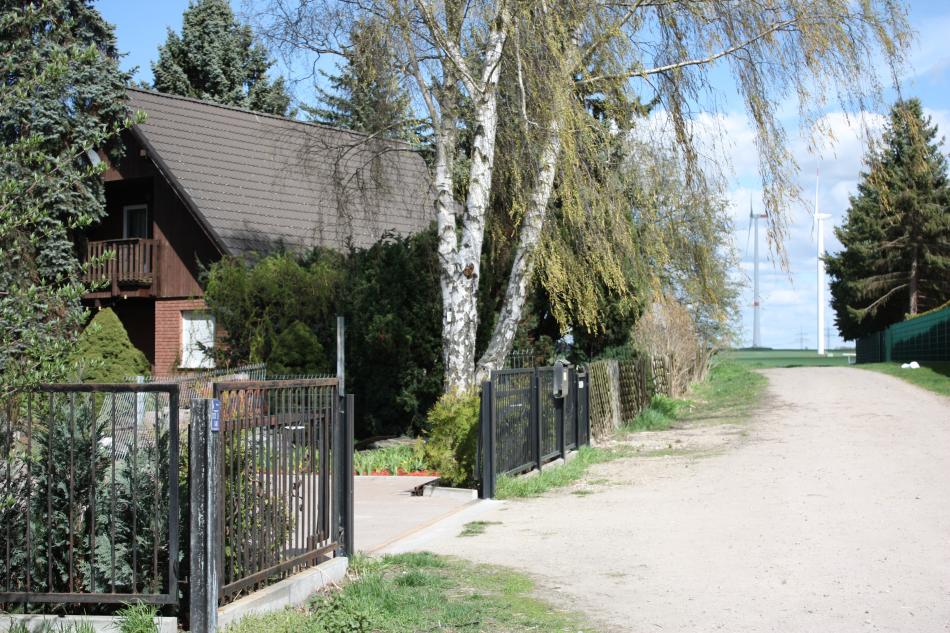 A green-green dilemma?
Despite wind power's general acceptance, local resistance towards new and also existing installations can be all the more vigorous. The potential health risk that turbines pose to airborne animals rank among wind power opponents' main arguments.
Dangers for birds and bats caused by over 60 metre long blades rotating at over 300 kilometres per hour at their tips indeed are a controversial issue. Apart from fervent opposition websites like vernunftkraft.de ("power of reason"), several research and environmental organisations have voiced concerns over the turbines impact on local fauna.
The Leibniz Institute for Zoo and Wildlife Research (IZW), for instance, says turbines in fact pose a threat to certain bat species, calling the "conflict between the development of renewable energy sources and the conservation" of endangered species a "green-green dilemma." However, they say small changes to turbine operation might suffice to minimise bat fatalities.
Similarly, the Federal Agency for Nature Conservation (BfN) cites a number of precautions that should become mandatory for wind turbines built in forests to protect endangered bats, such as minimum distances from trees, turning off the rotors during certain times of the day and banning construction in designated areas.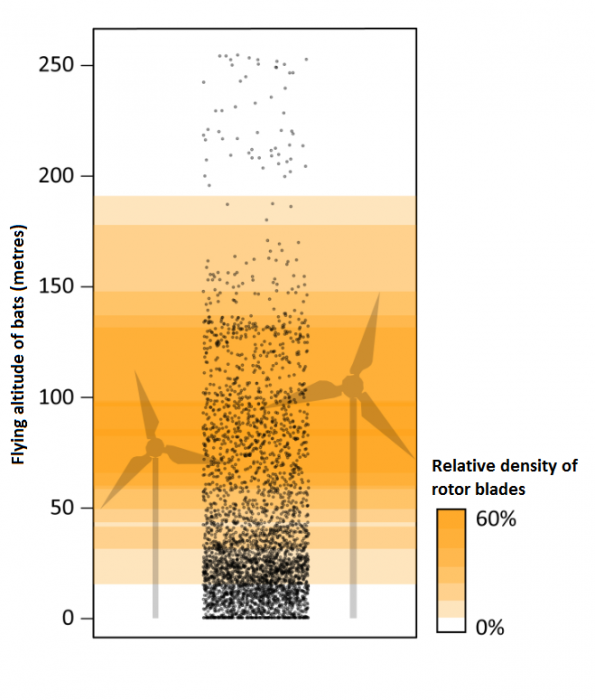 In the same vein, the Nature and Biodiversity Conservation Union (NABU) calls for "clear rules" to make "necessary wind power expansion" environmentally acceptable and suggests banning construction in ecologically sensitive areas altogether. The organisation estimates about 100,000 birds could be killed by rotor blades each year. To put this figure into perspective: Environmental organisation Friends of the Earth Germany (BUND) says that about 18 million birds in Germany die every year by crashing into windows.
A study by the University of Bielefeld that systematically counted killed birds near turbines found that it was "difficult to evaluate" the actual danger of wind turbines for bird populations. But researchers said fewer endangered birds might be killed by wind turbines than previously estimated.
Cast shadows and flying icicles
Wind power critics argue turbines also threaten human health, especially due to their subsonic noise emissions. In a study by Germany's Federal Environment Agency (UBA) from 2014, researches indeed said that subsonic noise "at a certain level" could have negative effects on the human body, such as disturbed sensory perception or circulatory problems. However, they added it was difficult to say to what extent wind power generation is responsible for emitting this particular infrasound level.
In a study on wind turbine subsonic sound's health effects, New Zealand researchers found that participants expecting negative influences reported "significant increases (…) in the number and intensity of symptoms." Expectations had been created "by viewing information readily available on the Internet," they argued, suggesting that health complaints were mostly linked to psychological factors.
In a 2016 study, the UBA found that if turbines were operated correctly, "the health risk potential is very marginal." This held true for noise emissions as much as it did for other threats cited by critics, such as light emissions by emergency flashers, moving shadows cast by rotors or icicles that get thrown off the blades. Technological progress largely reduced detrimental impacts of turbines, making them less dangerous for human health than CO2-emitting coal plants, the UBA said.
However, the UBA acknowledges that residents living near turbines often had fears and reservations "in spite of clear scientific indications" that could best be mitigated by closely involving the public in the planning stages of new projects. More than half of respondents in Stuttgart University's survey said wind park planning insufficiently provided for public participation; more than a third added greater involvement could help to increase acceptance. A similar share stated that installations owned by citizen cooperatives would be welcomed more than wind turbines operated by large investors.
"Asparagus" spoil the country
Apart from concrete health risks, opponents of wind power also state that they are repulsed by the aesthetic impact of the giant "asparagus" on Germany's landscape that spoil "the character of our country." Martin Prominski, professor for landscape management at the University of Hannover, explained this rejection to Süddeutsche Zeitung with the German fondness for romanticism, saying that "our ideal is preindustrial landscape impressions" that does not conform to modern technology.
But resistance to new installations can also have less emotional reasons: Protest groups in coastal state Mecklenburg-Vorpommern voiced concerns that wind turbines off the coast might put off tourists and thus negatively affect local incomes, Hamburger Abendblatt reported. Likewise, concerns over impairment of land property values by real-estate owners are a prevalent factor in wind power criticism.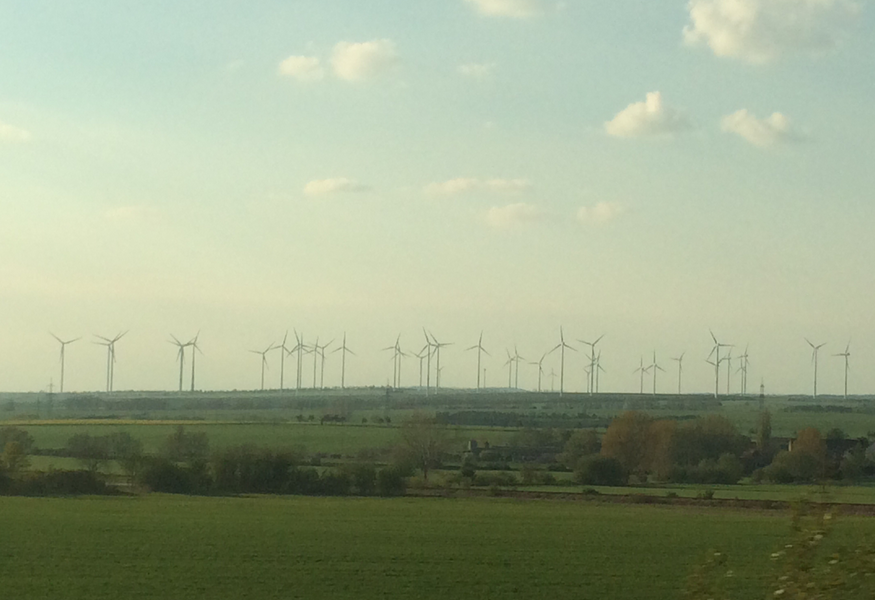 According to Axel Tausendpfund, regional chairman of land owner association Haus&Grund, these fears are "absolutely founded." Property values could "drop by 20 to 30 percent or homes could even become unsellable in extreme cases" if wind turbines are erected nearby, he told Rhein-Neckar-Zeitung. The real estate lobbyist therefore calls for compensation schemes for land owners, a concept offered by Danish law since 2009. However, a study by researchers at TU Vienna did not find a negative correlation between property prices and wind turbine proximity.
The German Wind Energy Association (BWE) estimates that about two percent of Germany's surface would be sufficient to cover wind power's planned share in the country's power mix. Spokesman Wolfram Axthelm says increased turbine productivity could help minimise wind power's land requirement, "but rising power demand probably won't let the needed area shrink."
In the federal state of Bavaria, wind power opposition already resulted in the so-called 10H-rule, stating that new installations need to maintain a distance equaling ten times the turbine's height. Bavaria's constitutional court upheld the decision in 2016 following a lawsuit by opposition parties, arguing the rule "significantly restricted but not eliminated" wind power expansion. But critics of the ruling, such as the Left Party's Eva Bulling-Schröter, say it heralds "the demise of wind expansion in the southern German state."