Solar power in Germany – output, business & perspectives
Quick facts
(Figures for end of 2017; Sources: BSW Solar, BMWi, BNetzA)
Start year: 1991 (first support)
Number of solar arrays installed: 1.64 million
Total capacity installed: 43 GW
Projected expansion: 98 GW in 2030 (estimate)
Share of power consumption: 6.6 %
Output: 40 TWh
Employment:ca. 36,000
Average support level: 4.33 ct/kWh (February 2018)
Germany, despite being among the countries with the least sunshine hours in the world, is one of the largest solar power producers across the globe. With an installed capacity of over 43 gigawatt (GW) in 2017, the country ranked 4th in the world after leading the charge for several years, according to the International Energy Agency (IEA). The country had over 1.6 million installed solar arrays, which accounted for roughly ten percent of the global installed capacity that year.
In contrast to system focused on big and centralised power producers, thousands of solar panel operators are becoming an increasingly important part of the German energy system. In the first half of 2018, they produced over 7 percent of the country's net power consumption, out of a total renewables share of 39 percent, according to energy industry lobby group BDEW. Solar power's contribution worldwide to covering electricity consumption stood at about 2 percent.
And the technology can deliver a much greater share of the German power mix at particularly sunny times. With a total output of 6.7 terawatt hours (TWh) in July 2017, solar power set a new monthly output record in the country and contributed about 15 percent to the German power mix. This figure was more than nuclear energy contributed and enough to power Hamburg, Germany's second largest city, for an entire year.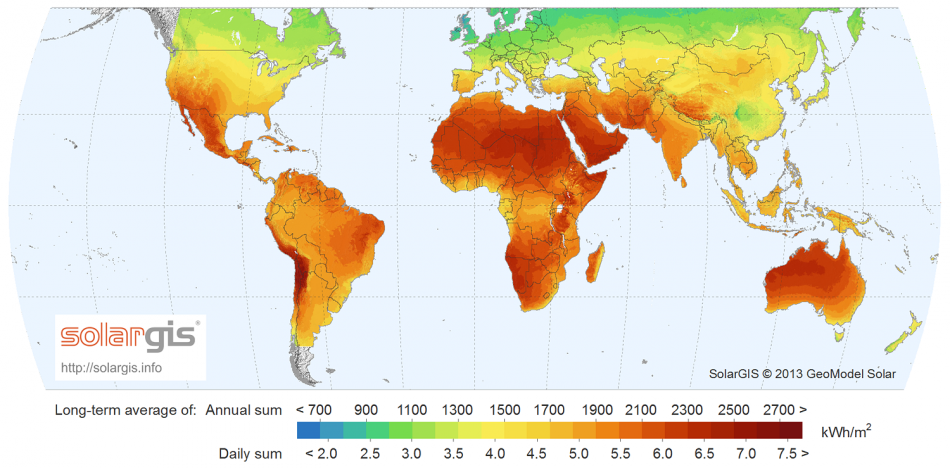 At about noon, when both sun intensity and usually also power consumption are at peak levels, solar power can account for more than 40 percent of Germany's power production. Solar power arrays fed over 38 TWh of power into the grid in 2017, roughly equal to the annual power demand of ten million households.
Germany added 1.8 GW of solar power capacity in 2017, much less than in earlier years but still making it one of the biggest growth markets in the world. The government's annual expansion goal to firmly establish solar power as a main pillar of Germany's energy system is 2.5 GW. The target figure has been missed continuously since 2013 but could be reached again in 2018, according to solar industry lobby group BSW Solar.
If Germany is to reach its overall goal of a 65 percent renewable energy share in power consumption by 2030 –nearly twice as much in 2017 – the installed solar power capacity has to grow to at least 98 GW, or 5 GW per year, energy policy think tank Agora Energiewende estimates. The necessary expansion level would be slightly lower if ambitious efficiency measures were implemented, it adds.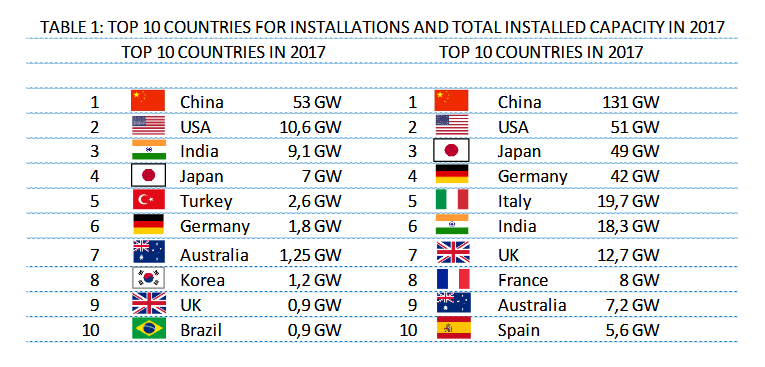 Much of the growth in the near future is expected to be driven by small projects whose capacity ranges below the 750 kilowatt (kW) limit that makes them exempt from auctions for renewables support. But the BSW Solar says additional auctions of 4 GW for solar power installations are a precondition to ensure that the necessary expansion levels are reached and to close the gap to Germany's imperilled 2020 emissions reduction target. The lobby group says that the government should also scrap the current "breathing cap" on renewables that lowers support payments when too much capacity is added.
Research institute Fraunhofer ISE says if Germany is to one day fully cover its power demand with renewables, the solar capacity will have to grow to 150-200 GW. The 43 GW already installed in 2017 occupied a space of just under 300 square kilometres, either mounted on buildings or built on open spaces. If the average degree of efficiency of arrays increases as assumed, the capacity Germany's envisaged carbon-neutral energy system would consume up to 1,000 square kilometres. This equals about 2 percent of the country's entire settlement and infrastructure area, or 8 percent of the area available on buildings. According to a study by the transport and infrastructure ministry (BMVI), the total area without restrictions for solar power installations in Germany would allow for an additional 143 GW on open spaces and 150 GW on buildings.
Solar power influx at peak demand time - around 12pm - has a stabilising effect on the grid but also greatly reduces profit margins for power providers, who in the past were able to charge the highest prices at this time of the day as supply was scarce. However, sunny weather and hot temperatures are not automatically beneficial to solar power output.
The high output, both in the short-term around midday and in the long-term during summer, is offset by a reciprocally lower or non-existent output in winter and at night, highlighting the need for reliable storage technology to complement renewables expansion. Fraunhofer ISE says solar panels achieve up to 980 full load hours per year in Germany, less than half of the amount that wind power can deliver. The researchers estimate that 1,030 full load hours are possible in the country but this is still far below the nearly 6,600 full load hours that lignite plants ran in 2016.
Crisis-ridden domestic solar industry hopes for new expansion wave
The rapid growth of Germany's solar power capacity - despite the country's modest potential for harvesting solar energy - had been made possible by its Renewable Energy Act (EEG), introduced in 2000. The EEG gave precedence to renewable energy sources and gave investors guaranteed returns for a 20-year-period. The number of solar panel producers and service companies skyrocketed quickly, as investors rushed to reap the benefits of this large-scale technology support. Especially between 2008 and 2013, Germany saw its solar power capacity increase rapidly from about 6 GW to 36 GW, with annual expansion peaking at more than 8 GW and creating about 150,000 jobs in the country by 2011.
However, after its quick ascent to world leadership within less than a decade, Germany's solar industry's faced an even more rapid decline after 2012. Competitors from abroad, especially from China, offered solar panels at a much cheaper rate than German manufacturers, while support rates remained stable regardless of the panels' country of origin. Consequently, many investors swapped domestic for foreign suppliers to maximise their returns and left the freshly expanded German industry bereft of customers. Due to a parallel drop in guaranteed remuneration, solar expansion fell by 80 percent between 2013 and 2015, while it doubled globally during the same period.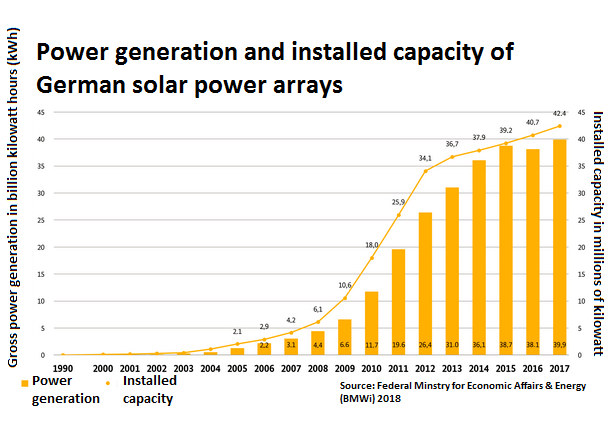 The effects on the German solar power industry were harsh. Many major players, such as Q-Cells, Solon and Conergy - which often had just invested large sums of money to ramp up production - were forced to close down. As a result, the number of jobs plummeted to just over 45,000 in 2016. SolarWorld, once one of the three biggest solar power companies in the world and the last major solar panel producer from Germany, finally succumbed to Chinese competition and filed for insolvency a year later. The industry initially secured protection from Asian competitors through the implementation of trade barriers by the European Commission in 2013, which imposed minimum prices on Chinese imports. But as it did not succeed in keeping European manufacturers healthy, the EU Commission abandoned trade limitations in September 2018.
Many commentators lamented that the support policy effectively meant that German power customers subsidise Chinese producers with whom domestic suppliers could not compete due to higher labour costs and stricter environmental regulation on panel production. Others lauded the combination of German money with Chinese products as a catalyst for cost reduction that helped boost capacity growth and paved the way for the technology's competitiveness.
Solar power has now become the cheapest mode of power generation in Germany, according to research institute Fraunhofer ISE. Depending on the type of installation and the sun's intensity, generating one kilowatt hour (kWh) with solar panels can cost no more than 3.7 eurocents, it says. Costs for equipment and installation, the biggest factor for investors, fell by 75 percent between 2006 and 2017. An analysis by British climate NGO Sandbag found that costs fell so much that new solar (and wind power) installations in German auctions are not only cheaper than new hard coal and gas plants, but also undercut the operation costs of existing fossil power plants.
However, support payments for existing and new solar power installations still carry substantial costs for German power customers, amounting to over 10.3 billion euros in 2018 alone, according to the economy and energy ministry (BMWi). Average support for solar power installations in Germany's February 2018 auction stood at 4.33 cents per kilowatt hour (kWh), compared 4.6 ct/kWh for onshore wind power.
Storage and innovation could bolster German companies
Solar panel manufacturers in Germany have gone through difficult times and the lifting of EU tariffs on Chinese imports is likely to make things even harder for hardware-producing companies. On the other hand, the expected further drop in costs could inject new life in other sectors of the solar power industry. Market observers estimate that the removal of trade barriers will substantially lower systemic solar power costs and lead to a boost in European demand by up to 40 percent in 2019. Solar power companies that offer technical and digital services or who are pressing ahead with development of complementary technologies like home storages could turn out to be the new trade regime's great beneficiaries.
While German solar power companies struggle to compete with Asian manufacturers, they retain an edge when it comes to research on the modules' system integration and the implementation of innovative applications. Foreign market leaders are often focussed on large-scale projects that yield high returns but will likely only account for a part of future growth, where small-scale prosumers are expected to play an important role as well.
Companies like Solarwatt or sonnen offer integrated solutions that allow for storing surplus solar energy at home and also sharing or trading it with neighbours and other prosumers around the clock. As prices for home storage technology have fallen sharply over the past years, they are set to benefit from a trend towards self-supply and decentralised production that makes them less reliant on support rates and could soon initiate a new wave of solar power investments in the country.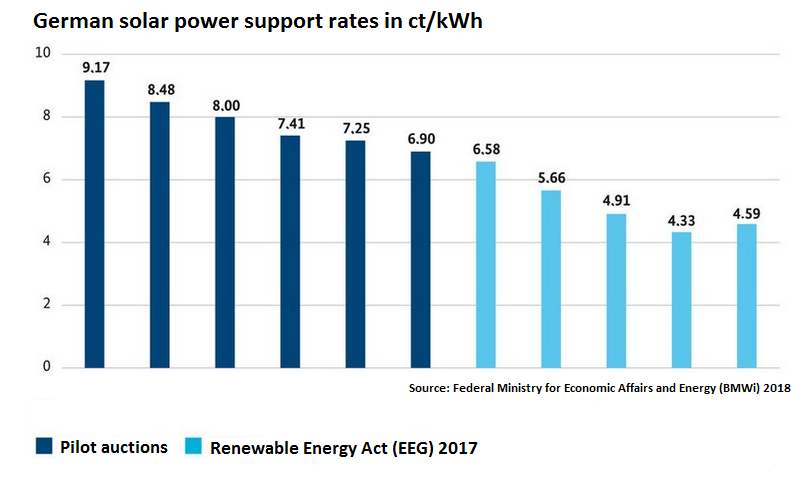 Although guaranteed support rates have fallen considerably since 2010, the market has picked up again rapidly in 2018. Of the new installations added in the year before, the largest part was mounted on the roofs of private investors. Solar arrays with a capacity rating below 10 kWp account for over two thirds of Germany's 1.6 million total installations. In the first half of 2018 alone, 35,000 more installations were added by households and small businesses seeking to become more independent of market power prices.
However, falling panel prices that have been a large driver in the latest surge in solar power expansion could soon hit a plateau. This would allow other factors, such as greater productivity, sustainability and flexibility, gain in importance for researchers and investors. Companies like British-German joint venture Oxford PV offer alternatives that challenge the dominant silicon-based solar panels. The company specialises in panels made with the material perovskite, which are believed to have a much greater efficiency potential than silicon models. In 2018, Oxford PV secured funding by the German government to move to large-scale production.
Regardless of future breakthroughs in panel development, German citizens already embrace solar power as their favourite form of renewable energy generation, stating that greater expansion of the technology would bother them the least. In fact, solar power ranked first in a survey by pollster Allensbach on what Germans believe to be the most important power source in the future. Eighty percent of respondents expected solar power to take the lead and an even greater share, 85 percent, said they wish this would be the case