Fresh Green upset in Hesse state election may derail Merkel government
Two weeks after state elections in Bavaria rocked Germany's political landscape, the next state election in Hesse is set to be a proving ground for both the future of Angela Merkel's chancellorship and the majorities in Germany's political system as a whole. On 28 October, voters in the affluent central German state with a history of swinging party loyalites and untraditional coalition governments will not only decide if the current conservative CDU and Green Party coalition can continue its work. It will also decide if the Bavarian losses in Merkel's conservative camp were the prelude to a broader decline of the chancellor's CDU/CSU party – and if the Green Party can sustain its current rise in popularity and even manage to take the second German state premier office.
The setback in Bavaria for both traditionally dominant mainstream parties, the CDU and SPD, has dealt a blow to German energy and climate policy. Despite large-scale protests against the clearing of the embattled Hambach Forest to make way for a coal mine, together with last week's alarming UN report on global warming, the two parties have failed to take decisive action on Germany's energy transition, the Energiewende, due to the paralysing effect of internal strife.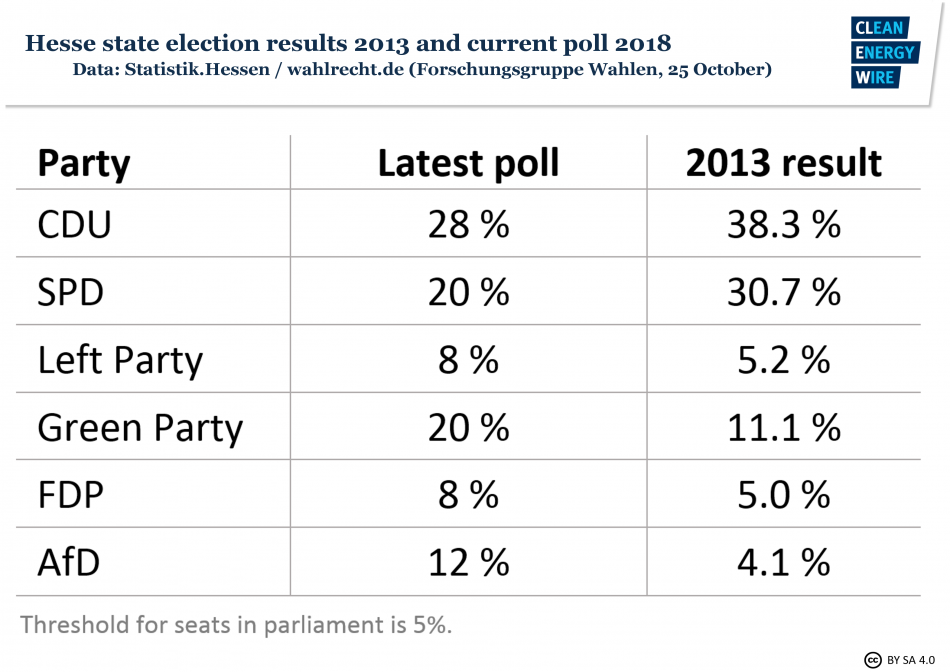 Quarrels between Merkel and Bavaria's CSU party leader Horst Seehofer over migration and how to handle the right-wing nationalist party AfD, new to parliament this year – captured much of the government's attention in recent months. Both environmental NGOs and Germany's industrial elite complained that the government is failing to give climate and energy policy the attention it deserves and work towards improving its patchy emissions reduction record.
The hope of many observers was that things would start to look different after the Bavarian elections, but the disappointing result for the government parties meant their internal difficulties could not be put to rest. Now, another loss for the conservatives and the SPD and a strong showing by the Greens in the next state elections could fan the government crisis further.
In an interview with public radio broadcaster Hessischer Rundfunk, Merkel said that "not every state election can be stylised into a small Bundestag election." Still, commenting on speculations that the grand coalition government could fall apart after the Hesse election, CDU secretary general and close Merkel ally Annegret Kramp-Karrenbauer warned that this could lead to new parliamentary elections in Germany. Thomas Vitzthum wrote in Welt Online that Kramp-Karrenbauer's remarks could be seen as a message to Hessian citizens to vote for her party and thus stabilise Merkel's federal government. Current polls show that CDU, CSU and SPD stand to lose many seats in federal parliament in case of new elections.
The state of the federal government means that heavy losses for CDU and SPD in Hesse could make progressive energy transition policies even more difficult to achieve in the short run. Observers fear that the uncertainty will also make it harder to implement any plans of Germany's coal exit commission after it announces an end date for coal in Germany by the end of the year.
Federal government quarrels benefit Hesse's Green Party
Contrary to Bavaria's Seehofer, Hesse's CDU state premier, Volker Bouffier, is considered a close Merkel ally and the chancellor has been touring the state intensively in the run-up to the elections to demonstrate that she and her party's top candidate are not at odds. Meanwhile, SPD top candidate Thorsten Schäfer-Gümbel hopes he can stem the creeping loss of his party's importance, which incurred its worst result ever in Bavaria and also finds itself at unprecedentedly low levels in national polls.
Things are looking different for the Green Party, which is riding a wave of popularity at the national level and in Hesse, where recent polls indicated that it could become the state's second party after the elections – meaning their top candidate, current economy and energy minister Tarek al-Wazir, might even succeed Bouffier and become Germany's second Green state premier after Baden-Württemberg's Winfried Kretschmann, who sensationally conquered the office in 2011 in the wake of the Fukushima disaster.
"The Greens have moved on from being a party perceived as a bunch of political activists to a political camp firmly rooted in the middle class that represents a 'modern way of life', especially in bigger cities," Alexander Jehn, director of Hesse's State Agency for Political Education (HLZ), told the Clean Energy Wire.
Jehn says voters in Hesse aren't necessarily longing for a change of government and that environmental issues at the state level are not decisive this time. Nevertheless, the state that hosts Germany's biggest airport and the country's busiest roads due to its central location in Europe constantly debates the impact of growing transport volumes and was recently hit by a court order to implement driving bans in Frankfurt am Main, its most important city.
"Environmental protection or climate action at the state level won't bring the Greens lots of voters this year," Jehn argues. According to a survey by public broadcaster ZDF, only 7 percent of Hessians polled say climate action and environmental protection is their primary concern – most are rather interested in change in the education and housing sector. "But since these important topics at the state level are not very controversial among Hesse's parties, people might tend to vote based on differences they see at the federal level." And here, environmental questions could play a bigger role.
In Hesse, the pro-business party FDP as well as the AfD have attempted to seize upon voter dissatisfaction with the Energiewende's growing impact on the countryside. Both parties have positioned themselves against wind power expansion. While the AfD, which is expected to enter Hesse's parliament for the first time, in all likelihood will not be part of its next government, the FDP's opposition to the renewable energy technology could prove an obstacle should the election result in a so-called Jamaica coalition [due to the parties' colours] of CDU, FDP and Greens.
"People want answers to the climate crisis - not fancy pictures"
For Green top candidate al-Wazir, renewable power expansion has been a landmark achievement since he took office in 2013. During the tenure of the German-born politician with Yemeni roots, the share of renewables in the state which had been slow to pick up energy transition technologies nearly doubled, from about 12 percent to over 22 percent in the first half of 2018. This achievement could help to further al-Wazir's image as a man of action and has already contributed to his high popularity in the state. [See the CLEW factsheet on Elections and the Energy Transition in Hesse for more information]
"Mister al-Wazir assumes responsibility and tries to deliver on his promises," says Jürgen Arnold, head of LaNEG, the Hessian association of citizen energy cooperatives. Arnold told the Clean Energy Wire that despite his dedication to the Energiewende he is not a traditional Green voter. "But I think the current CDU-Green government is a good thing that works," he says, adding that the traditional mutual disdain both parties are said to have for each other has been largely overcome in the state.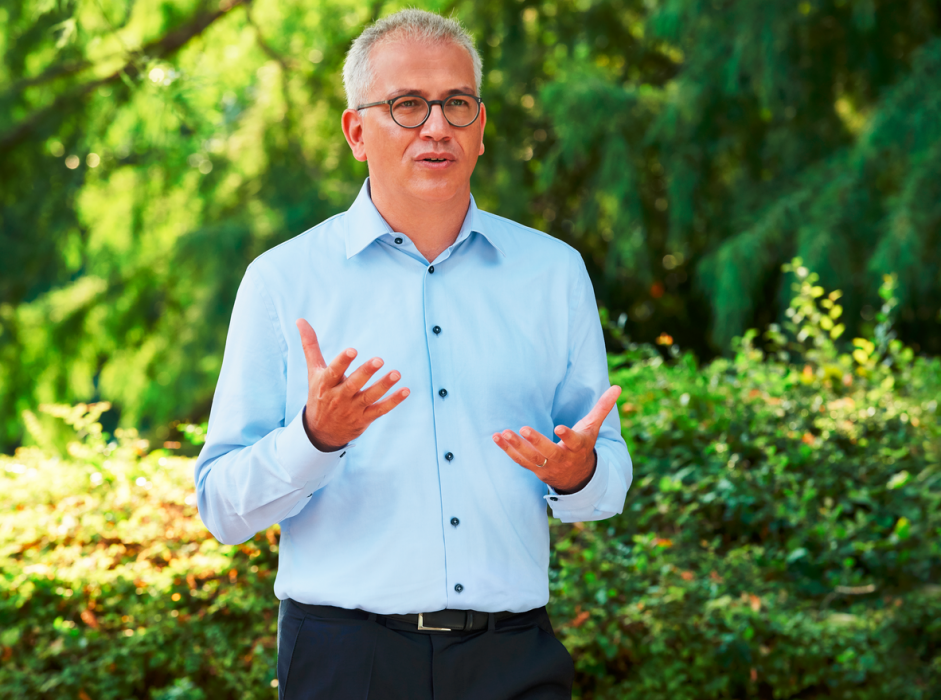 "Trying to run a government based on ideology won't get you very far," Arnold argues, adding that individual feats like the easygoing cooperation between state premier Bouffier and his Green deputy al-Wazir can do a lot more to convince people than grandiose election promises from whichever side.
Al-Wazir has been adamant about advancing a green agenda since he entered office in 2013, which also can be seen in his initiative to further sustainable finance through the German financial centre of Frankfurt. The Green Party's programme for this election again is focused on the party's traditional topics of environmental protection and liberal social policy.
The Green's success in Germany has fanned talks that the environmentalist party is on track to become what Germans call a "Volkspartei," meaning a party that reaches beyond traditional voter groups and draws support from all strata of society. But al-Wazir himself is wary of applying this label. He argues that concept is passé and today's voters look more at concrete policies than just habitual loyalty to a party.
"More and more people are concerned about our Earth's future and they want answers to the climate crisis – not just fancy pictures like the famous one of Angela Merkel and [then environment minister] Sigmar Gabriel in red outdoor jackets in Greenland," al-Wazir said, explaining his party's popularity to news magazine Frankfurter Allgemeine Woche, and taking a little disguised dig at the famous 2007 press photo, which bolstered Merkel's reputation as Germany's "Climate Chancellor."