Germany gears up for official talks on coal phase-out
The German government has delayed the launch of a much anticipated commission on exiting coal power for a second time, now scheduled to take place on Wednesday, 30 May. A strategy paper seen by the Clean Energy Wire states that economic considerations come first in the commission's approach but confirms that a final government report on how to approach Germany's coal exit will still be compiled still in 2018.
The coal commission – officially called "Special Commission on Growth, Structural Economic Change and Employment" – is supposed to bring policymakers, industry representatives, labour unions and possibly environmental NGOs to the table to decide on a roadmap and a clear end date for coal-fired power production.
Germany must exit coal-fired power generation to reach its goal of becoming largely greenhouse gas-neutral by mid-century, as the technology is the country's single-largest source of carbon emissions. The commission's strategy paper acknowledges Germany's pledge to become "largely greenhouse gas-neutral" by 2050 and confirms the government's 2030 target of reducing emission by 55 percent compared to 1990. But it says climate action must be "harmonised" with economic development and social considerations
Until the last minute, there was intense fighting over the set-up of the commission, with both anti-coal mining area residents and coal mining states demanding a voice, and environmental NGOs insisting that a speedy coal exit is possible without risking supply security. The economy and environment ministries had also wrestled over the commission leadership.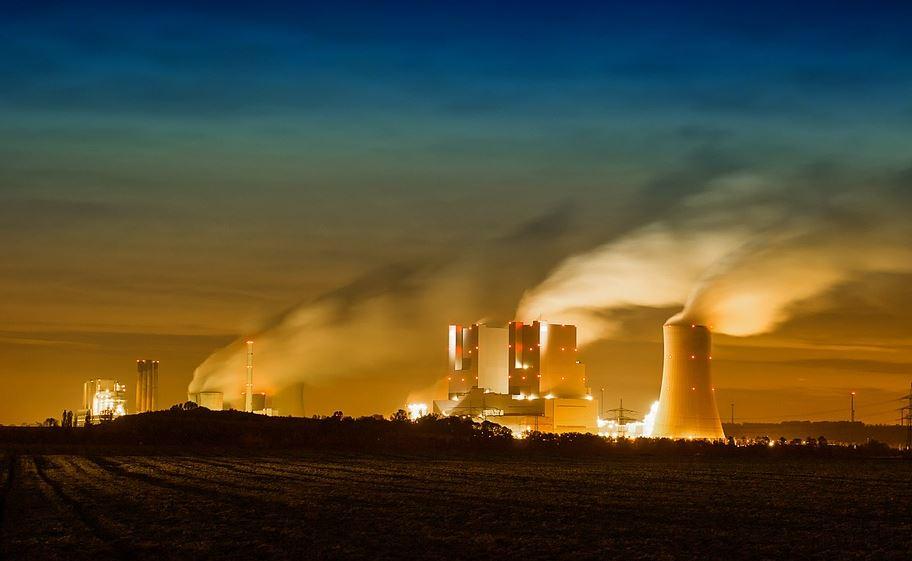 "The more I hear, the more pessimistic I get for the climate"
According to German media reports, the committee will be composed of 23 members, and will be headed by the former Eastern German state premiers Matthias Platzeck, a Social Democrat (SPD), and Stanislaw Tillich, a member of Chancellor Angela Merkel's conservative Christian Democratic Party (CDU). Their respective states, Brandenburg and Saxony, will be heavily affected by the coal exit, because they are home to lignite mining region Lusatia. They will be joined by Ursula Heinen-Esser (CDU), a former state secretary in the environment ministry who hails from the large western German coal region North Rhine-Westphalia (NRW), to form a chairmanship trio.
A well-connected coal industry expert in favour of ambitious climate protection, who did not want to be named, told the Clean Energy Wire: "The more details I hear about the commission's makeup and mode of operation, the more pessimistic I get that climate protection will be a priority."
The leadership choice raises the question whether the government had "already given up on climate protection before the launch of the commission," Green party head Annalena Baebrock told newspaper Frankfurter Rundschau. WWF climate expert Michael Schäfer said both were proponents of a "coal policy that cannot be reconciled with German and international climate targets." But the government believes that Platzeck and Tillich are in a good position to campaign for a long-term coal exit in East German coal mining areas, because they are deeply rooted in their respective home states.
Economy minister Peter Altmaier (CDU), environment minister Svenja Schulze (SPD), labour minister Hubertus Heil (SPD), and interior minister Horst Seehofer (CSU) will jointly work in the commission.
The commission's strategy paper's first sentence says that "federal government policy aims to create full employment and comparable living standards in all of Germany," underlining the commission's approach of ensuring local economies weather the phase-out of both coal mining and coal-fired power production.
Chancellor Merkel told parliament the government should first ask what will become of the region, then exit mining, instead of first agreeing on an end date. She added the task force should follow the example of Germany's hard coal exit. "We have managed it in a way that the workers were able to cope with the changes. It was done together with them. That's how it has to be with lignite as well," Merkel said.
NGOs had called for a closure of coal power plants with a total capacity of at least seven gigawatts by 2020 – equivalent to one third of Germany's total lignite capacity. But the strategy paper makes no mention of immediate shutdowns. Instead, it says that for Germany to reach its 2030 climate target, carbon emissions from the energy sector will have to fall by 60 percent compared to 1990. In an earlier version, the paper said that coal emissions alone had to be reduced by 60 percent. However, the passage that had drawn criticism from industry representatives was changed to broaden the scope of reduction measures, Handelsblatt reported.
Several German NGOs made clear that their participation will hinge on prerequisites to ensure tangible results, including a "clear exit path" and an intermediary 2025 climate target to assess progress made towards the binding 2030 target of cutting emissions by 55 percent compared to 1990 levels.
Germany will likely miss its 2020 target of a 40 percent emissions cut by a wide margin because emissions reductions have stagnated in recent years. The commission's strategy paper says that Germany will present plans to close the gap to its 2020 target as much as possible ahead of this year's COP24 in Poland.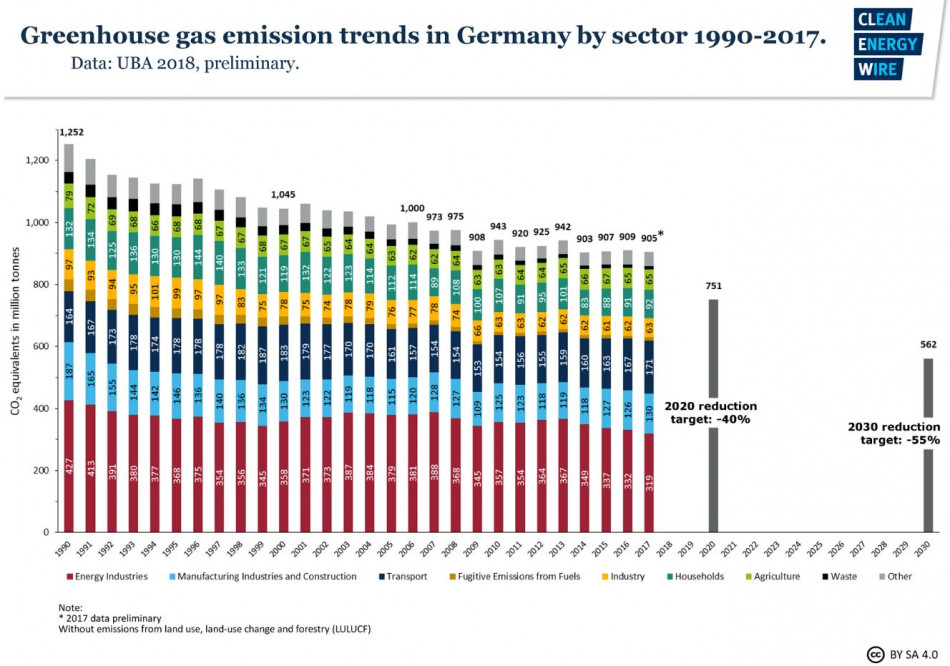 Regarding the commission's leadership, especially the Conservative Tillich is known as a vocal defender of coal mining, who has called phase-out plans "a catastrophically wrong decision." He has also said a lignite exit will require over six billion euros in compensation payments and can only happen "in the long run." The governments of both Saxony and Brandenburg have said Lusatia must remain an industrial region after the last coal mine shut its doors.
Andreas Pinkwart, North Rhine-Westphalia's economy minister and a member of the pro-business party FDP, told business daily Handelsblatt that Germany must not enter a coal exit at the expense of supply security and industry competitiveness. "It would be a grave mistake to exit coal at all costs." Instead of trying to approach its 2020 climate targets as far as possible, Germany should focus on European and international agreements for 2030 and 2050, Pinkwart added.
Structural challenge
Burning coal to generate power provides employment to around 30,000 people in Germany. This is only a fraction of the number employed by the wind industry. But coal mining is highly concentrated in three German regions, making the transition a difficult structural challenge.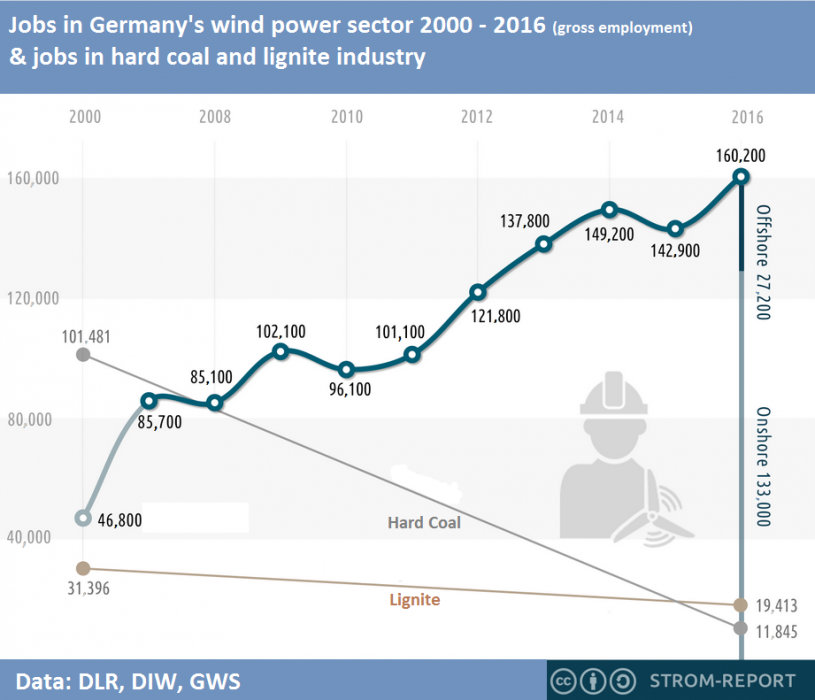 The debate on the future of coal has come a long way in Germany. Only three years ago, many policymakers shunned the issue entirely because it was considered political suicide. But in the wake of the Paris Climate Agreement, all players have accepted that coal-fired power generation is incompatible with the energy transition's climate targets.
According to British climate NGO Sandbag, seven German lignite power stations are among the top 10 European CO2 polluters.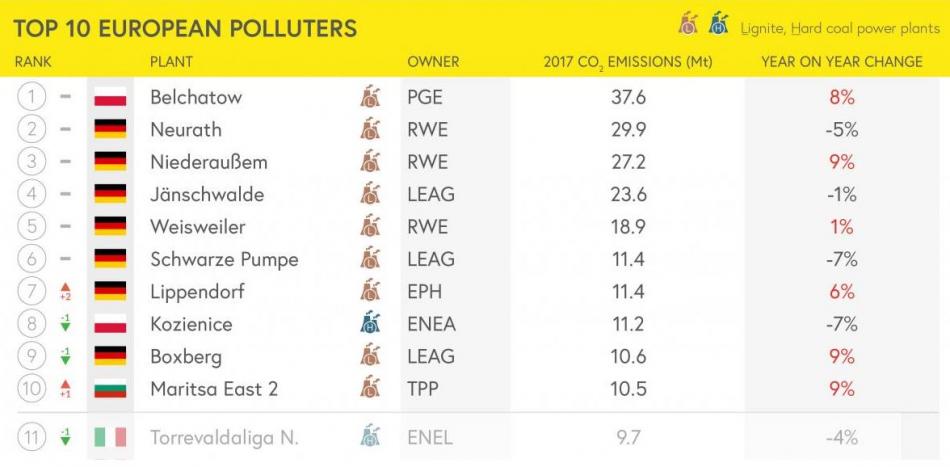 Coal workers, environmental NGOs, politicians, citizens, industry, and energy companies have already intensely debated the shape and speed of a coal exit. The discussion focuses on lignite, or brown coal, as Germany still heavily relies on its mining and use. The country's last hard coal mines will close in 2018. [For plenty of background, read the factsheets When will Germany finally ditch coal? and Coal in Germany.]
The February 2018 coalition agreement between Germany's government partners - Merkel's conservatives (CDU/CSU) and the SPD - commits the new government to set up the commission to draft an action programme by the end of 2018. This should include:
measures to close the gap to achieving the 2020 emissions reduction goal "as much as possible," and to making sure the energy sector can "reliably achieve" its 2030 climate target
a plan "for the gradual reduction and phase-out of coal-fired power production, including an end date, and the necessary accompanying legal, economic, social, and structural policy measures"
financial support for the necessary structural changes in affected regions, and a fund financed through the federal budget
The commission's findings will feed into a proposed law on climate protection.
Critics like Felix Matthes of the Institute for Applied Ecology (Öko-Insitut) have already said the commission's schedule was "completely unrealistic." Once the task force has finished its work and is able to present viable legislative initiatives, the parties will already be in election mode again, according to Matthes.