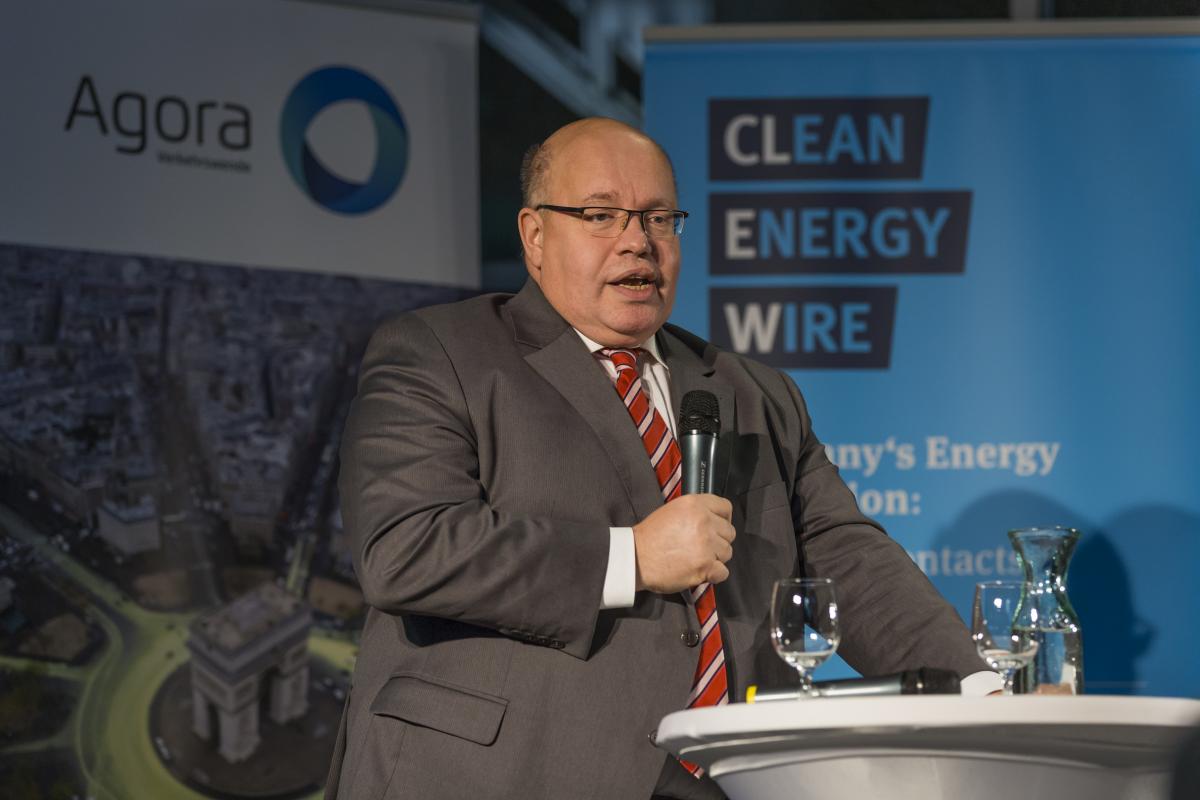 Merkel puts long-time confidant in charge of energy transition
The 59-year-old long-time Merkel ally Peter Altmaier has a fraught history with the Energiewende – Germany's effort to switch to a low-carbon, nuclear-free economy. The influential Christian Democrat (CDU) politician was the bogeyman of the renewables industry during his short term as environment minister in 2012/13, when he proposed cutting feed-in tariffs, a financial support designed to build-up regenerative power, and capping renewables expansion. He warned that costs could otherwise soar beyond 1 trillion euros – a figure that caused public outcry, even though Altmaier produced no study to substantiate the claim. While Altmaier was Merkel's chancellery chief when she pushed G7 leaders to commit to the concept of "decarbonising" their economies by the end of the century, he himself has irked the climate community by calling into question national targets or watering down provisions in drafts of Germany's Climate Action Plan 2050.
But Altmaier earned respect with businesses and activists alike through his keen interest in and ability to dive deep into complex subjects. His reception as keynote speaker at the 2018 renewable energy association BEE's New Year's bash was friendly, although he reminded the audience that the renewables build-up had to keep step with the extension of the power grid. He said meeting the 2030 climate goals was essential for Germany's international credibility, but added that the Energiewende could only become a global success if the country could prove a business case and keep its economy competitive.
#Germany's chancellery chief @peteraltmaier says meeting 2030 #climate targets crucial for country's credibility; must keep eye on keeping jobs in Germany when talking about price for #CO2 #NJE2018 @bEEmerkenswert

— Sven Egenter (@segenter) February 22, 2018
Merkel is putting Altmaier in charge of overseeing the energy transition at a time when conflicts over the generational transformation are becoming ever more apparent. With her reputation as "climate chancellor" in limbo, Merkel and her government over the past months were faced with reports that the country would miss several of its near climate targets. "The Energiewende is a long-term task. It will be one of my big challenges" as economy minister, said Altmaier recently. His success will be gauged by how well he manages the objectives in the governing coalition agreement between the CDU/CSU alliance and Social Democrats (SPD). A commission must set an exit date for coal-fired power generation by the end of 2018; the government needs to enshrine 2030 sector emission goals into a climate protection law in 2019; and it must find ways to accelerate the expansion of renewable power to reach a 65-percent share by 2030, while making sure the power grid development keeps pace.
The "outstanding" mediator now must take up clear positions as minister
Altmaier hails from the tiny western state of Saarland – a former mining region bordering France and Luxemburg, today dominated by the automotive and steel industries – just like newly elected CDU general secretary Annegret Kramp-Karrenbauer, who many see as a likely candidate to follow Merkel as chancellor. Analysts say she gets along well with Altmaier.
"With his time as environment minister and chancellery chief, Altmaier's role in Merkel's team will certainly be that of an experienced politician," Elmar Brok, long-time party colleague and former chair of the European Parliament's Committee on Foreign Affairs, told the Clean Energy Wire (CLEW). Altmaier – his father a miner, his mother a nurse – studied law at Saarland University with a focus on European law, before venturing to Brussels to work for the EU Commission for five years. "He knows his way around EU politics and policy," says Brok. Altmaier speaks English, French and Dutch fluently. His understanding of European politics and interest in foreign countries will be helpful at a time when the EU is trying to forge an energy union. His close ties to France could also come in useful as French President Emmanuel Macron has taken the initiative on climate and both countries have vowed closer cooperation.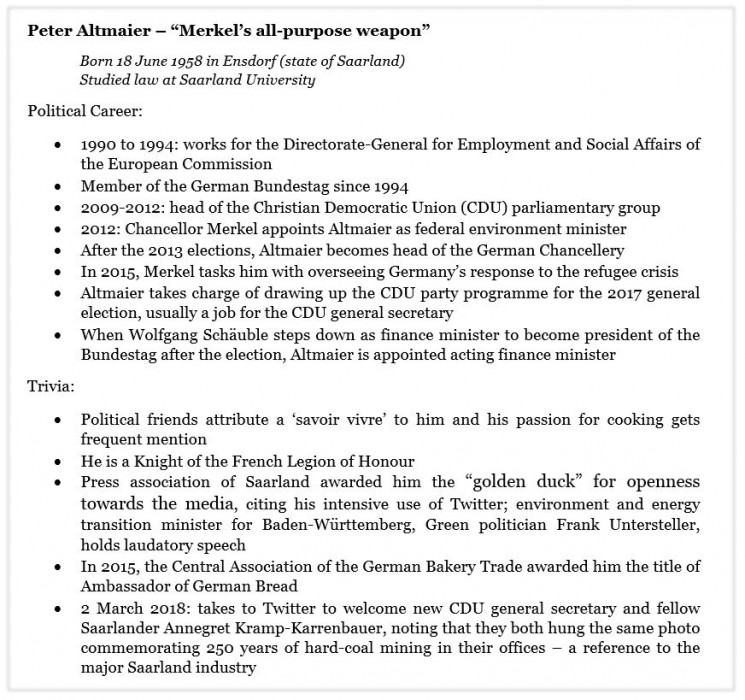 Altmaier is a thoroughbred politician, a hard-working professional, who at the same time is known to be communicative and somewhat laid-back. "I think less in hierarchies and see myself less as the boss, but rather as a colleague of the employees," he has said of himself. Altmaier, who once said he has "a sunny disposition" and gets "a childlike joy out of life", can also laugh at himself. The somewhat heavyset Altmaier has often joked about gaining weight when tasting "delicious regional products" at election campaign events. "He is a very likeable person, even to opponents," Brok said.
This makes him a good mediator not only within his own party, but also across the aisle. As chancellery chief over the past four and a half years, Altmaier made sure the different grand coalition ministers agreed on one position. Deciding one position could also mean stifling individual ministries' proposals, as environment minister Barbara Hendricks (SPD) experienced in 2016, when Altmaier watered-down her draft for Germany's Climate Action Plan 2050, the framework for how the country will become largely greenhouse-gas neutral by mid-century.
"Peter Altmaier is an outstanding moderator," Germanwatch policy director Christoph Bals told the Clean Energy Wire. However, he now has the dual task of mediating between different stakeholders, while "taking up a clear position as a minister," Bals said. It will now be his job to introduce the necessary instruments and steps to help Germany achieve its climate goals, Bals said. "On the latter, I'd be positively surprised if he showed the necessary clarity – this has not been his strength so far."
From bogeyman to respected expert and mediator
As environment minister, Altmaier tried to introduce a "brake for power prices". His 1-trillion-euro statement alienated renewable energy supporters and climate activists. "It wasn't necessarily a climate policy masterpiece to bring up this amount," one environmentalist said. It triggered an intense debate about who was paying how much for the Energiewende, and many feared it undermined public support for the policy. Altmaier has hailed changes to the Renewable Energy Act (EEG) that helped stem the rise in power prices during the past legislative period as one of the government's big achievements. In 2017, Altmaier also irritated the climate community by calling national [climate] targets "wrong" and pleading for ambitious EU goals instead. He later clarified to the Clean Energy Wire that Germany would stand by its existing targets.
In recent years, he earned a lot of respect for digging deep into the complex issues of the Energiewende. "He definitely has the right background knowledge. As environment minister and as chancellery chief, Altmaier intensively dealt with Germany's economy and the energy and climate policy, and he will have the ministerial staff to support him," said Germanwatch's Bals.
Utilities association BDEW head Stefan Kapferer welcomed that a "very experienced and knowledgeable politician in energy policy" will be the next economy minister. "One can hope that the urgent questions of the energy transition will now be tackled," Kapferer told the Clean Energy Wire.
Current BEE president Simone Peter – who as former Green Party leader tried to hammer out a coalition agreement between Greens, the CDU/CDU and the Free Democrats with Altmaier after last year's election, told the Clean Energy Wire she was "confident that the future economy minister Peter Altmaier will act as a motor of a socio-ecologic modernisation of Germany as a business location."
When energy state secretary and Green Party politician Rainer Baake quit after four years of managing the Energiewende at the Ministry for Economic Affairs and Energy (BMWi) in March 2018, he criticised provisions on energy and climate policy in the new coalition agreement. But he said he appreciated the cooperation with Altmaier over the past four years. "We were not always of the same opinion, but we found good and viable compromises in a trusting atmosphere, and significantly advanced the energy transition in important areas," he wrote in his resignation letter.
Altmaier has long been seen as a proponent of a coalition between the CDU and Greens at the federal level. He has had ties to Green Party politicians ever since the so-called "Pizza Connection" – an informal gathering of conservative and Green members of parliament, who started meeting in the mid-1990s and continued until the early 2000s. He also said in an interview after the failed coalition talks that an alliance between CDU/CSU, the economic liberal Free Democrats (FDP) and the Green Party "could have produced something new and creative."
For many, Altmaier is the right person to bridge the many conflicting interests at a time of fast-paced change. "It's highly relevant whether we have an economy minister who has an eye for the industrial country [Germany] and who makes sure that our industries are competitive and do not move away," said Armin Laschet, state premier of economic powerhouse North Rhine-Westphalia in an interview with Deutschlandfunk. "[Altmaier] has a special instinct for the worries of an industrial state, especially because he's from the Saarland" – the small state once heavily dependent on hard-coal mining.