Renewables squeeze wholesale power prices and boost electricity exports
According to TenneT, average wholesale power prices fell 12 percent in 2014, to less than 33 euros. "The growing share of renewable energies, as well as declining power consumption, which fell despite economic growth, put pressure on wholesale prices," TenneT said in a press release.
Even though European power markets have become more integrated, price differences between countries remain significant: The average price in the Netherlands was more than 41 euros, the grid operator's study found.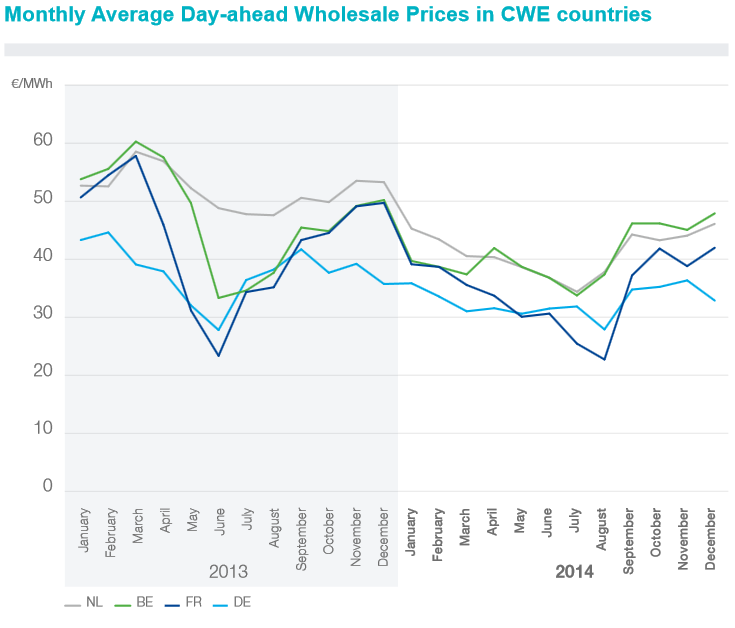 "Market analysis by TenneT shows that exports from Germany rise when an abundant supply of power from renewable energy sources brings prices down. For example, Germany exports more power when solar generation is up," according to TenneT.
A 'golden end' to the Energiewende?
German consumers on basic supply contracts paid on average 0.3 cent less per kWh in early 2015 than a year earlier, according to government figures. "Last year's reforms are showing their effect," said Sigmar Gabriel, Minister for Energy and Economic Affairs. He also encouraged consumers to compare different suppliers' prices in order to save on electricity bills, adding that reform of the renewable energy act last year "broke the trend" of a rising energy surcharge.

Still, think tank Agora Energiewende said in a new study that the surcharge consumers pay to finance renewables – currently around 6.2 cents per kWh – is likely to rise by one or two cents per kWh between 2017 and 2023 , if wholesale prices remain unchanged and the current financing system remains in place.
Having reached a peak in in 2023, Agora predicts that the surcharge will fall, as the guarantees on the highest feed-in tariffs from the early years of the renewable energy act expire after 20 years. "The 'golden end' of the Energiewende is in sight, but we have to cross a mountain first," said Agora director Patrick Graichen.
Graichen argues that German politicians must make a choice. Either they explain clearly to consumers why the rising surcharge is necessary to bring the Energiewende to a successful conclusion, or they switch to a new the system using public money to bring down consumer power bills.
For many consumers, however, there are other ways to cut electricity costs, according to data from a price comparison website. Switching from the basic supply contract - which consumers are signed up to by default if they don't make an alternative choice - to the cheapest renewable energy provider saves a family of four an average of 437 euros per year, according to Check24. During the last two years, 63 percent of consumers using the website to change their power supplier chose a green energy tariff.
According to Strom-Report, a website that provides infographics of German energy market data, German consumers had a choice of almost 13,000 electricity tariffs from more than 1,190 suppliers in early 2015. The market share of the five largest suppliers has shrunk to around 50 percent. Still, 40 percent of Germans say they are unhappy with electricity prices, according to the price portal.

See Tennet's market review in English here.
See CLEW's Factsheet "What households pay for power" here.