E.ON shareholders ratify energy giant's split
What are the changes at E.ON?

E.ON combined its conventional generation and global energy trading businesses into a distinct company called Uniper as per 1 January, 2016. E.ON spins off the majority stake in Uniper to E.ON's shareholders, who approved the plans with a majority of 99.7 percent. "This clear vote paves the way for the full implementation of E.ON's new strategy," the company said. E.ON expects the spin-off to take effect in the second half of 2016. For 10 E.ON shares, E.ON shareholders will additionally receive 1 Uniper share.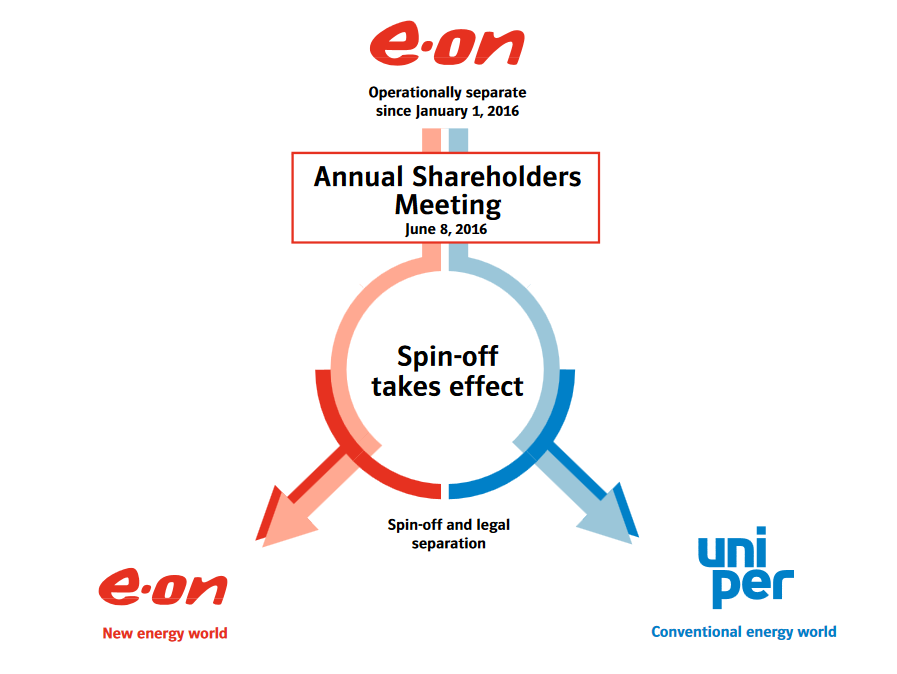 E.ON explains that "global trends like sustainability and climate protection, digitalisation and technological innovation are creating a new energy world, in which renewable energy generation, innovative energy solutions and smart energy networks become indispensable". According to E.ON CEO Johannes Teyssen: "A new energy world is emerging, one that's decentralised, green, and interconnected. E.ON's entire business is now geared toward this emerging world."
E.ON, which was formed in 2000 from the merger of two of Germany's largest industrial groups VEBA and VIAG, will focus on the new energy world with the three business areas of energy networks, customer solutions, and renewables. Uniper will concentrate on conventional power generation and global energy trading.
The new E.ON is led by Teyssen, who was also CEO of the combined "old" E.ON, which had 56,490 employees in 2015, sales of 116 billion euros, and booked a net income of 1.6 billion euros, according to the company website. Around 40,000 employees remain with the new E.ON.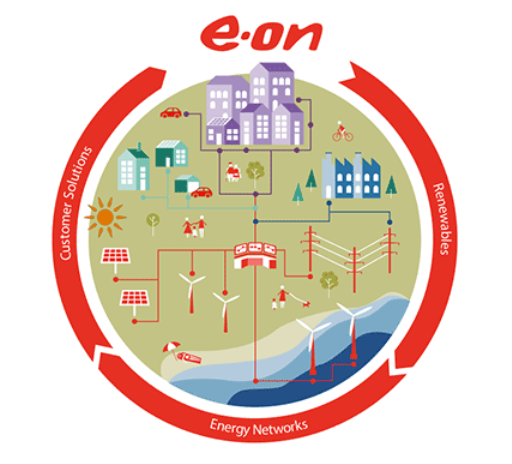 Uniper stresses that it will play a key role in ensuring supply security in Europe as it transitions to a low-carbon future, with its portfolio of large-scale power generation and the management of global and regional energy supply chains: "The growth of intermittent renewable generation increases the need for flexible power plants that can meet fluctuating demand at short notice; our generation portfolio is well suited to this task."
The company is led by CEO Klaus Schäfer. Had Uniper already been a separate company last year, it would have had sales of 92 billion euros and booked a net loss of almost 3.8 billion euros. It has around 14,000 employees, according to a spokesperson.
At the end of 2015, E.ON's major domestic rival RWE announced its plans to spin off a company focused on renewables and grids to raise capital, while retaining fossil and nuclear energy generation. In contrast to E.ON, RWE is selling parts of its business while retaining overall control. RWE spins off exactly the business fields E.ON will keep: grids, renewable energy and retail. For more details, read the following
The Background
E.ON's split comes at a time of rapid changes in Germany's energy landscape. The transition to green energy sources has dealt a heavy blow to the country's largest utilities' old business models. Renewables, mostly wind and solar, now produce roughly a third of electricity. But the largest power companies, such as RWE and E.ON - with their focus on fossil and nuclear power - have been slow to adapt.
Germany's ambitious transition to renewable energy has left the four major utilities - RWE, E.ON, EnBW and Vattenfall - which have dominated the market for decades, out in the cold. For more background on the utilities' struggles see CLEW's
The sharp rise of renewables and overcapacities have led to a collapse of the wholesale power price in Germany, spelling trouble for the large utilities' fossil power plants. Many have become unprofitable due to the competition from green energy, a phenomenon explained in the following
Germany's nuclear exit is also a major headache for the utilities. Half of Germany's nuclear power plants have been switched off since 2011 and the rest will be shut down by 2022 at the latest, with utilities having to pay billions of euros for decommissioning.
E.ON abandoned plans to spin off its nuclear power plants in September 2015. Instead, the operation and decommissioning of the company's German nuclear activities will remain with E.ON. The company said government plans to make utilities permanently liable for the costs of nuclear decommissioning, even if they are spun off, created unacceptable risks for the company's previous plans to transfer nuclear activities to Uniper. The government aims to close a legal loophole to prevent utilities from evading the multi-billion euro costs for the country's nuclear phase-out. As an important step, the federal cabinet decided on 1 June 2016 to introduce a relevant law and emphasized that any possible spin-offs after the date of this cabinet decision would be covered by the planned regulation. For more details, read the following
Germany's shift to renewable energy has also created an entirely new class of market players in the utilities' home turf, the energy market: Millions of Germans have turned into energy producers, investing in solar panels on their houses and buying shares in wind parks. For more background, see CLEW's
E.ON in the press
E.ON, 08 June 2016

"99.68-percent approval"
E.ON shareholders approved the spin-off of Uniper with a large majority of 99.68 at E.ON's annual general meeting. "We intend to undertake the largest transaction of Europe's recent industrial history," said E.ON CEO Johannes Teyssen before the vote. "It would create nothing less than a new E.ON, a company fully dedicated to the energy future." The new E.ON focuses on renewables, while spin-off Uniper concentrates on conventional energy. The spin-off will likely take effect in the second half of 2016.
Find E.ON's press releases in English here and here.
Read the CLEW factsheet E.ON shareholders ratify energy giant's split.
Süddeutsche Zeitung, 09 June 2016

"Strategy of desperation"
The strategy of splitting the company into two might be the only way out for the big German utilities E.ON and RWE, but both lack convincing concepts, writes Karl-Heinz Büschemann in an opinion piece in Süddeutsche Zeitung. "The dinosaurs of power supply […] face an uncertain future," writes Büschemann. "After the split into a green and a conventional company part, E.ON and RWE must proof that they can find the way in the future world of energy production. So far, they have shown little imagination in this field."
Read the opinion piece in German here.
Frankfurter Allgemeine Zeitung, 07 June 2016

"E.ON about to restart"
E.ON invested hundreds of millions of euros into splitting the company, but could not foresee how fast business conditions would deteriorate, writes Helmut Bünder in a commentary in Frankfurter Allgemeine Zeitung. "The collapse of power prices ruined the plans. Instead of investing in wind farms and photovoltaic, E.ON must save money. The path will be longer and more difficult than envisaged," writes Bünder.
E.ON shareholders will vote on the split at the company's annual general meeting on Wednesday.
Read CLEW's Factsheet E.ON shareholders to ratify energy giant's split.
Handelsblatt, 07 June 2016

"Divide and shrink"
E.ON's balance sheet provides sobering reading, writes Jürgen Flauger in business daily Handelsblatt. "The split is not happening at a time of strength, but during the worst crisis in the company's history." E.ON's major strengths are its large customer base and a respectable renewable portfolio, according to Flauger. He says the company's major weaknesses are the expensive split and the uncertain costs of the nuclear exit.
Read the article in German (behind paywall) here.
Bloomberg, 03 June 2016
"Uniper gets 5 billion euros in first financing since E.ON spin-off"
Uniper signed contracts for 5 billion euros in loans in its first outside borrowing since the spin-off from German utility E.ON was announced, writes Bloomberg. Creditors are J.P. Morgan, Deutsche Bank and Uni Credit. "We're seeking a comfortable investment grade rating," Christopher Delbrück, the chief financial officer of Uniper, told Bloomberg. "That means at least a notch better than today."
Read the article in English here.
See the CLEW dossier on utilities and the energy transition.
Financial Times, 20 May 2016
"E.ON and RWE pursue radical restructuring"
With Germany's transition towards renewables, the costs associated with a nuclear phase-out and low power prices, utilities have little choice but to shake up their operations, writes Guy Chazan in Financial Times. The Energiewende has upset the industry in ways no one saw coming, he says. "What happened went beyond my worst case [scenario]," said Johannes Teyssen, chief executive of E.ON. But changes are happening on a global scale: "Germany has become an incubator for changes that are now taking hold across the industrialised world," writes Chazan.
Read the article in English here.
Süddeutsche Zeitung, 12 May 2016
"Not as green"
E.ON's repurchase of a 15.5 percent share for the Baltic gas pipeline Nord Stream from its conventional power spin-off company Uniper showed how financial realities made it hard for the utility to keep with its new green image, writes Süddeutsche Zeitung. According to Michael Sen, E.ON's chief financial officer, Uniper urgently needed the money for its financial room for manoeuvre. On the electricity market, conventional power plants have a hard time competing with renewables. "That makes the start for Uniper so difficult that E.ON interprets its self-imposed green image more generously," writes Süddeutsche Zeitung.
Read the article (behind paywall) in German here.
Reuters, 11 May 2016
"E.ON posts higher first quarter profit after Gazprom deal"
Germany's biggest utility, E.ON, reported an eight percent rise in first-quarter core earnings, citing a deal with Gazprom over gas purchases. Without the deal, the company said its "first quarter result would have been slightly below that of the same period last year", Reuters reports. E.ON blamed continued pressure on its conventional power plant business, which saw the company post a record loss of 7 billion euros last year. The company plans to spin off its conventional power generating capacity in a separate company, called Uniper.
See the article in English here.
WirtschaftsWoche, 11 May 2016
"Nuclear phase-out costs: E.ON ready to pay"
Business magazine WirtschaftsWoche reports that E.ON is prepared to pay billions of euros more for the storage costs of radioactive waste as proposed by a government commission. Two weeks ago, the utilities had rejected a proposal from a government commission on the financing of the nuclear phase-out that would see utilities buy their way out of future responsibility for nuclear waste storage with a one-off payment of 23 billion euros, Angela Hennersdorf reports in WiftschaftsWoche. E.ON has now welcomed a potentially speedy resolution of the issue, and clear division of responsibility for nuclear decommissioning (which remains with the utilities) and waste disposal. CEO Johannes Teyssen has apparently come to see that it will be impossible to fight off the proposal, which was unanimously agreed by the commission, the article says.
See the article in German here.
Handelsblatt, 28 April 2016
"A daring striptease"
The detailed financial report on major utility E.ON's fossil spin-off Uniper makes for sobering reading, as the company would have lost billions of euros in the past three years, writes Jürgen Flauger in business daily Handelsblatt. "The large coal and gas power plants Uniper takes over are increasingly pushed out of the market by wind and solar energy."
In a separate commentary on the report, Flauger argues that the company will only have a long-term future with help from the government. Future power prices are so low that Uniper's core business, its European power generation, will remain stuck in trouble, according to Flauger. But public help for the company may well come too late.
E.ON / Handelsblatt, 26 April 2016
"E.ON and Uniper must first economise"
Essen-based energy company E.ON stands by its decision to spin off its conventional power generation and trading businesses into the new company Uniper. In a press release, the utility described concrete steps of the coming transformation. "It's right for us to divide our operations into two companies and to enable them to develop their respective businesses in line with their own strategy," said E.ON CEO Johannes Teyssen. The Uniper spin off will be completed pending the approval of the annual shareholders' meeting on 8 June and E.ON intends to list about 53 percent of Uniper shares on the stock market later this year. E.ON will focus on energy networks, customer solutions, and renewables. "Our objective is to make E.ON into a leading company of the distributed, renewable, and digital energy world," said Teyssen. In an article in Handelsblatt, Jürgen Flauger writes that both companies must strictly economise to be able to compete in the future.
Find the press release in English here.
Find the article in Handelsblatt in German here.
WirtschaftsWoche, 22 April 2016
"E.ON; bleak prospects everywhere"
Uniper's CEO Klaus Schäfer will have a tough time trying to find investors for E.ON's new natural gas and coal-fired power production subsidiary, writes Angela Hennersdorf in the WirtschaftsWoche. Uniper is expected to have to shoulder part of E.ON's current debt, deal with low wholesale electricity prices resulting from the surge of renewables in Germany and has little cause for hope when it comes to its business abroad, adds Hennersdorf.
Frankfurter Allgemeine Zeitung, 7 April 2016
"Greens push for new law on nuclear liability"
Green Party nuclear policy spokesperson Sylvia Kotting-Uhl is pushing for the adoption of the planned nuclear follow-up liability law before E.ON's shareholder meeting in June, reports Frankfurter Allgemeine Zeitung (FAZ). The Greens fear that E.ON's spin-off of its fossil and nuclear power generation from its renewables division could result in reduced funds or liability for the nuclear clean-up.
Kotting-Uhl says adopting the law sooner could prevent "a billion-euro disaster for taxpayers" and ensure parent companies remain liable even if they spin off nuclear operations. Other legal experts see no time pressure. The federal cabinet made it clear in October last year that "parents are liable for their children", meaning the big utilities cannot plead ignorance, according to the article.
Utilities are liable to pay for most of the costs of ridding Germany of its nuclear heritage. But given their economic troubles, there are questions over their ability to do so.
Read the article in German here.
Reuters, 9 March 2016
"E.ON's $10 billion write-down clouds spin-off prospects"
Germany's largest utility E.ON posted a record loss for the second year running following write-downs worth more than half its market value, reports Christoph Steitz for Reuters. The results casted doubts over plans to spin-off its ailing fossil power generation and energy trading business into a new company called Uniper. E.ON's net loss more than doubled to 7 billion euros and the company warned that future profits were expected to drop further amid worsening conditions in the power sector, according to the report. "Our numbers reflect the far-reaching structural transformation that our industry is experiencing and that continues unabated in the current year," Chief Executive Johannes Teyssen said in a statement. "The course ahead will be tougher and longer than anticipated."
Read the Reuters report in English here.
WirtschaftsWoche, 9 March 2016
"E.ON posts record loss – The future of the energy giant"
Life for the new and renewable E.ON will not be a picnic even after the split, writes Angela Hennersdorf in WirtschaftsWoche. "While the energy market has adapted to green power for years, E.ON and arch rival RWE race to keep up with the Energiewende," according to Hennersdorf. "Now, of all times, when the highly regulated renewable business is being slowed down, E.ON and RWE want to step on the gas in green energy." Hennersdorf argues that the record loss is meant to ensure a clean slate for the new E.ON, and is also a strong message directed at the federal government, which is currently examining the financing of the nuclear exit. "'Just look, we don't have anything anymore' sounds the call from utilities' vale of tears to Berlin."
Read the article in German here.
Reuters, 11 November 2015
"E.ON sticks to spin-off plans after record net loss"
E.ON says it is sticking to its plans to spin off its conventional power operations, after posting a record net loss in the first nine months of 2015 on the back of weak wholesale power and commodity prices, reports Christoph Steitz for Reuters. Steitz says this suggests the group sees few alternatives to cope with an industry crisis that has cost it more than 80 percent in market value since 2008. "We remain confident that we can stay on our ambitious timetable," Chief Executive Johannes Teyssen wrote in a letter to shareholders.
E.ON said net losses after nine months stood at 6.1 billion euros, mainly due to impairment charges of 8.3 billion euros.
Süddeutsche Zeitung, 11 November 2015
"The revenge of the new strategy"
E.ON's results show the downfall of Germany's largest utility continues unabated, writes Karl-Heinz Büschemann in the Süddeutsche Zeitung. "The company finds itself in a similarly precarious situation to rival RWE. Both have been massively hit by the Energiewende: Major conventional power plants and nuclear energy continue to lose importance for energy generation, whereas renewable energies are becoming ever more important," according to Büschemann. He argues that even though CEO Johannes Teyssen denies it, his plan to split E.ON was motivated mainly by the desire to evade nuclear decommissioning costs – a plan that was thwarted by the government this summer and has now backfired. E.ON can only spin off fossil power plants, which had to be devalued before the split, resulting in massive losses.
Read the article in German here.
E.ON, 12 August 2015
Conventional power business causes E.ON loss in profits / debt reduced
Half way into its "transformative year," Germany's largest utility E.ON has reported a reduced operating profit and underlying net income compared to 2014. The half-year EBITDA fell by 13 percent from 4.9 billion to 4.3 billion euros and underlying net income decreased by 21 percent from 1.5 to 1.2 billion euros. The reasons were a further decline in wholesale electricity prices, said the new E.ON CFO Michael Sen, adding that in Sweden and Germany, shorter operating times of E.ON's nuclear power stations also had an effect. Other reasons for the reduction in operating profits were the lower oil prices and the weak ruble. While profits from renewables also fell by 17 percent (primarily due to divestments), Sen said earnings from new offshore wind parks in the North Sea would have a positive effect in the quarters ahead.
CEO Johannes Teyssen said that E.ON's difficult position was also due to a distorted power market in Germany, where for example highly efficient gas-fired power plants couldn't be operated profitably. The government was lagging behind in shaping a new power market design that would "establish a reliable regulatory environment for the future of the energy supply and the implementation of the energy transition." Other European countries like the UK were acting more realistically by implementing capacity reserves.
E.ON reduced its economic net debt by 4.1 billion euros and has reduced the carbon intensity of its power generation in Europe by 35 percent since 1990, the management said. Preparations for E.ON's split into two companies by 2016 were on schedule.
Find the press release and interim report in English here.
Süddeutsche Zeitung, 29 April 2015
"Residual Risk"
There are worrying parallels between the current E.ON split into two separate companies and the finance industry's spinning off of risky assets into bad banks in the aftermath of the financial crisis, writes Markus Balser in a commentary for Süddeutsche Zeitung. "The next industry is offloading what it perceives as too risky… the public's distrust is justified," writes Balser. He argues that it remains totally unclear how the new company called "Uniper", which will inherit E.ON's fossil and nuclear activities, is meant to survive economically. "Yet again, colourful brochures are printed and risks relabelled as opportunities. And yet again, it will probably become expensive for tax payers," concludes Balser.
E.ON announced details this week of its split into two companies, one focused on renewables, power grids and energy services and the other, to be called Uniper, on conventional power.
See the commentary in German here.
E.ON. 28 April 2015
E.ON to move headquarters, founds "Uniper"
Germany's top utility E.ON announced details of its planned split into two companies, one focused on renewables, power grids and energy services and the other on conventional power. The conventional spin-off with power plants, oil and gas activities, as well as the energy trading business, will be called "Uniper" and will be headed by company veteran and current E.ON finance chief Klaus Schaefer. The new company will start operations on Jan 1, 2016 and will be based in Düsseldorf. The remaining company, E.ON, will move its headquarters from Düsseldorf to Essen, where major peer RWE is based. E.ON will continue to be headed by current chief executive Johannes Teyssen. E.ON had announced late last year to split itself in two, mainly in response to the growing importance of renewables.
Read a Reuters article in English here.
Read a Bloomberg article in English here.
Economist, 5 December 2014
"German utilities: E.ON and E.OUT"
In an article looking at E.ON's decision to split in two, the Economist says the plan makes sense, and that the spin-off company comprised of the German utility's nuclear and fossil fuel operations should not necessarily be seen as a "bad bank" utility. Analysts have noted, the article says, that it will be debt-free and have funds to cover the nuclear exit, and that Germany still needs non-renewable power sources in the mix. Along with other utilities, E.ON is also lobbying for capacity markets and suing the German government over the nuclear phase-out. The main company, meanwhile, will be able to focus on the new, decentralised energy landscape, making use of data and smart metering to "help a Bavarian farmer, say, store excess solar power in the battery of his electric BMW and sell it back to the grid when prices are high, or switch on the washing machine at night when power prices are low."
See the article in English here.
Reuters, 5 December 2014
"E.ON turns from predator to prey in radical spin-off"
E.ON's move to spin off its conventional power generation could turn the utility into a take-target, write Christoph Steitz, Arno Schuetze and Anjuli Davies on Reuters. The group's regulated gas and power distribution assets are certain to grab investors' attention, they write, citing banking and industry sources.
Read the article here.
Capital, 4 December 2014
"E.ON's successful coup"
E.ON has chosen a wise strategy by splitting off their conventional power production, writes Claudia Kemfert, head of the department Energy, Transportation and Environment at the German Institute for Economic Research (DIW), in an online opinion piece in Capital. The economic potential from the energy transition is "gigantic" globally, she says. Fears that the group just wanted to create a "bad bank" of unprofitable assets are "overblown," Kemfert says, because some conventional forms of power generation such as gas could remain attractive and the company has committed to its financial obligations from retiring nuclear plants.
Overall, E.ON's announcement provides a strong signal well beyond Germany's border, Kemfert says.
Read the opinion piece in German here.
Süddeutsche Zeitung , 3 December 2014
"On the run"
E.ON's move to split off its conventional power generation business came as surprise to many politicians and industry, triggering concerns that the group ultimately wants to offload its liabilities from decommissioning nuclear power plants, write Claus Hulverscheidt and Karl-Heinz Büschemann in the Süddeutsche Zeitung. Experts in Germany wonder if the money the utilities have put aside to pay for the decommissioning, part of Germany's exit from nuclear power, will be enough, they say.
Reuters Breakingviews, 02 December
"E.ON's 'bad power' spinoff offers little upside"
In a Breakingviews column, Olaf Storbeck writes that the E.ON will have to work hard to make the spin-off of its riskier assets tempting for investors. He says that the unit containing nuclear and fossil-fuel technologies represents about a third of the group's Ebitda, worth around €10 billion, and will take over assets in Brazil and Russia, which although that could be interesting for emerging markets investors, will also pose currency risk. The spin-off will need a "generous dividend" to lure investors, he says.
Read the commentary in English here.
E.ON / Bloomberg / Reuters, 01 December 2014
"EON Banks on Renewables in Split From Conventional Power"
Germany's biggest utility, E.ON, announced that it is to split in two, spinning off its coal, gas and nuclear power generation and global energy trading, leaving its core business to focus on renewables, distribution networks and customer solutions. E.ON CEO Johannes Teyssen said, "We are convinced that it's necessary to respond to dramatically altered global energy markets, technical innovation, and more diverse customer expectations with a bold new beginning. E.ON's existing broad business model can no longer properly address these new challenges." Reuters said the company was "responding to a crisis that has crippled the European energy sector." Media reported that E.ON has been hard hit by the push for renewables, low wholesale power prices and weak energy demand. Reuters said that since 2008, E.ON has seen its market value slide from more than 100 billion euros to around 29 billion euros.
E.ON said jobs would not be at risk, with 20,000 of its employees moving to the new company and the remaining 40,000 staying with the core business. E.ON said it would transfer the majority of stock in the new company to its shareholders and sell its remaining minority shares over the medium term.
Analysts at Sanford C. Bernstein & Co. told Bloomberg E.ON's "spin-off of its 'Bad Bank' assets… could set a blue print for other utilities."
Responsibility for retiring E.ON's nuclear facilities in line with Germany's nuclear phase-out will be transferred to the new company. "Existing provisions for the dismantling and disposal of nuclear and conventional assets will be fully covered in new company's balance sheet," E.ON said in its press release.