Set-up and challenges of Germany's power grid
Germany's power grid ranks among the most reliable in the world despite the rapid increase in renewable energy. Its System Average Interruption Duration Index (SAIDI), which measures the average yearly downtime per customer, was 15.91 minutes in 2012, meaning it suffered a quarter of the disruption of the UK grid (See Figure 1 below), and dropped further in 2013 to 15.32 minutes (See Figure 2 below).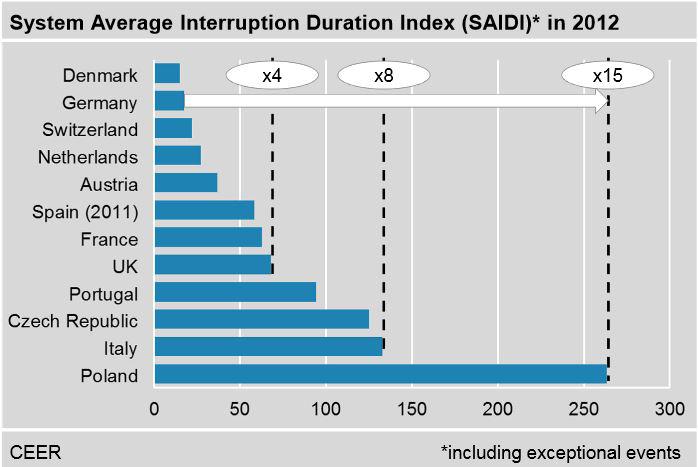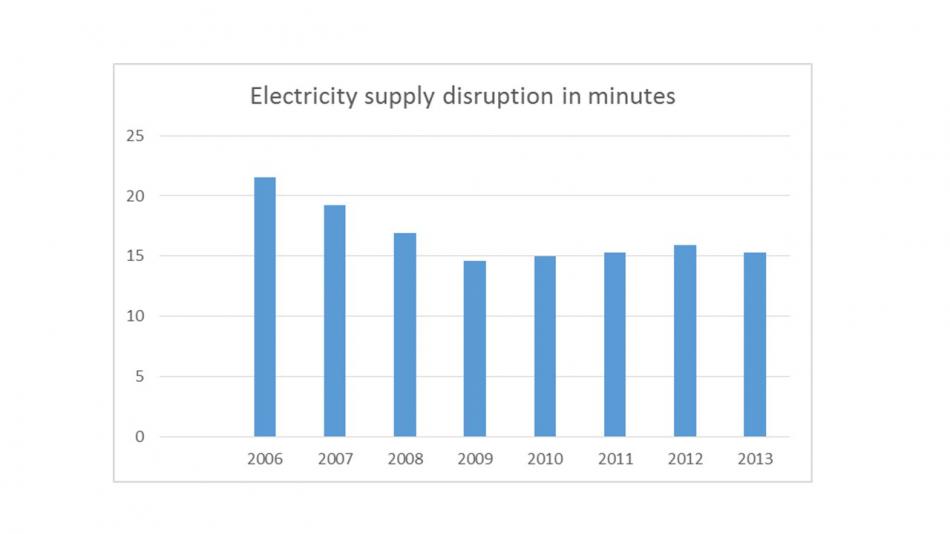 Transmission grid
Germany has around 35,000 kilometres of transmission grid, which transmits power at maximum voltage: 220 kilovolts (kV) or 380 kV. The transmission grid is used to transport electricity over large distances, taking power from where it is produced to areas of demand, as well as exporting power abroad. Currently, just 0.4 percent of the German transmission grid is laid below ground – using technology that is significantly more expensive to install and maintain.
Distribution grid
The distribution grid brings power directly to consumers and is operated by a large number of regional and municipal operators (888, as of January 2014). There are 1,679,000 kilometres of distribution grid in Germany, which transmits power at three different levels of voltage:
High voltage grid (approx. 77,000 km) transmits power at 60 kV to 220 kV and is used for the primary distribution of the electricity to transformer substations in population centres or large, energy-intensive companies in the industrial sector.
Medium voltage (approx. 479,000 km) transmits power at 6 kV to 60 kV to smaller regional substations and larger consumers such as factories or hospitals.
Low voltage grid (approx. 1,123,000 km) transmits power at 230 V or 400 V to private households and other smaller private consumers.
Around 80 percent of the distribution grid runs below ground.
Transmission grid operation
In Germany the maximum voltage transmission grid is largely owned by the four transmission system operators (TSOs), TenneT, 50Hertz, Amprion and TransnetBW, which are responsible for the operation, maintenance and development of their respective sections of the German grid. It is their job to regulate the power supply, including balancing fluctuating power from renewables with more predictable conventional generation.
Power suppliers must pay the TSOs a "grid fee" for the use of their network, which is ultimately passed on to the consumer. This covers infrastructure costs, invoicing and metering and levies including the offshore-liability levy, a levy for CHP plants and the levy for interruptable loads, which is paid to large power consumers to be ready to reduce consumption in times of shortage, with a higher rate being paid should they in fact have to do this. The grid fee also covers the cost of operating the grid and keeping it stable, including voltage and frequency control.
Because TSOs have monopolies in their areas operation, Federal Network Agency (Bundesnetzagentur) puts a cap on what they can charge in grid fees.
The four German transmission grid operators
Amprion operates the grid in West Germany from Lower Saxony down to the borders with Switzerland and Austria, through seven German states (11,000 km).
Amprion also coordinates load and frequency between the four German control areas and is responsible for coordination of exchange programmes both for the German transmission grid as a whole, and the northern part of the European UCTE interconnected system (Belgium, Bulgaria, Germany, The Netherlands, Austria, Poland, Romania, Slovakia, Czech Republic and Hungary).
RWE, one of Germany's biggest utilities, owns a share of Amprion.
Tennet
TenneT TSO operates 40 percent of the German grid running through the centre of the country from north to south, from Schleswig-Holstein though Lower Saxony and Hesse, down to Bavaria in southern Germany (approx. 10,700 km). It is owned by Dutch company TenneT, which also operates the transmission grid in the Netherlands. TenneT also operates cross border interconnectors between Germany and the Netherlands and Denmark.
50Hertz Transmission
50Hertz operates the transmission grid in northern and eastern Germany (approx. 10,000 km), which is directly connected to the grids in neighbouring Poland, Czech Republic and Denmark. 50Hertz coordinates the interaction of all players of the electricity market in the federal states of Berlin, Brandenburg, Hamburg, Mecklenburg-Vorpommern, Saxony, Saxony-Anhalt and Thuringia. Over 40 percent of Germany's installed wind energy output is located in this region. 50Hertz is also responsible for connecting offshore wind farms in the Baltic Sea to the German grid.
TransnetBW operates the transmission grid in Baden-Württemberg (3,300 kilometres). The TransnetBW grid is connected to the French, Austrian and Swiss networks.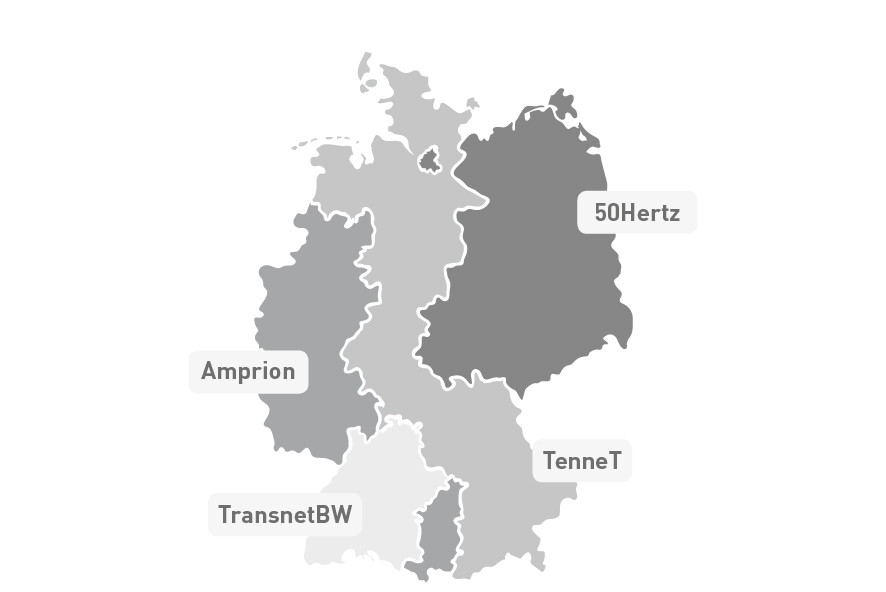 The future of the German grid
The German grid faces various challenges that require investment in development of infrastructure for the future. The Energiewende has changed the landscape of energy production: is has become decentralised, with many small private power producers – or prosumers – both consuming power from the grid but also feeding it in. This means the network needs to be flexible in transmitting power in both directions: not only from the transmission grid to the distribution grids and on to consumers, but also in the opposite direction.
At the same time, locations of intense production are often a long distance from areas of high demand, meaning more power must be transmitted at high-voltage over long distances. And because renewable power fluctuates with the weather, the grid must cope with a more uneven supply and still remain stable.
There are also factors not directly related to the energy transition. With increasing trade of electricity between EU member states, the German grid plays an important role in transmitting power between western and eastern Europe.
Transmission grid planning
The Bundesnetzagentur provides regulatory oversight to ensure that the grid is available for the use of all market players without discrimination and to keep charges for its use in check. It is also responsible for implementing legislation designed to accelerate development of the transmission grid.
Grid expansion planning goes through a series of steps, whereby TSOs propose Network Development Plans that are evaluated, approved and overseen by the Bundesnetzagentur, which must also assess potential environmental impact. To accelerate grid expansion, a range of new laws have been put into place since 2009 when the Law on the extension of power lines (EnLAG) came into effect. If an expansion project is limited to one state it is the responsibility of state authorities to decide on the corridors for new cables. If the project crosses state or international borders, the Transmission Grid Expansion Acceleration Act (NABEG) states that the federal government with help of the Bundesnetzagentur takes on this task. This planning is subject to several rounds of public consultation.
At least every three years, the Bundesnetzagentur submits an approved grid development plan and an environmental sustainability report – required under the Environmental Impact Assessment Act (UVPG) – to the federal government, to be used as the basis for the Ministry for Economics and Energy to produce draft legislation (Bundesbedarfsplangesetz) which provides a list of required maximum and high-voltage transmission lines.
Distribution grid planning and payment
With 98 percent of local renewable power generators sources connected to the distribution grid, experts say there is a clear need to update infrastructure to cope with the increasingly bi-directional flow of power. The development of the distribution grid does not have legislative framework on a federal level equivalent to that of the transmission grid, with the planning process subject to local regulations and requirements. In January, the grid agency submitted a report to the energy ministry detailing proposed amendments to the regulations on incentives for investment in the distribution grid network and simplify planning procedures in order to encourage investment.
This Factsheet is part of the following Dossiers: