German onshore wind power – output, business and perspectives
Output
Germany has led the field in installing onshore wind power capacity in Europe for many years. More than 27,250 windmills producing about 70 terawatt hours (tWh) of power made for nearly one third of the continent's total installed capacity and ten percent of global capacity in 2016. Expansion in that year to the tune of 4,625 megawatts (MW) accounted for nearly half of total European growth.
With a cumulated capacity of nearly 46,000 MW, onshore wind turbines generated about 10 percent of Germany's electricity in 2016, making them the single most important renewable energy source by far. More than 40 percent of all turbines are found in the two northern coastal states of Lower Saxony and Schleswig-Holstein, where wind conditions were most favourable for the industry's early development.
Due to the high concentration of wind power in northern states, Germany's Federal Network Agency (BNetzA) rated the country's coastal regions and hinterland as a "grid expansion area," where new wind power installations are capped to about 60 percent of previous levels in order to make up leeway for lagging grid expansion. But growing turbine efficiency has allowed to also unlock regions with weaker average wind conditions further inland, leading to a catch-up especially in central western and eastern German states.
Greater power yields and more operating hours per turbine have also compensated declining financial support rates and made harnessing previously unattractive locations possible. "There has been an impressive learning curve in recent years," as Matthias Zelinger, General Manager at German Engineering Federation (VDMA) Power Systems, put it.
Wind turbines with an average capacity between 2 and 3 MW dominated the market for over a decade. At average wind locations, they generated up to 3 million kWh annually, equalling the consumption of 1,000 average households. But windmills with capacities of 3 to 5 MW, capable of powering up to 6,000 households at ideal locations, are becoming more and more common, the German Wind Energy Association (BWE) says.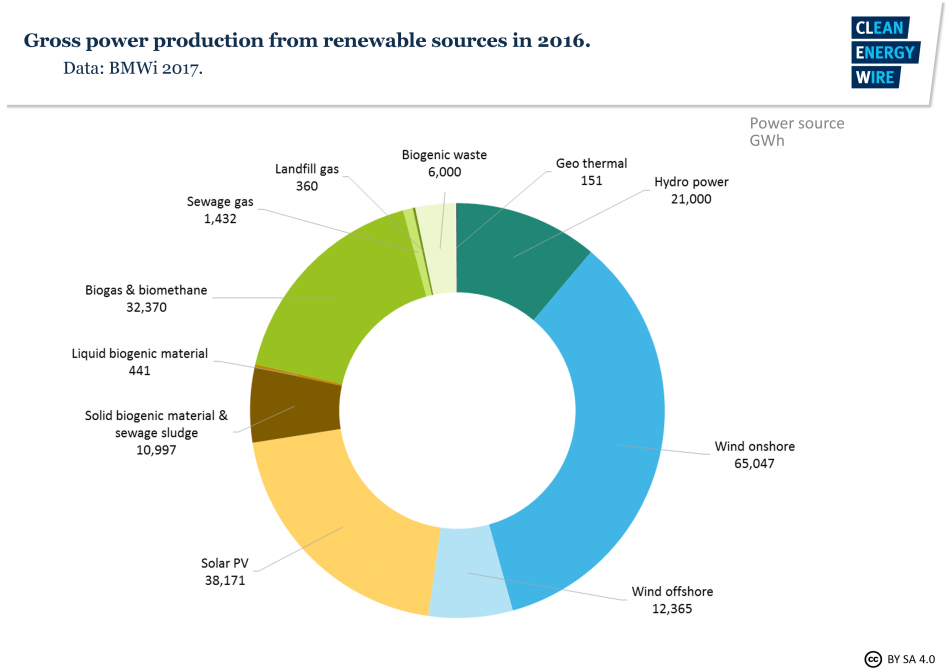 Technologic progress & limitations
With output expanding, also the turbines' average size grew considerably: With a diameter of almost 110 metres, the typical modern onshore wind turbine rotor in Germany is nearly twice as big as it was at the beginning of the century, rests on a 130 metre high tower and pours out 2.8 kilowatts (kW) of electricity. At the same time, new installations can produce more energy at lower rotation numbers, making them less noisy. About 15 percent of wind power capacity added in 2016 were part of so-called "re-powering" measures, where more capable installations replaced older models at the same location.
Due to a steadier feed-in and better grid compatibility of new installations, also electricity generation became significantly cheaper. Depending on the turbine's location and size, prices for one kilowatt hour (kWh) of electricity roughly ranged between 9 and 5 cents in 2014, a year-on-year decrease of 1 to 2 ct/kWh, according to researchers at Fraunhofer IWES. Factoring in investment and operation costs as well as interest rates, prices are projected to fall well below 5 ct/kWh by 2020, which could give wind power a long-term competitive edge over coal-fired power production, they add.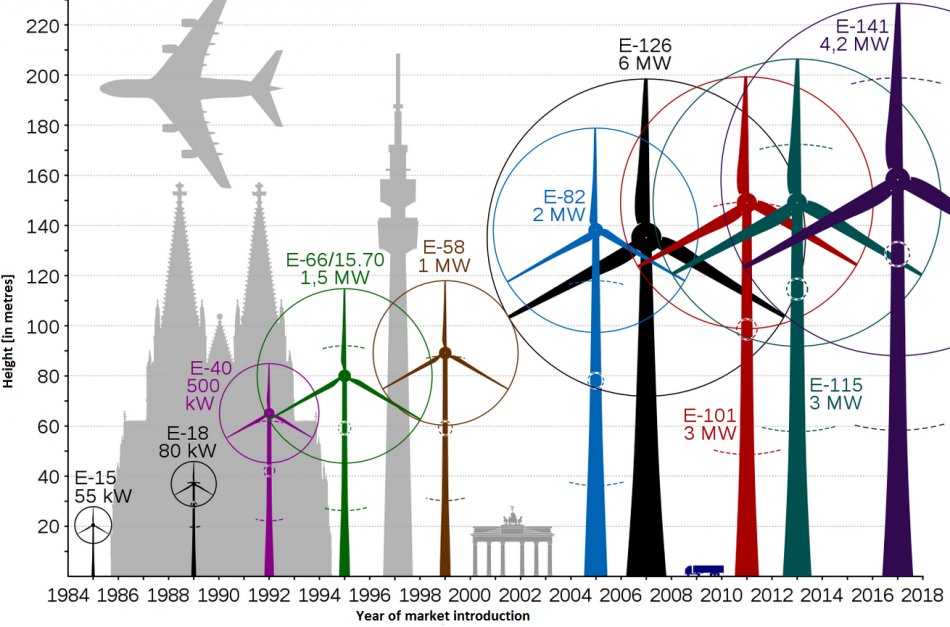 However, while the number of windmills increased significantly in 2016, onshore power output was below that of the previous year, owing primarily to poor wind conditions. Yet, wind turbines generated more power than Germany's nuclear plants in six out of twelve months in 2016. In early January 2017, the storm "Alex" brought the till then all-time peak in wind power feed-in. Windmills with a capacity of 37,500 MW fed into the grid that evening, more than three times the combined capacity of all of the country's active nuclear plants at the time.
Wind power generation in Germany generally peaks during winter months, partly balancing out lower power input by solar installations during that time of the year. But the problem of wind power's volatility became evident just days after Alex's feed-in record: In late January, more than 90 percent of Germany's power had to be covered by fossil and nuclear power plants. A period of dark days with no wind - "Dunkelflaute" in German - meant that besides few sun hours typical for the month, also almost no wind was blowing, keeping feed-in capacity below 1,000 MW during the entire day.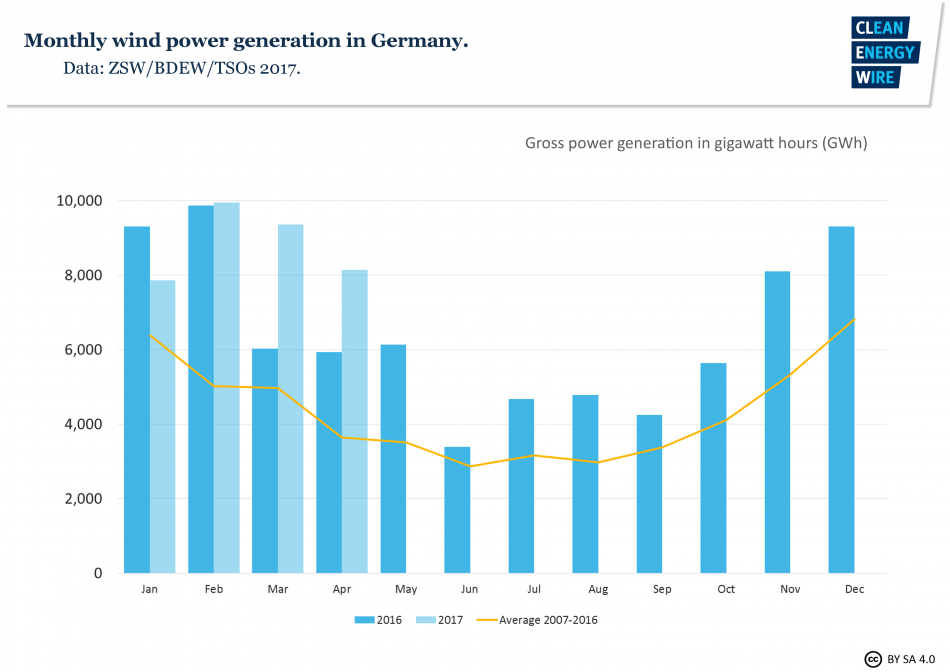 Business & Jobs
Revenues in Germany's wind power sector including exports amounted to 13 billion euros in 2015. According to figures by the economy ministry on economic stimuli by renewable energy plants, wind power also attracted the highest level of investments in recent years. High expansion volumes have also bolstered employment: With an estimated 135,000 jobs related to onshore wind power in 2016, more people in Germany have been employed in the industry than ever before, accounting for nearly 40 percent of total employment in the renewable energy sector.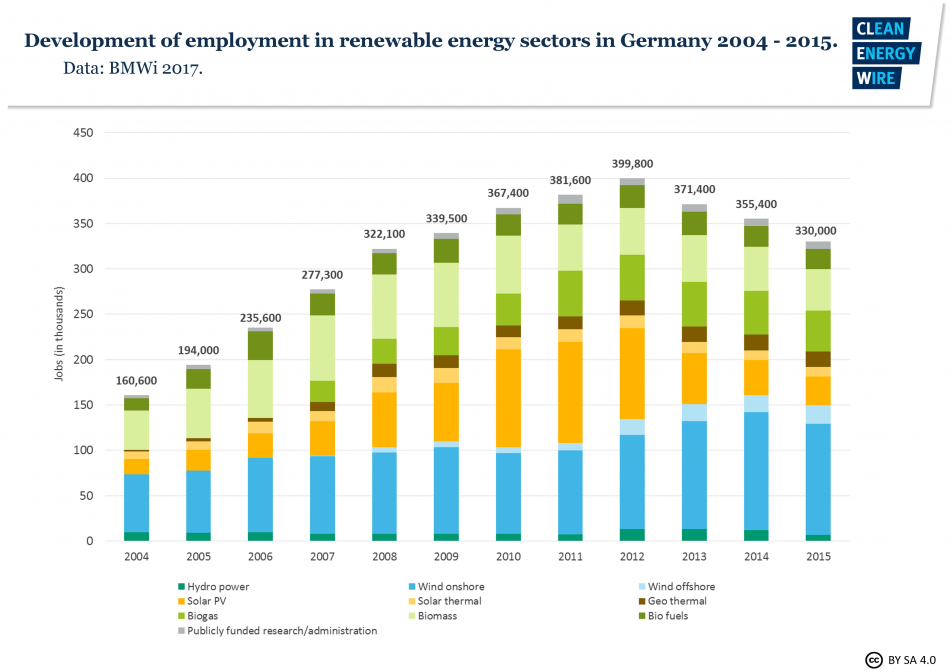 Most of these jobs have been created in the major manufacturers' home regions in northern Germany, where most of final assembly processes for on- and offshore turbines take place and most operating turbines can be found. Due to a high degree of vertical integration in production, many production steps take place in-house.
However, job creation in the wind power industry covers a large spectrum of activities: Supplier companies for turbine manufacturing are located all over Germany and provide chemical and metallurgic intermediary goods, construction work expertise or other services to the engine builders, the German Institute for Economic Research (DIW) explains. In 2012, about half of all wind power-related jobs were found at suppliers, it adds.
While most jobs per state were located in the coastal state of Lower Saxony (32,300), sizeable job clusters could also be found in the western state of North Rhine-Westphalia (18,500), Bavaria in the south (11,820) or Saxony-Anhalt in the east (13,120), according to the BWE. Yet, job growth in turbine manufacturing has not been on par with wind power expansion: the industry association says employment in production fell by more than 9,000 in 2015, only partially offset by an increase in maintenance and operation services, leading to a net drop of six percent in total employment.
The drop in wind power's electricity generation costs is partly responsible for falling wholesale power prices in Germany - with potentially adverse effects for the industry. "We have seen a 40 percent fall in the price of wind turbines in the last three years," manufacturer Senvion's CEO Jürgen Geissinger told Handelsblatt, leading his company to make substantial staff cuts. Together with the fundamental changes made on Germany's renewables support scheme, conditions for producers are set to become more difficult on the German market.
Support
The industry's ascent is partly due to national ambitions to fulfil Germany's national CO2 emissions reduction targets but partly also owes to drastic changes in Germany's renewables support regime, which became effective for new projects on New Year's Day 2017. The switch from predetermined feed-in tariffs to price finding in auctions, aimed at increasing wind power's market exposure, led project developers to bustle about for a last-minute wave of construction applications to secure a slot among the last projects eligible for guaranteed remuneration.
Apart from the switch to tenders, the federal government also capped support to an annual onshore expansion capacity of 2,800 MW until 2019 and decided to slowly expand this "expansion corridor" over the following years. 2019 will also be the first year in which only installations that have won an auction receive support. BWE and VDMA warn the switch might lead to a significant drop in installed capacity as operating older installations could no longer be profitable. The BWE says it is difficult to gauge how many windmills will be mothballed after 2020 when the first generation of installations has completed its 20-years cycle and no longer receives feed-in tariffs.
According to estimates by the German Association of Energy and Water Industries (BDEW), over 5.3 billion out of 25.5 billion euros in renewables support were paid to onshore wind power producers in 2016, compared to 10.5 billion to solar power producers and 6.7 billion to bioenergy producers. Out of 6.35 ct/kWh renewables surcharge paid by customers, 1.33 cents went to onshore wind power installations.
In total, German wind power producers received an average remuneration of 9.5 ct/kWh in 2016, the Federal Ministry for Economic Affairs (BMWi) says. The first round of onshore wind power auctions in May resulted in an average remuneration of 5.71 ct/kWh. Think tank Agora Energiewende* estimates costs at "excellent locations" in Germany could further drop to 3 to 4.5 ct/kWh over the next years.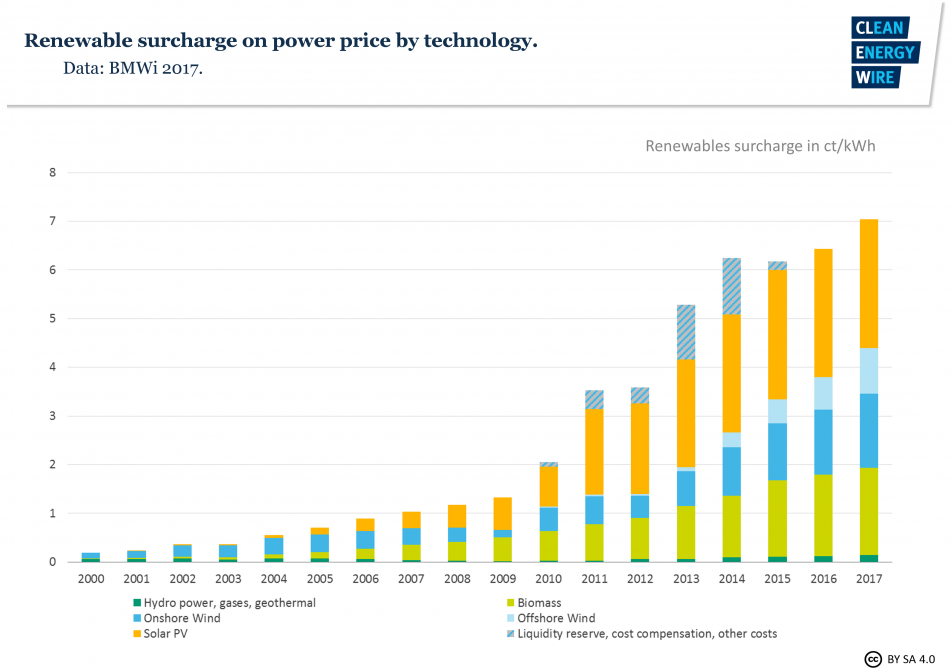 New perspectives abroad
According to VDMA Power Systems head Zelinger, Germany's wind power industry seeks to compensate the feared contraction of the German market with a focus on exports – with an estimated global expansion volume of 54,000 MW in 2017, the market potential abroad appears encouraging. With 20 percent of worldwide installations coming from German producers, their market share is twice as high as Germany's share of global installed capacity.
"Three quarters of the jobs in Germany exist thanks to international business," Wolfram Axthelm, spokesperson of industry association BWE, explains. German manufacturers are well positioned on the international stage, accounting for 20 percent of global production and even for 40 percent, if China's relatively insulated market is excluded. "South America, Asia without China, and the US are growing – while Europe is rather stagnant," Axthelm says. "But the German market is needed as a showcase and to get turbines ready for serial production," he explains.
Po Wen Cheng, holder of Germany's first chair in wind energy at Stuttgart University, says German turbine manufacturers remain internationally competitive in spite of high costs. "Wind power turbines require a lot of know-how," Cheng explains. Unlike with PV systems, differences in manufacturing quality matter greatly: "A rotor blade still requires a lot of manual labour. The quality depends on the workers' skills." Companies in emerging markets had yet to catch up with this level of skill, making a relocation of production capacities as seen with PV technology unlikely for wind power, Cheng says.
Market growth in Europe is set to increase, Heiko Stohlmeyer of business consultancy PwC expects. "Maybe even more so than in Germany alone," he says. He explains that markets in many countries around the world that so far have not been figuring prominently in wind power expansion plans might soon start to emerge, also encouraged by price signals in the first auction. "There's reason to be optimistic."
*Like the Clean Energy Wire, Agora Energiewende is a project funded by Stiftung Mercator and the European Climate Foundation.