Germany's dependence on imported fossil fuels
While the whole of the EU imported 53.4 percent of its energy consumption in 2014, Germany's dependency was even higher with an import share of 61.4 percent – only slightly below the previous year's all-time high of 62.6 percent.
OIL
German domestic oil output amounted to a mere 2.6 million tonnes in 2013, or 2.8 percent of the nation's oil demand. Thus, 97.2 percent of consumption or 90.4 million tonnes had to be imported, at a cost of 55.3 billion euros. This makes oil imports more costly than either coal or gas. Russia was by far the largest supplier in 2013, delivering 31.4 million tonnes or 35%. Norway provided 11 million tonnes, the UK 9.3 million tonnes. More than 30 countries supplied oil to Germany.
Oil contributed 35 percent to Germany's primary energy use in 2014, but its share has been steadily decreasing since 2000. Most oil was used for transport, followed by heating. Only a small fraction of oil imports is used for power production.
What impact will the Energiewende have on oil imports?
Transport comprises most oil usage, so the Energiewende, which has been focused on electricity, has had little impact. But the energy transition has further reduced the already minor role of oil in power generation, because cheap renewable energy has crowded out oil-based generation. Compared to the base year 2005, energy consumption has even increased in the transport sector. But according to government targets, more efficient engines will reduce consumption to 90 percent of 2005 levels by 2020 and to 60 percent by 2050. If electric cars catch on as the government hopes, renewables can supply more of the energy required for transport, decreasing Germany's dependence on oil imports.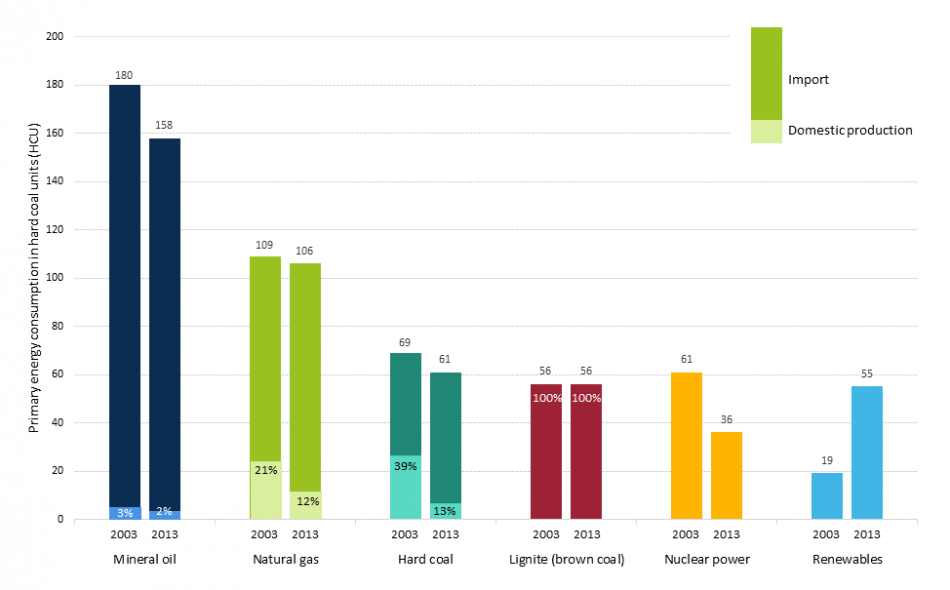 GAS
Germany needs to import nearly 90% of the gas it consumes. In 2013 the country produced 9.7 billion cubic metres natural gas, but according to geologists, the fields are nearing depletion. Current domestic production will likely decrease during the next 10 years to nought. Strict new laws on fracking make substantial use of this technology highly unlikely.
Germany consumed 91 billion cubic metres (cbm) of natural gas in 2013. The largest suppliers were Russia (39 percent), Norway (around 30 percent) and the Netherlands. Gas is imported to Germany almost exclusively by pipeline, and there are currently no plans for the installation of a major terminal for the import of liquefied natural gas (LNG). This restricts possible suppliers to a small number of countries in the near future: Russia, Norway, the Netherlands, Denmark or the UK.
Gas contributed about 22.9 percent to Germany's primary energy use in 2013. Most of it was used in households for heating as well as cooking, followed by industrial consumption and combined heat and power (CHP) production. Thus the lion's share of gas is burned to produce heat, and only a fraction to produce electric power.
What impact will the Energiewende have on gas imports?
Many experts see natural gas as a way to bridge the path to a low-carbon economy because it produces much less CO2 emissions than either coal or oil. Gas also complements volatile renewables rather well, because modern gas-fired power stations can switch from idle to full output within minutes if necessary, at times when power from sun and wind are in short supply. Alexey Miller, CEO of Russian energy giant Gazprom, said earlier this year that natural gas from Western Siberia will remain indispensable for Europe, especially because of Germany's exit from nuclear, a comment delivered with apparent "schadenfreude", according to a report in die Welt.
The key to reducing gas imports in the longer term lies not in power production, but in home improvement. According to a study from research institute Fraunhofer IWES, Germany could sever its dependence on Russian gas by 2030 simply by improving building insulation, as most gas is used for heating. This would require insulating two percent of its houses annually, exchanging gas heating units with electric-powered heat pumps and accelerating the roll-out of wind and solar power. The EU included a similar idea in its energy security strategy.
But even if Germany consumed considerably less natural gas in the long term, it would not necessarily decrease imports from Russia. That is because gas production is declining among current alternative European suppliers: Norway, the Netherlands and the UK.
Friedbert Pflüger, former state secretary in the Ministry of Defence and now Director of the European Centre for Energy and Resource Security at London's Kings College, agrees boosting efficiency and renewables might reduce demand for gas in Europe. But this still might not make a dent in imports because domestic production will fall as European fields are depleted. "I can't rule out that we will import more gas from Russia ten years from now," Pflüger said at the Energy Security Summit. He said the development of real alternatives – for example imports from Iran, Iraq, and also US shale gas, will require a lot of time and money. The Economist magazine also concluded in an extensive analysis of European gas dependency that a significant emancipation from Russian gas, also by increasing renewables, will "take political will, money and the best part of a decade".
COAL
Germany's largest share of domestic fossil fuels is in the form of coal. It still mines lignite (or brown coal) in open cast mines on a large scale for power production - 183 million tonnes in 2013 - and therefore does not import any brown coal. This makes it the world's largest consumer of brown coal, even though this fuel leads to particularly high amounts of CO2 emissions. It also still has extensive deposits.
At present, Germany also still mines some of the more efficient hard coal it uses. But it needs to cover almost 90 percent of its demand with supplies from abroad. Germany imported 53 million tonnes in 2013. Its leading coal suppliers are Russia (29 percent), Columbia (21 percent), and the United States (20 per cent). Germany's last hard coal mines are slated to close in 2019 - after that, Germany will have to import all the hard coal it uses. (See the CLEW factsheet on coal for more details)
Hard coal amounted to about 13 percent of Germany's primary energy use in 2013. Most of it is burned for power generation, producing 18 percent of Germany's electricity.
What impact will the Energiewende have on coal imports?
Germany's exit from nuclear power and low wholesale electricity prices have boosted the comparatively cheap generation of electricity from coal, leading to a marked increase in imports of hard coal.
Long-term climate targets clearly imply Germany will have to abandon coal entirely by 2050 unless an affordable technology can be found to make coal clean. But exiting coal alone will not help supply security, as Germany will initially have to import more gas to compensate, concedes Juergen Nitsch, a former scientist from the German Aerospace Centre at Stuttgart, and an expert on energy scenarios.
Many critics of Germany's current push to reduce the use of CO2-intensive brown coal say that Germany should not abandon its only sizeable domestic energy source. Mining union IG BCE, for example, warns the Energiewende can only become a success if Germany doesn't play "Russian roulette" with its supply security. It argues that "domestic energy sources ensure German companies don't become even more dependent on price and supply fluctuations on world markets. Our lignite can guarantee this in a balanced energy mix."